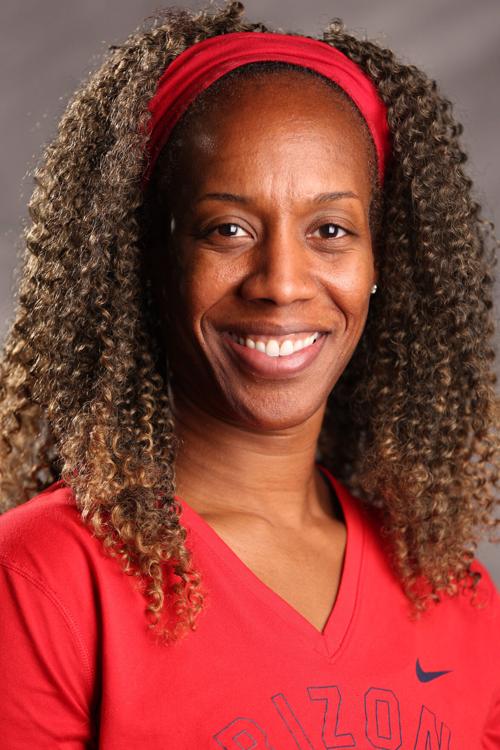 Rita Stubbs saw something was missing and knew she had to fix it.
This past summer, Arizona volleyball coach Dave Rubio was looking to add a new assistant after Gregg Whitis left the program. He received numerous resumes, but only a handful were from women — and very few of those candidates were qualified.
This stood out to Stubbs, the Wildcats' associate head coach.
When the conversation in her women's investment group — all of whom just happen to be volleyball coaches — turned to the lack of good opportunities, especially for women of color in the coaching profession, she charged ahead.
The challenge was two-fold. Many minority coaches lacked the knowledge, from data analysis to hitting balls in practice, to climb volleyball's coaching ladder. They also didn't have connections.
Stubbs texted Rubio and three other Pac-12 coaches — USC's Brad Keller, UCLA's Mike Sealy and Stanford's Kevin Hambly — and within minutes had four mentors for women in her group. Soon, 10 of the league's 12 coaches were on board.
Stubbs helped establish the Pac-12 Diversity Mentorship Program to give minorities the resources to develop, build networks and learn from current, successful coaches.
"We said …let's make it so great, if you will, that others want to be a part of it, as well as we kind of set the stage and the standard for what it is. It just kept growing from that," Stubbs said. "Since then, we have the SWAs (Senior Women's Administrators) all in agreement to be a part of it, because it goes beyond coaching. …we can't be administrators if we don't know what it's like."
Stubbs, a former UA volleyball standout, has been on Rubio's staff for 16 years — a pair of eight-year stints, with four years as NC State's head coach in between.
Stubbs, like many excellent assistant coaches, has a superpower. She watches and listens and understands how her players are feeling on a daily basis. Her human touch helps the Wildcats' program run like a well-oiled machine. It's one of many reasons why Stubbs was recently promoted to associate head coach.
"When I came back (to Arizona), I came back knowing what it was that Dave wanted me to do," Stubbs said. "…I see when people hurt, which is why Zoom has not been advantageous for me because I can't feel a presence. I can walk around and feel when someone is down or feel when someone is like super excited and they always go, 'Rita, how do you know that?' I like to believe it is one of the gifts that we're all gifted with in some way. I believe it's my gift. For so long, I suppressed it versus taking it and running with it.
"I literally walk around in the gym when we have practice, and I'll end up walking around three miles … I see the dynamics. I see the girl that's always sitting by herself. I see the girl who is down on herself for whatever reason. … I go up and ask the question, I'll have a joke, or I'll stand next to them and try to relax. …"
Stubbs admits that it took a while to find her strengths. Stubbs' childhood in Cleveland, Ohio, was a rough one. Her father was murdered when she was 10 years old, and her mother used drugs.
Stubbs, then Charita Johnson, found success at Arizona, becoming the first Wildcat to put up 300 kills, 300 digs and 100 blocks in one season. Still, she conceded she was "an angry Black woman."
"I had a gold tooth, wore a nose ring, I wouldn't comb my hair on purpose. (If) you got close to me, I would lash out — I was just angry. I was angry, but I didn't know I was angry," Stubbs said. "The more you tried to get to know me, the more I will push you away. And it got old really fast."
Stubbs' life turned around when she moved to France to play professionally. Her brother gave her a bible, which she said changed her life. She continued to press her mother for answers about her father.
Stubbs' mother offered few answers, though she kept journals. When she died two years ago, Stubbs found them — and received the answers to questions she had been asking her entire life.
Stubbs realized that day that there was more to life.
"You can't be angry," she said. "You've got to be open, you've got to share, you have to give your testimony."
And you've got to get involved.