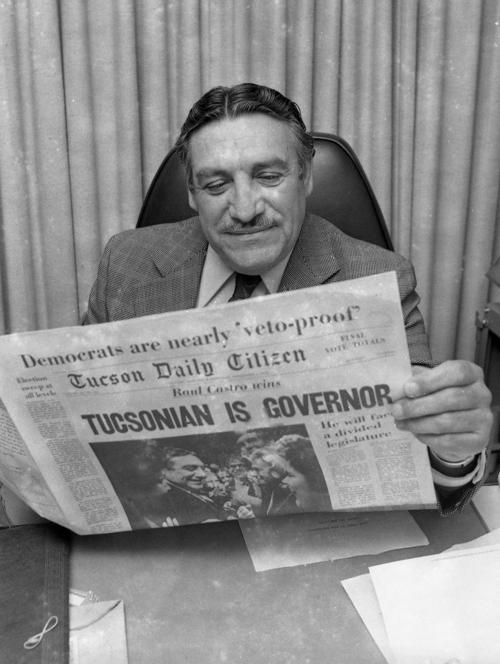 As Arizona's first and only Mexican American Governor, Raúl H. Castro's achievements are well-documented, and those accomplishments are on display beginning Friday at the University of Arizona's Special Collections building.
In Castro's four decades of public service, he not only served as Arizona's governor but as a U.S. ambassador to El Salvador, Bolivia and Argentina. He also was Pima County attorney, a Pima County Superior Court judge, lawyer, teacher and even prize-fighter, according to Star archives.
Steve Hussman, political affairs archivist at UA and curator of this exhibit, said he spent about nine months pulling the pieces speaking to the importance of Castro's life.
"I really wanted to highlight his career and the impact that he had on the people of Arizona and beyond," Hussman said. "I chose Raúl Castro because of his persistence in overcoming discrimination and bigotry and becoming our governor of Arizona."
One of the most important pieces of the exhibit for visitors to look out for is a painting loaned by Phoenix artist James Covarrubias called "El Cuento de Raúl Castro," or Raúl Castro's Story, which he began painting in the 1980's, according to Hussman.
"This particular painting highlights Raul Castro's career," Hussman said. "It shows him as a boxer, as a politician and so forth. This is really an incredible painting that (Covarrubias) has graciously allowed us to have on loan."
This piece and more will be on display next to the main library, 1510 E. University Blvd, until July 20. It'll be open from 9 a.m. to 6 p.m. weekdays beginning Jan. 24.
Born in Cananea Sonora, Mexico in 1916, Castro's family would later move to Douglas. He was the second-youngest of 12 children.
Castor graduated from Arizona State Teachers College, now NAU, in 1939. During that time, he was captain of the track team and the undefeated Border Conference boxing champ, according to Daily Archives.
Castro would also become a U.S. citizen the same year.
"In a sense of the word by today's standards, he would be a DREAMER," Hussman said.
While Castro was unable to obtain a teaching job after graduating, he worked in farm fields and continued boxing for money at carnivals in the U.S.
He enrolled at the UA law school in 1946, while serving as an adjunct Spanish teacher.
Castro graduated from the law school and passed the bar exam in 1949.
During the 50s, Castro worked his way to Pima County attorney and a Superior Court judgeship. He was the first Mexican-American to hold either post.
President Lyndon Johnson picked Castro to serve as U.S. ambassador to El Salvador in 1964 and to the same post in Bolivia.
Castro won a close race in 1974 to become Arizona's governor, his second run to the post.
He resigned before finishing his term after President Jimmy Carter asked him to be the ambassador to Argentina in 1977, serving in that role until 1980.
After working on Carter's failed reelection campaign, Castro returned to Arizona and practiced law in Phoenix.
Castro died in San Diego in 2015. He was 98.
Contact Star reporter Shaq Davis at 573-4218 or sdavis@tucson.com
On Twitter: @ShaqDavis1