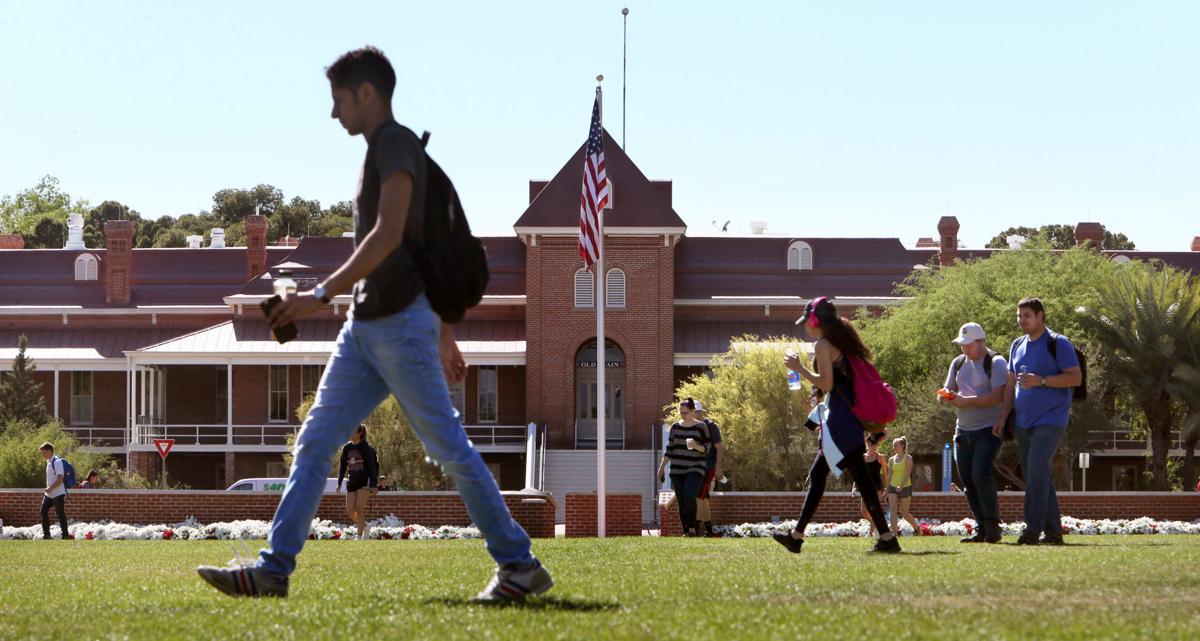 The University of Arizona jumped to No. 106 from No. 124 nationally in the latest U.S. News and World Report Best Colleges Rankings, surpassing Arizona State University, which has been ranked 115th for the last two years.
This is the UA's highest ranking in the magazine's annual report in about 10 years.
Princeton University and Harvard University, placed first and second, respectively, out of the nearly 1,400 public and private institutions ranked across the country. Columbia University, the Massachusetts Institute of Technology, Yale University and the University of Chicago all tied for third.
The magazine also separately ranks public institutions. Among them, the UA ranked No. 46, a 14-spot improvement over last year.
ASU ranked No. 52 out of public schools. For the fourth year, ASU took the top spot for the most innovative school.
The magazine's rankings are determined by six weighted factors. In descending order of weight, they include outcomes (such as graduation and retention rates), faculty resources, financial resources, expert opinion, student excellence and alumni giving.
The rankings' methodology has changed since last year. More weight is given to student outcomes, and less to expert opinions. The rankings no longer take acceptance rates into account.
These national rankings are one way for the university to track progress of student success and performance against peers, said Vincent Del Casino, vice president of academic initiatives and student success.
Ranking highlights
All schools were also eligible to be ranked within more specific categories based on different criteria.
U.S. News and World Report ranked the UA's management information sciences program the best among public institutions and the third best in the nation, coming in behind MIT and Carnegie Mellon University.
The UA's undergraduate business program, the Eller College of Management, tied for the No. 21 slot among all schools and placed 16th among public universities.
The College of Engineering undergraduate program tied for No. 55 nationally among all doctoral and degree-granting universities and 31st among public institutions.
Business and engineering undergraduate programs were ranked solely on surveys of deans and high-ranking faculty.
The state's land grant university was also ranked No. 10 in entrepreneurship, No. 68 in best schools for veterans and No. 97 for best value — determined by comparing a schools academic quality with net cost of attendance.
The UA came in 106th place in the "A+ schools for B students" category, which is determined by comparing school selectivity with incoming student's SAT/ACT scores. ASU ranked 115th.
For international students, the UA placed 124th, nine spots behind ASU.
The UA performed better in national rankings than 10 out of its 15 peer institutions as chosen by the Board of Regents.
"It is our intention to equip our students with the skills necessary to compete and contribute in the increasingly challenging global economy," said UA President Robert Robbins in a statement.
"We are stressing a student-centric approach that focuses greatly on the necessary humanistic and adaptive skills required to excel in the Fourth Industrial Revolution," he said.
"We are particularly proud of how the rankings reflect our institutional investment in the overall student experience," Del Casino said in an email.
"We are a place that not only admits a diverse student body but invests in the success of all our students."
The UA has recently been designated a Hispanic-Serving Institution. Additionally, 31 percent of this year's incoming freshman class are first-generation college students.
That said, "We have more to do to close the achievement gap among our different student populations and enhance the proven programs that we know help all students succeed," Del Casino said.
Contact Mikayla Mace at mmace@tucson.com or 573-4158. Follow on Facebook and Twitter.