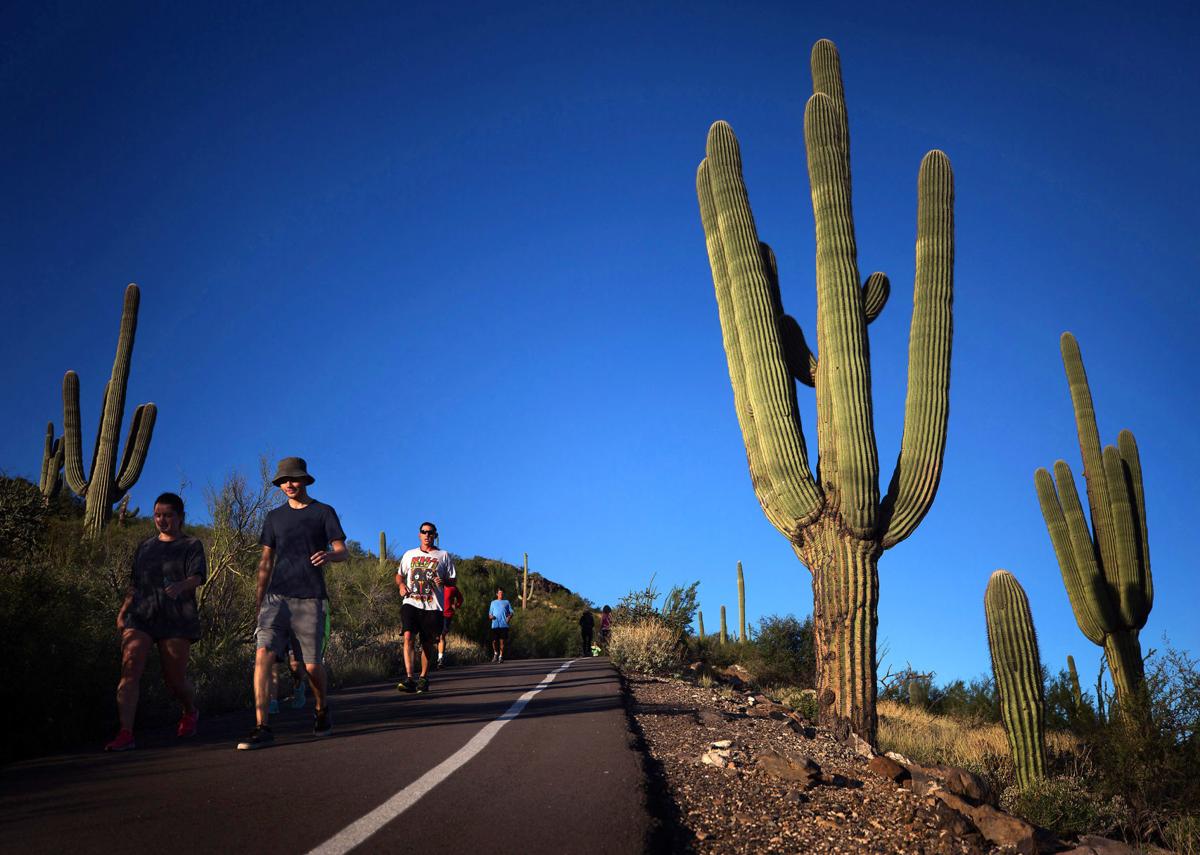 The University of Arizona is seeking applicants who are interested in becoming stewards of Tumamoc Hill.
A program is being developed to focus on protecting the west-side hill — 700-feet high at its peak— that attracts more than 1,000 walkers and joggers daily to the U.S. National Historic Landmark.
Tumamoc Hill is west of North Silverbell Road on west Anklam Road, just south of Carondelet St. Mary's Hospital.
Tumamoc stewards, or guardianes de Tumamoc, will be on the hill to help maintain the integrity of the iconic site, according to a news release. Stewards will interact with people using the trail and be available to answer questions.
An estimated 60 stewards are needed for the program, enough to be present during peak walking hours.
Applications are being accepted until Dec. 16.
"Tumamoc Hill is a pillar of our community," said Joaquin Ruiz, UA vice president of global environmental futures. "Coming together to be the best caretakers of this site we can be is a needed and natural step," Ruiz said in the release.
The hill's 1½-mile, near vertical walk goes through the 115-year-old UA Desert Laboratory, an 860-acre ecological reserve and cultural landscape with more than 2,400 years of human use.
"Tumamoc Hill is a community gathering spot," said Ben Wilder, director of the Desert Laboratory. "The amount of use the hill receives today is the highest in its history," said Wilder.
Wilder said the majority of people who exercise on the hill — staying on the repaved path, leaving pets at home and not smoking — follow the rules.
However, there has been some damage.
"Unfortunately, we are beginning to see an increase in the defacing of millennia-year-old pictographs and the movement of archaeological features. In an instant, thousands of years of history are lost," said Wilder.
He said with the use of stewards it will help in maintaining the hill. Stewards will be on the hill interacting with walkers and answering questions.
Stewards will have a one-day orientation and then receive monthly workshops and trainings on the science and culture of the hill.
"In reality, the only way we are going to be able to maintain the treasure that Tumamoc Hill is today is with the help and care of those that come here," Wilder said.
"And that is totally doable. This program is all about channeling the incredible amount of good energy and strong connections we have to this space."
Contact reporter Carmen Duarte at cduarte@tucson.com or 573-4104. On Twitter: @cduartestar