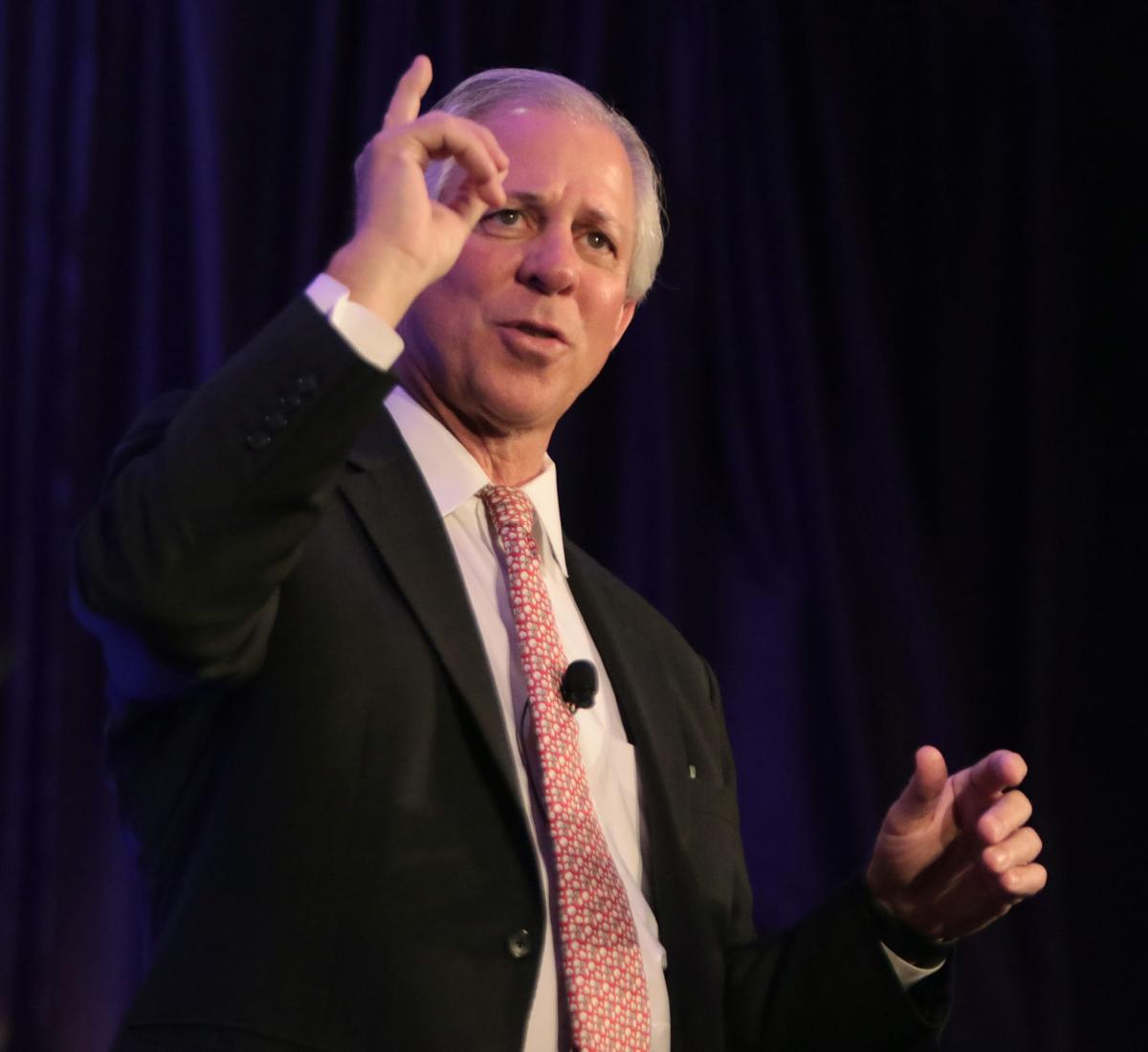 University of Arizona President Robert C. Robbins sees the fourth industrial revolution on the horizon and says he's making that the theme of the UA's role in regional economic development.
Robbins, a cardiac surgeon who became UA president on June 1, outlined his vision when he spoke Thursday at the annual luncheon of Sun Corridor Inc., the Southern Arizona economic-development agency.
"I try to think: What are the assets and strengths of the university, and where is it going?" Robbins said. "It's sort of the (Wayne) Gretzky thing: You should always try to skate where the puck's going to be, not where it is right now."
The fourth industrial revolution is an idea inspired by Klaus Schwab's book by that title. The first three industrial revolutions gave humanity large-scale agriculture, mass production and digitalization.
The fourth "is characterized by a range of new technologies that are fusing the physical, digital and biological worlds, impacting all disciplines, economies and industries, and even challenging ideas about what it means to be human," according to a summary of the book by the World Economic Forum, which Schwab founded.
"Ubiquitous, mobile supercomputing. Intelligent robots. Self-driving cars. Neuro-technological brain enhancements. Genetic editing. The evidence of dramatic change is all around us and it's happening at exponential speed," the summary also says.
Robbins' vision, too, is of a highly automated and cross-disciplinary future.
"I see we've got all of the things that are talked about in this book about the fourth industrial revolution and no other university is kind of grabbing that," he said. "It sounds like science fiction ... but it's happening now."
In just one example, Robbins noted that the China-based company TuSimple will test self-driving trucks in Tucson. One of the reasons the company chose Tucson was the UA's engineering program.
Artificial intelligence was a recurrent theme in his speech. Robbins predicts that companies will "integrate imaging with artificial intelligence and machine learning algorithms."
The professions of dermatology, pathology and radiology are at risk, he said, because "there's going to be so much automation."
He noted that 1 billion jobs are projected to be lost by 2050 because of automation.
He sees this as an opportunity for the UA to mitigate the negative effects, and to react in a productive way.
"I want deans to think holistically" and to create a workforce that can respond to these changes, Robbins said.
Robbins told the story of Wolfgang Fink who, before coming to the UA, worked on a multi-institutional team to develop an artificial retina. Now he is an associate professor of electrical and computer engineering and the inaugural Edward & Maria Keonjian Endowed Chair of Microelectronics, and continues his research to support artificial-retina development at the UA.
"That's the kind of thing that I think is worthy of the fourth industrial revolution-type discussion. Just imagine if they could form a company around this tech and translate the fundamental discovery ... into the private sector and kept that company here," Robbins said.
He also has some benchmark goals until his vision is realized, including getting the UA into the top 100 of U.S. News & World Report's Best Colleges rankings; it's currently 124th. He also wants to get the UA in the top 50 public universities in the country. And, on a lighter note, he wants to see the Wildcats play in the Rose Bowl.
Contact Mikayla Mace at mmace@tucson.com or (520) 573-4158. On Twitter: @mikaylagram.