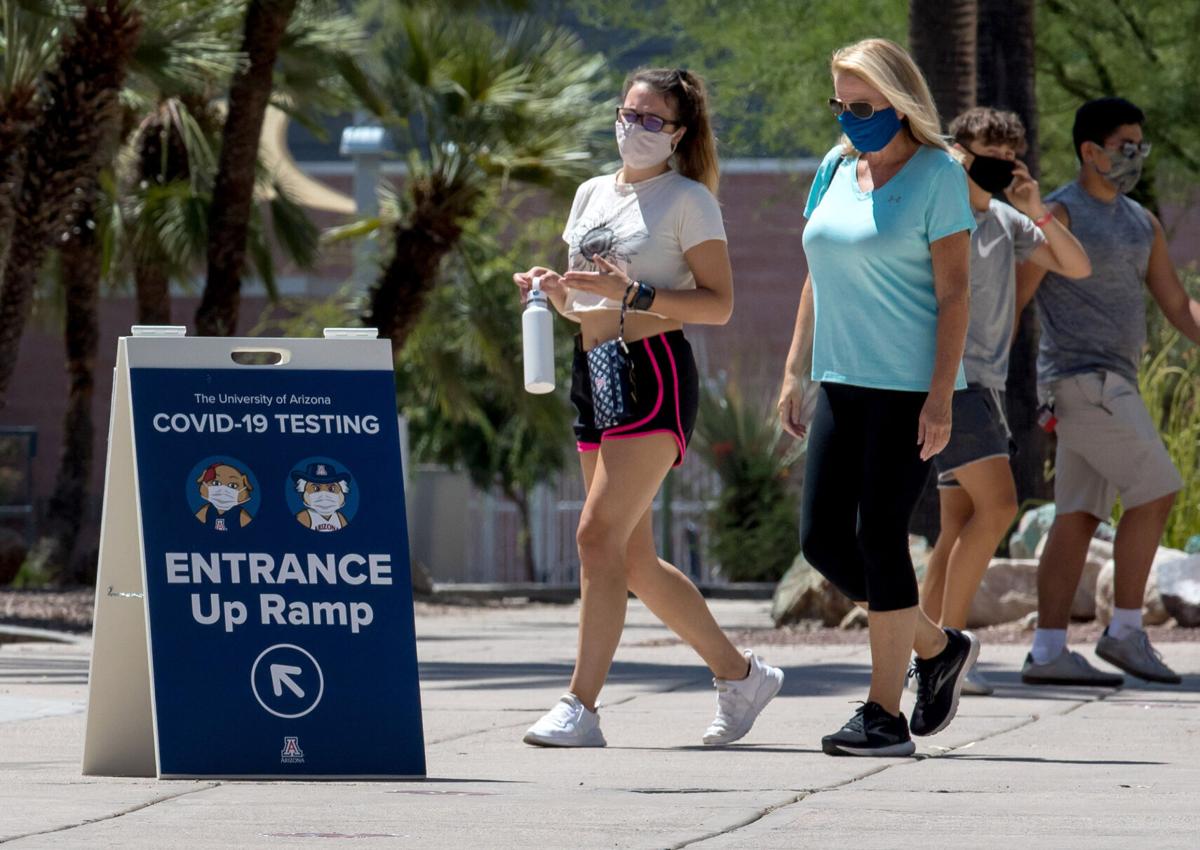 Although state law prevents the University of Arizona from mandating COVID-19 testing, the university is ramping up its efforts to make testing available to those students and staff who want it.
On Monday, President Robert Robbins announced the launch of the Cats TakeAway Testing program. The voluntary program will complement existing testing options on the campus, which reopened at full capacity in late August for the first time since the pandemic began.
When the TakeAway program becomes available later this week, students, staff and "active designated campus colleagues" — including those who are asymptomatic — will be able pick up a saline gargle PCR test kit at one of several designated campus locations. Participants can then use their phone or tablet to scan themselves into the university system and return the kit to one of the TakeAway program testing sites.
No appointment is required to pick up and drop off test kits at any of the following campus locations.
Student Recreation Center
Student Union Memorial Center
"What we're looking for, of course, are those asymptomatic people who have no idea that they're infected and are infecting others," Robbins said. "Continued testing is vital, and our program has been designed with an emphasis on access so that testing is as easy and available as possible."
Since the UA was able to require testing last year — before Gov. Doug Ducey signed a law this summer preventing that — it would be difficult to draw a direct comparison between case counts on campus this week and this same time last year. But based on the information the UA has available from voluntary testing so far this semester, the number of new positive COVID-19 cases recorded at the end of last week are much lower than they were during roughly the same period in 2020.
According to information provided by UA, this time last year the university was experiencing a peak of new cases. On Sept. 14, 2020, the university recorded 261 positive cases and a positivity rate of 15.4%. Two days later, it recorded 245 positive tests and a record positivity rate of 17.5%.
As of last Friday, the university recorded 33 positive COVID-19 tests for a positivity rate of 1.7%.
State law also makes it impossible to know exactly how many UA students and staff have been fully vaccinated, but the university does know that 53% of students and 51% of employees have uploaded their vaccination cards, making them eligible for possible incentives.
"We are in better shape than we were last year, but we've got to continue to do all the things we've talked about for over a year-and-a-half. The difference is we have a safety net. We were walking a tight-rope last year without any safety net below us," Robbins said. "This year we have a safety net below us, and that safety net is the vaccine. Whether people choose to use that safety net or not is their choice, but we're encouraging as many people as we can to get vaccinated."
Robbins, who is also a cardiothoracic surgeon, has repeatedly said if it wasn't for state law preventing him from doing so, he would mandate both regular testing and vaccinations for all UA staff and students.
Late last week, President Joe Biden announced a vaccine mandate for federal employees, contractors and employees of health care facilities receiving federal funding.
It is not clear if any of UA's employees may fall into those categories. And for now, Robbins said the federal edict won't change any of the UA's COVID-19 protocols. He does, however, think "there's shaping up to be court battles about states' rights versus federal rights."
As for the federal vaccination order, Robbins said, "it's a step in the right direction" because "at the end of the day, this is a choice that individuals make, but it's also for the greater good of our society."
Kathryn Palmer covers higher education for the Arizona Daily Star. Contact her at kpalmer@tucson.com