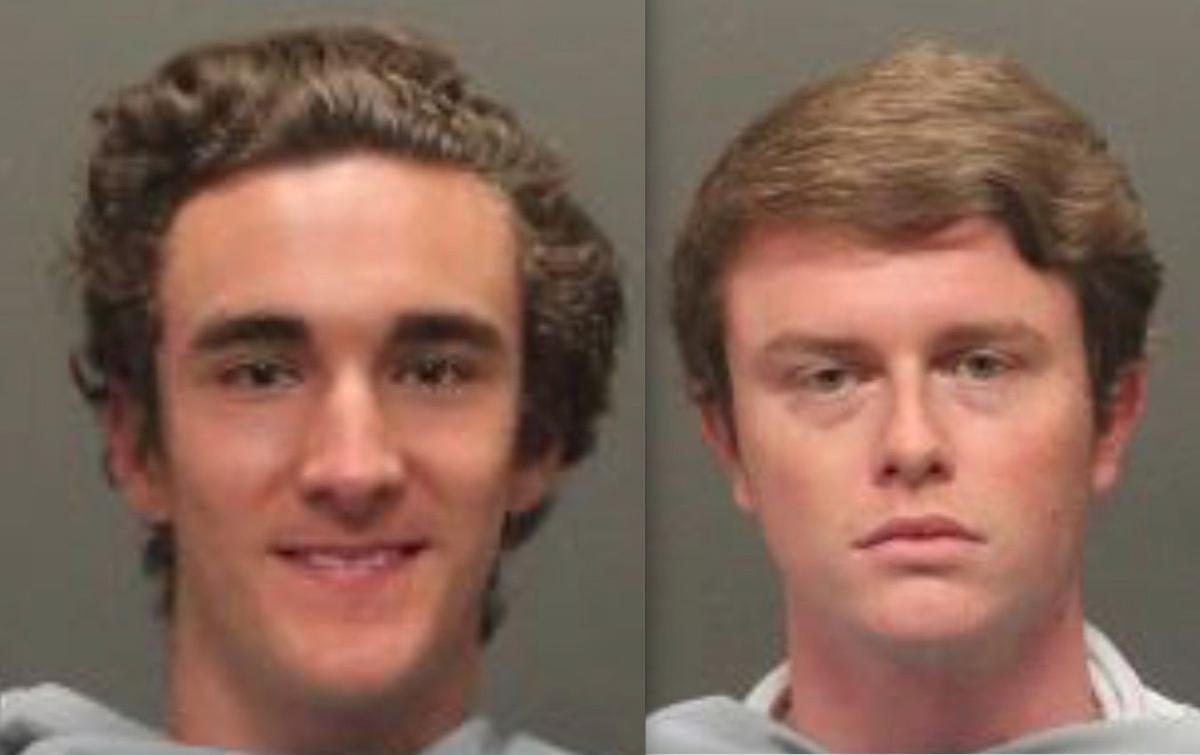 Representatives from the school, citing federal education privacy laws, have declined to say whether 20-year-old Matthew Frazier and 19-year-old Matthew Rawlings faced any discipline after their code of conduct cases were handled by the UA's Dean of Students.
However, attorneys for Rawlings and Frazier confirmed the suspensions following criminal arraignment hearings Monday in Pima County Justice Court. Rawlings' attorney added that it's "interim."
The court appearances came more than a week after Frazier and Rawlings were arrested and charged with misdemeanor assault in connection with the incident Sept. 10 near the Arbol de la Vida dorm at East Sixth Street and North Euclid Avenue.
Witnesses, including the victim, said Frazier and Rawlings, who are white, punched and kicked the black student, and called him the N-word between eight and 10 times, according to a campus police report.
The student-conduct case was turned over to the school, while the criminal case was sent to the Pima County Attorney's Office for review. A spokeswoman for the attorney's office said she cannot comment on the case.
Frazier and Rawlings waived their right to appear during Monday's arraignment. A judge ordered both men to refrain from having contact with the victim, who has not been identified, and returning to the scene of the incident.
Rawlings was also allowed to return home to California to live with his parents.
"There have been a lot of statements made without having access to all of facts," said Louis Fidel, Rawlings' attorney.
"We're going to review all of those facts and we'll show Matt is not guilty."
Dan Cooper, an attorney for Frazier, declined further comment.
The assault prompted outrage on the UA campus, where roughly 300 people attended a protest organized by the Black Student Union in which they held signs and chanted "We Want Justice" and "Black Lives Matter."
The group has demanded the expulsions of Frazier and Rawlings. They've also been critical of UA police, specifically the decisions to seek misdemeanor charges against Frazier and Rawlings and for offering one of the students a spot in the UA Diversion Program in lieu of criminal charges.
The attack — deemed a "minor" injury by the UAPD — minimizes the emotional impact caused, thereby disenfranchising the lives of the black student body at our university," the group said in a statement after the incident.
In written responses to the Star sent last week, UA police provided clarification on a number of portions of the campus police report, which was released hours after the protest.
Police said only one student was referred to the diversion program, but it was in lieu of charges for underage alcohol consumption. The department never offers a spot in UA Diversion for a violent offense, even if its a misdemeanor, police said.
UA Diversion is a voluntary educational program that "interrupts the criminal process for misdemeanor citations issued at the Tucson campus," according to the UA website.
Authorities also never stopped investigating the case, but rather turned it over to UAPD's detective unit. The decision to seeks charges is based on victim input, police said.
The victim initially did not want to press charges, but reconsidered after speaking with his mother, according to the police report.
"An arrest can only be made if probable cause exits. It is sometimes necessary for further investigation to occur to develop that probable cause," police told the Star.
Frazier and Rawlings were not charged with a felony because state statutes stipulate that the victim must sustain "serious physical injury, temporary but substantial disfigurement, temporary but substantial loss or impairment of any body organ or part, or a fracture of any body part," according to police.
The victim suffered minor scrapes on his hand, elbow and knees, but then later said he was going to campus health to get checked out for a possible concussion, according to the police report.
The department also completed a hate crimes reporting worksheet for the incident. Police in Arizona are federally required to document any incidents they feel could be bias-motivated. The form is included with statistics sent to the FBI.
As of Monday, Frazier and Rawlings are still listed in the school's directory as undergraduates in the business college. A university spokesman said he could not confirm whether they are still enrolled, citing federal education privacy laws.
Their next hearing in the criminal case is scheduled for Nov. 12.
Contact reporter Justin Sayers at jsayers1@tucson.comor 573-4192. Twitter: @_JustinSayers. Facebook: JustinSSayers.