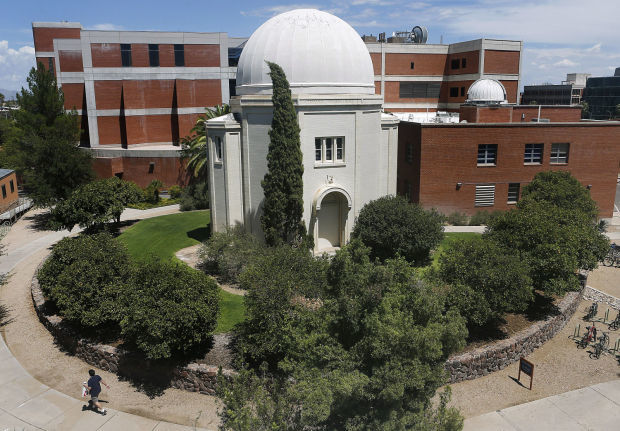 On Nov. 5, the UA's Steward Observatory will present for the first time its annual evening lecture series about the nature of the universe entirely in Spanish.
The observatory has held its public lecture series in English since 1922.
The presentation will focus on how astronomers are finding planets orbiting stars other than our own, called exoplanets. They will also explain how they determine the chemical makeup of these distant worlds and if exoplanets are capable of hosting life.
The half-hour talk begins at 7:30 p.m. in room N210 of Steward Observatory, 933 N. Cherry Ave.
For about 30 minutes following the talk, the audience is invited to ask questions. At 8:30 p.m., the telescope housed in Steward's historic dome will be available for public viewing of the night sky until 10 p.m.
"We feel it's important to do it in Spanish because of the large, Spanish-speaking population in Tucson," said Nicolás Garavito, a fourth-year Ph.D. astronomy student studying galaxy formation, who is also one of the event organizers.
Other organizers and speakers include post-doctoral researchers Elena Manjavacas and Paola Pinilla. Their research involves characterizing exoplanets and understanding how they form, respectively.
The decision to host an evening lecture in Spanish was also motivated by the UA's new designation as a Hispanic Serving Institution by the U.S. Department of Education, Garavito said.
He's glad that the designation helps the UA draw in more grants, financial support and resources to serve the Hispanic population, but thinks there's still a lot of work to do, especially in the form of outreach.
The talk is open to all ages, including children.
Eduardo Rozo, associate professor of physics who studies cosmology, will also be present to help answer questions.
Get local news delivered to your inbox!
Subscribe to our Daily Headlines newsletter.