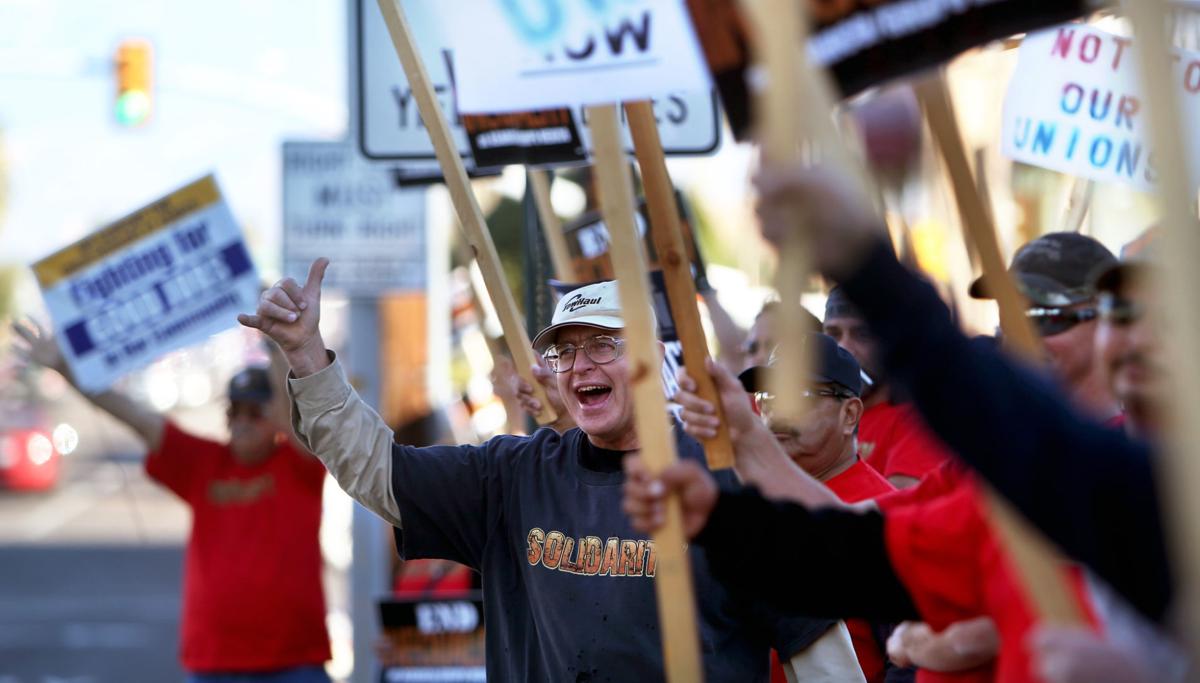 As many as 2,000 hourly workers at Tucson-based copper producer Asarco LLC are headed to the picket lines Sunday night at five Asarco mining operations in Arizona and Texas.
Members of the United Steelworkers and seven other unions representing Asarco workers voted overwhelmingly to go on strike during meetings last week, the Steelworkers said Friday.
After giving the company the required 48 hours' strike notice, picketing will begin simultaneously at Asarco's Arizona properties at 11 p.m. on Sunday, Oct. 13, and early Monday at its Amarillo, Texas, facility, the Steelworkers said.
In Arizona, Asarco operates the Mission Mine in Sahuarita, the Silver Bell Mine in Marana and the Ray Mine and Hayden smelter in Central Arizona.
The Asarco production and maintenance workers have been working without a new contract since their last contract expired in November 2018.
Steelworkers District 12 Director Robert LaVenture said Asarco's final, four-year contract proposal "insulted union members at all of the facilities" by including no wage increase for nearly two-thirds of workers, freezing the existing pension plan, and more than doubling the out-of-pocket contribution individual workers now pay for health care.
"Working 12-hour shifts in an open-pit mine, smelter or refinery is difficult and dangerous, and Asarco employees have not had a wage increase in 10 years," LaVenture said. "These workers deserve a contract that reflects their contributions."
LaVenture said that the union is willing to resume bargaining and ready to meet as long as necessary to negotiate a fair contract.
Asarco officials did not respond to requests for comment.
The company filed for bankruptcy protection in 2005, amid its last strike and more than $1 billion of asbestos and environmental claims.
Grupo Mexico, which had acquired Asarco in 1999, regained control of the company in 2009 after outbidding a rival for its assets in federal bankruptcy court.
While Asarco was in bankruptcy, the unions won a collective bargaining agreement in 2007 that included wage increases and a bonus based on the price of copper, but pension coverage for new hires was dropped in a contract extension and modification that took effect in mid-2011.
After the agreement expired in 2013, the unions worked without a contract before agreeing to a 14-month contract in September 2017.
As part of the 2011 contract extension, Asarco stopped paying the quarterly copper-price bonus to new hires not eligible for the pension plan, but an arbitrator ruled in 2014 the company must pay the disputed bonuses.
After a long battle in federal court, the 9th Circuit Court of Appeals in January upheld lower-court rulings that Asarco must pay the bonuses, including back payments totaling more than $10 million.
In early October the U.S. Supreme Court declined to review the case, requiring Asarco to pay the bonuses.