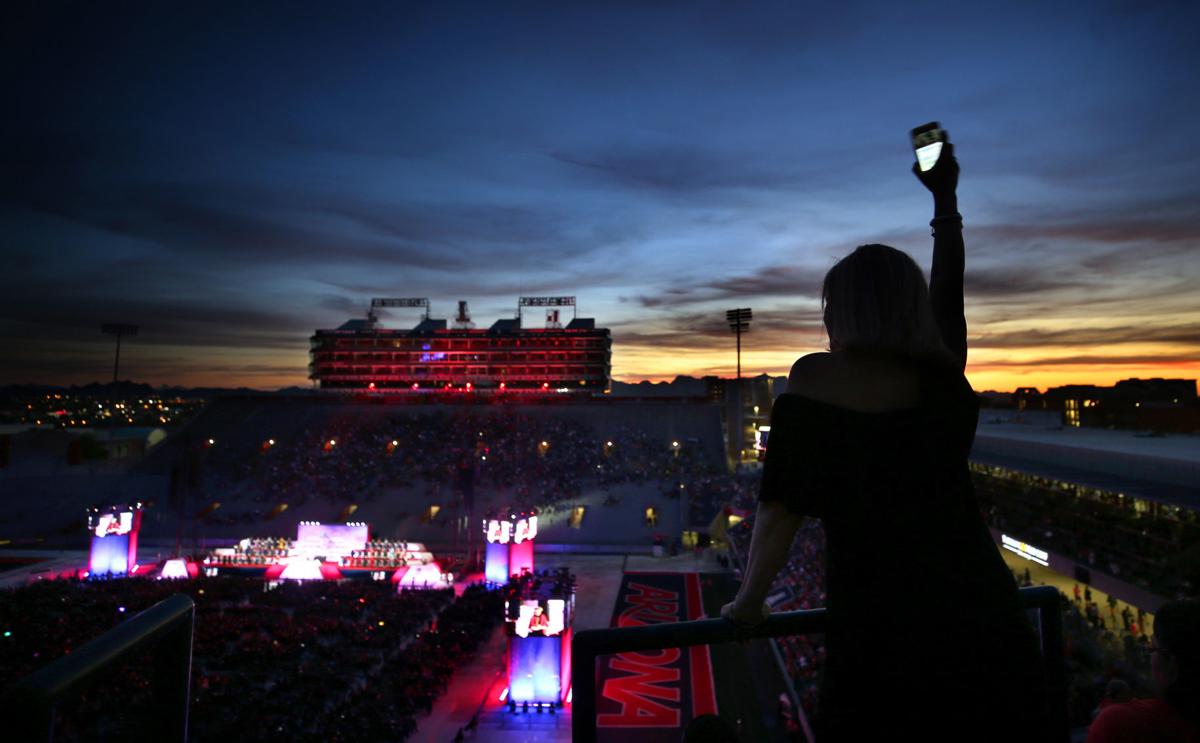 Editor's note: With our coronavirus coverage, the Star is not trying to alarm the public but to provide up-to-date information so you can make educated decisions about your health. Because of this, we've made all coverage related to COVID-19 free. Help us continue this important work by subscribing to the Star.
Students moving out of the University of Arizona campus will receive some money back for what they would have paid for housing and meal plans, school officials said Monday.
Kendal Washington White, dean of students, announced during a livestream on Facebook that students will receive at least a 10% credit for the money they would've paid for the services had they stayed.
The Housing and Residential Life office is offering two options for students who were living on campus on or before March 6:
• The first option allows students to receive the money to their bursar account in May after any outstanding balances are dealt with. This option will be selected if students don't make a decision by April 17.
• The second allows the money to roll over for the student's housing account if they're returning for the 2020-2021 school year.
Students will be offered the same deal for meal plans.
A chart depicting the money students will receive from single rooms to triple rooms to honors village housing is available on the Housing and Residential Life website.
However, students seeking a tuition reimbursement won't get one at UA.
"We need to encourage our students to remain in their classes because if they withdraw or they don't complete the class, that has negative connotations for them as far as they're grades are concerned and then their progress to earn a degree," Washington White said.
Commencement decision incoming
The administration will announce its final decision on commencement this semester in the next 10 days, said Liesl Folks, senior vice president for academic affairs.
UA officials had said they would make a final decision by April 6, ahead of the May 15 commencement date, but the earlier announcement will allow guests to plan ahead.
Folks said they don't anticipate conducting the large commencement event, which brought out an expected 4,500 graduates to Arizona Stadium with thousands of guests in the stands in 2019.
"What we are still working on with our colleges is to understand if we can do something at much smaller scale with much smaller groups of people that would still be meaningful for our students," said Folks, "We completely understand how completely soul destroying it would be to have put in all the effort and all the work to finish your degree and not have a celebratory graduation ceremony at the end."
Navigating the campus
UA officials said they've progressed in their plans to address the disease's possible arrival at the campus.
There are no known cases on campus, but the Campus Health Service has received coronavirus tests to use if needed.
If deemed positive the student would then be isolated, if not showing serious symptoms, within one of the residence halls and officials will monitor their situation.
They would ensure they receive food and other support, according to Folks.
Folks said GrubHub will deliver food from any campus food concession to students wherever they are, and other services like the campus pantry will remain open.
"The campus pantry will still be accessible, SafeRide will be accessible as well, so we are trying to keep as many of our services that we offer anyway to have that availability for our students while we're here during this time," Washington White said.
Officials asked the community returning to campus to practice social distancing techniques from medical professionals, including maintaining six-feet distance and not gathering in large groups when possible.
There will be some staff monitoring libraries, student recreation center and other public spaces but adhering to the guidelines is the entire UA community's responsibility, Washington White said.
Contact Star reporter Shaq Davis at 573-4218 or sdavis@tucson.com
On Twitter: @ShaqDavis1​
Concerned about COVID-19?
Sign up now to get the most recent coronavirus headlines and other important local and national news sent to your email inbox daily.