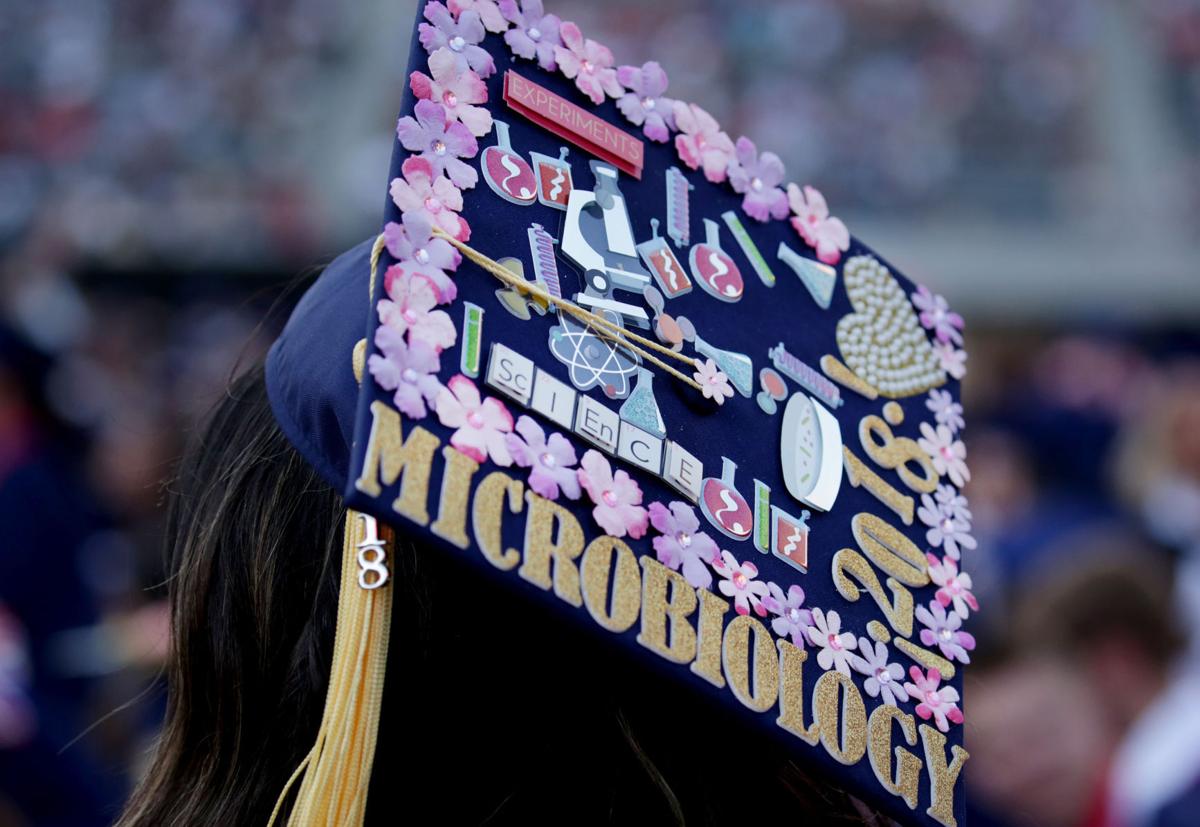 The University of Arizona is planning in-person graduation ceremonies for the Class of 2021, but it won't be the huge gatherings at the football stadium that included thousands of people and a fireworks show, officials said Monday.
Groups of up to 1,000 students will be allowed to walk across the stage in their cap and gown and will be recognized on the Jumbotron in several ceremonies this spring, UA President Robert C. Robbins said. The ceremonies will also be live-streamed for families to watch at home.
Those are preliminary plans, as UA officials continue to monitor the rate of COVID-19 cases in Pima County and around the campus, Robbins said in a news briefing Monday.
If cases continue to decrease, Robbins said he hopes two to four family members will be allowed to attend the ceremonies, while continuing to social distance. The plan is for several pared-down ceremonies May 11-18.
Like many universities across the country, the UA canceled its commencement ceremonies last year because of the pandemic.
The university is also working on plans for a 2020 graduates celebration, though details of what that will look like were not clear. The university asked former graduates to fill out a survey in order to get a better idea of what last year's graduates would like to see in a delayed ceremony.
Meanwhile, the UA is looking at the possibility of moving to Stage 3 of reopening later in the spring semester. The stage allows for in-person classes of up to 100 students, outdoor events of up to 50 people and indoor events of 10 people at the campus, Robbins said.
He said he expects students to be vaccinated by the fall semester, which would allow for a full reopening.
The UA is expected to reach 50,000 administered vaccines by the end of Monday, Robbins said. As of Monday morning, the university had administered more than 48,000 vaccines. The university's vaccination POD is open 10 a.m. to 10 p.m. seven days a week.
Robbins said appointments are available to get vaccinated at the UA Main Campus this week. To register for a vaccine, visit podvaccine.azdhs.gov. For help with vaccine registration or questions, call 602-542-1000. The line has people assisting in English and Spanish, and can help make vaccination appointments in Southern Arizona.
The UA is also hiring "qualified medical professionals" to administer vaccines as well as pharmacists and nurses for the vaccination pod, said Holly Jensen, a university spokeswoman. An online job posting shows the university is looking for several nurses to fill temporary positions. The pay listed is almost $29 per hour.
Pima County is expecting 49,000 vaccine doses from the state this week, 16,320 of which will go to the UA with the remaining 32,620 going to the county Health Department, Jensen said.
The UA is vaccinating people in the priority phase 1B, which includes education and child care workers, public safety workers, anyone 65 and older and anyone in phase 1A who has not yet been vaccinated.
The university reported 34 positive COVID-19 cases in the last 10 days, and administered 15,325 tests in the same time frame for a 0.2% positivity rate.
While it's promising that the numbers keep going down, people should continue to wear masks and stay distanced while more of the county's population gets vaccinated, said Robbins and Dr. Richard Carmona, leader of the UA's reentry task force.
"I know everyone is eager to return to their normal routines," Robbins said. "We all need to remain vigilant however. This is not over by a long shot. If we do, while things may not look exactly the way they did before this time last year we will begin to move to more and more opportunities to see the people we care about and do the things we enjoy."