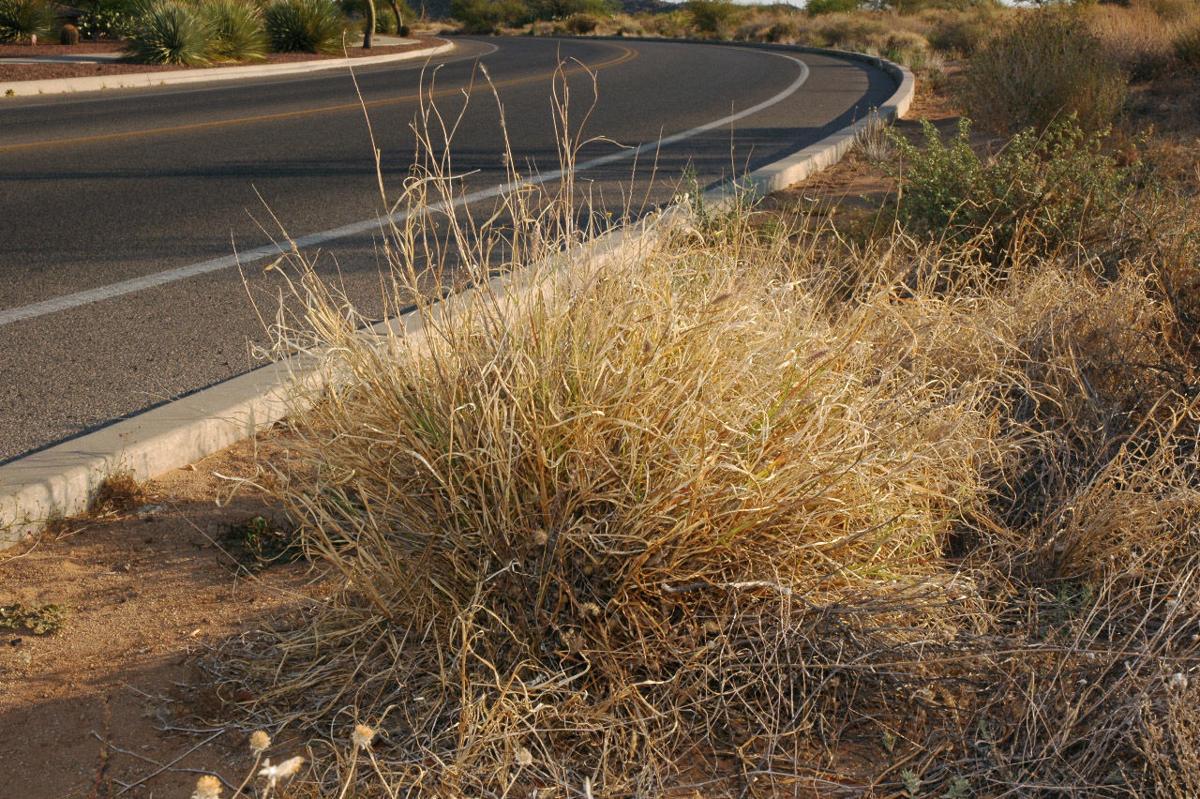 Researchers at the University of Arizona are looking at new ways to fight the spread of buffelgrass, an invasive species that ecologists have called one of the biggest threats to desert ecosystems.
According to the Arizona-Sonora Desert Museum, "the rapid spread of buffelgrass through the Sonoran Desert rivals climate change and water scarcity as our region's most pressing environmental issue."
Buffelgrass is native to Africa and Asia, but it was introduced in Arizona in the 1930s for cattle forage and erosion control because of its high seed production and ability to tolerate drought.
The species reduces the biodiversity of the desert by competing with native plants for nutrients, water and sun, and provides continuous fuel for wildfires.
A team of researchers from the UA's College of Social and Behavioral Sciences and the College of Agriculture and Life Sciences are working to create a buffelgrass model that incorporates laws and policy decisions, which are often missing from plans to eradicate buffelgrass.
Funded by a $1.58 million grant from the National Science Foundation's CNH2: Dynamics of Integrated Socio-Environmental Systems program, the team hopes to build a model that could contribute to changes in how communities work together to deal with the invasive species.
According to Aaron Lien, an assistant research scientist in the School of Natural Resources and the Environment, researchers already know how to get rid of buffelgrass. The issue, however, is that not everyone is on the same page.
"The real challenge becomes how do you get people to work together when those people have wide-ranging interests and different goals, economic incentives and rules that they're following in terms of laws and governance," Lien said.
The goal is to understand not only how the species can be eradicated, but how land-use practices, social attitudes and behaviors and policy responses can affect ecological systems. Researchers say that policymakers have to understand all of these factors in order to create laws and guidelines that will work effectively.
Focusing on Pima County, the team will look at ways to predict interactions between natural and human systems while also conducting experiments to test how buffelgrass responds to different treatments.
"It's kind of like the Sims video game," said Elizabeth Baldwin, principal investigator on the grant and assistant professor in the School of Government and Public Policy. "You've got agents that operate in a given landscape, and you can program how they respond to different stimuli."
For Baldwin, the key aspect of this research is the impact of human behavior and policy decisions on the environment. The team will gather information from public land managers, homeowners association leaders and developers to understand what shapes their decision-making when it comes to treating buffelgrass. They'll also determine what factors might make the cost of treating buffelgrass more attainable.
For Baldwin and the rest of the team, consulting with community experts about policy ideas will also be an important part of this project.
"We will talk to people who probably have excellent ideas about policy changes that, if they were enacted, might really make a difference because these people have been working on this issue for 20 years," Baldwin said.
The team will also continue collaborating with the Arizona-Sonora Desert Museum, which has been working to combat buffelgrass invasions locally for many years.
"A large group of stakeholders has been involved in managing the buffelgrass invasion for more than a decade. We have made much progress, yet buffelgrass has invaded vast areas in our jurisdictionally complex landscape," said Kim Franklin, conservation research scientist at the Desert Museum. "The success of managing buffelgrass very much depends on how a large number of actors work together consistently under a shared and effective strategy."