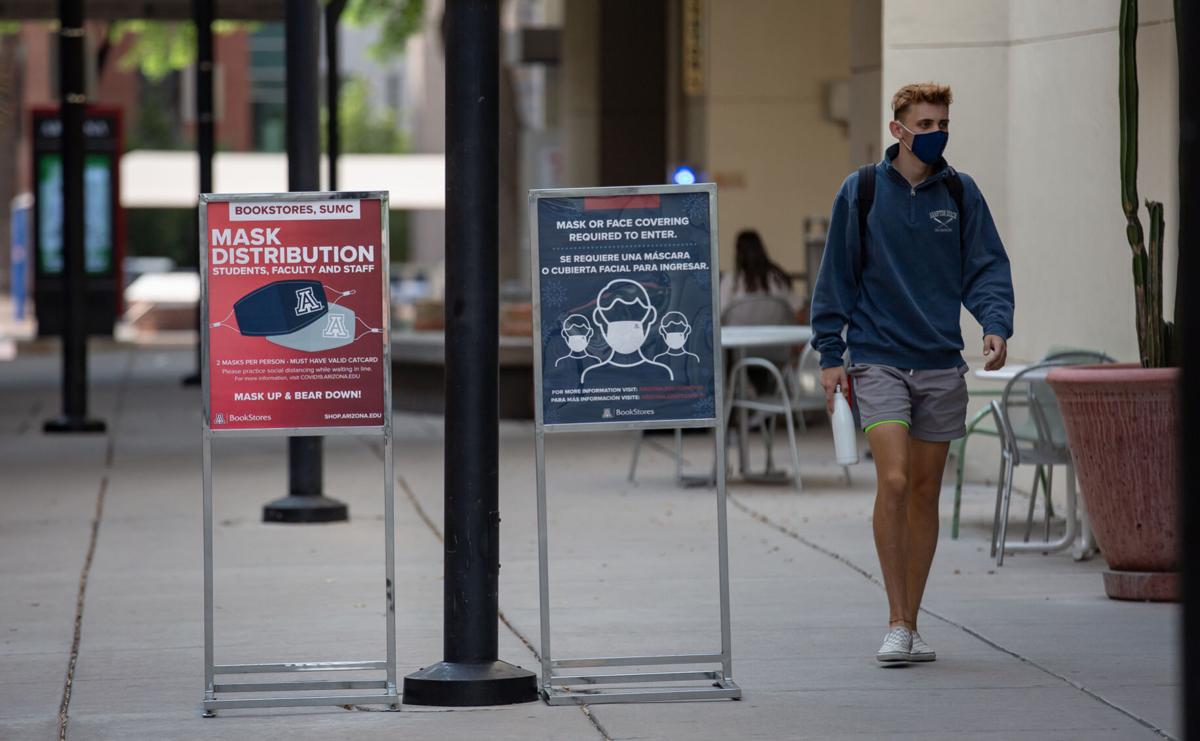 With one week left of a voluntary shelter-in-place recommendation, coronavirus positivity rates are declining among University of Arizona students, officials said Monday.
But UA officials warned that if cases continued to increase, legal action is possible to try to curb the spread of the virus.
The UA has reported more than 2,000 positive COVID-19 cases among students, faculty and staff as of Friday. The school has tested more than 31,600 people and have an overall positivity rate of 6.4%. School officials want to get the positivity rate under 5%, they said Monday.
Last week, Pima County and UA officials urged students to shelter in place for 14 days after seeing a significant increase in coronavirus cases on and off campus. Until Sept. 29, the Pima County Health Department is recommending that students, who live in specific geographic areas on or around the university, leave their homes only to attend essential classes or to work, obtain food, medical care, medicine or other necessary supplies.
"This increase in cases has the potential to have a very negative impact, not just on the students and those on campus, but also the rest of this community," said Dr. Theresa Cullen, Pima County Health Department director. "We know that college campuses are not islands. Students and the rest of the public come in contact every day, especially in the popular areas around downtown."
Following the recommendation, the daily positivity rate recorded by the university fell to its lowest in nearly two weeks Friday, Sept. 18, at 6.1%. This does not include students who received testing through the county or any other alternative testing sites.
"We joined Pima County in recommending a 14-day voluntary, self-quarantine, which started a week ago. And I think, frankly, we're seeing some results from that," said UA President Robert C. Robbins during the school's weekly update meeting on Monday. "We're hearing from our community partners that most students are adhering to this guidance."
Robbins also acknowledged, however, the university continues to deal with compliance issues among students. Over the weekend, the UA's community action team, working along with Tucson police and other city departments, responded to 17 properties where gatherings of students were taking place and issued 10 red tags, 19 citations and initiated 25 student code of conduct violations. This included a party with over 300 attendees Friday night.
"We've gone from begging, encouraging, to now moving into the action phase of where your choices will have consequences. And there will be individuals who will be asked to leave the university. It's that simple," Robbins said. "If you continue to have blatant disregard for good public health policies and rules that we put in place, you're going to go home."
Robbins said he was encouraged that about 100 students who had tested positive for the virus ended their quarantines and were able to leave their isolation rooms over the weekend. There are still nearly 325 students in isolation rooms on campus and another 75 isolating off campus, he said.
While UA and county officials are hoping to continue seeing positive results from the voluntary self-quarantine, they said they are prepared to take further action if the recommendation fails to effectively curb community spread of the virus.
"If we continue to see the cases go up, I think the next step would be that the county would begin, through legal proceedings, to legally quarantine buildings, whether they be fraternity and sorority houses or even high rises," Robbins said. "That's a big, big deal to go to that next step. So, let's see how the numbers shake out in this next week."
The university will continue to hold in-person classes for "essential courses" only through Friday, Oct. 2. There are about 5,000 students who are attending in-person courses, which include labs and performing arts classes.
Robbins said during the meeting that he had dinner last week with a student who later tested positive for the virus. He said he has been self-quarantining and that his tests have so far come back negative. He said the school will likely have to continue taking COVID-19 precautions well into next year, including in the 2021 fall semester.
Concerned about COVID-19?
Sign up now to get the most recent coronavirus headlines and other important local and national news sent to your email inbox daily.