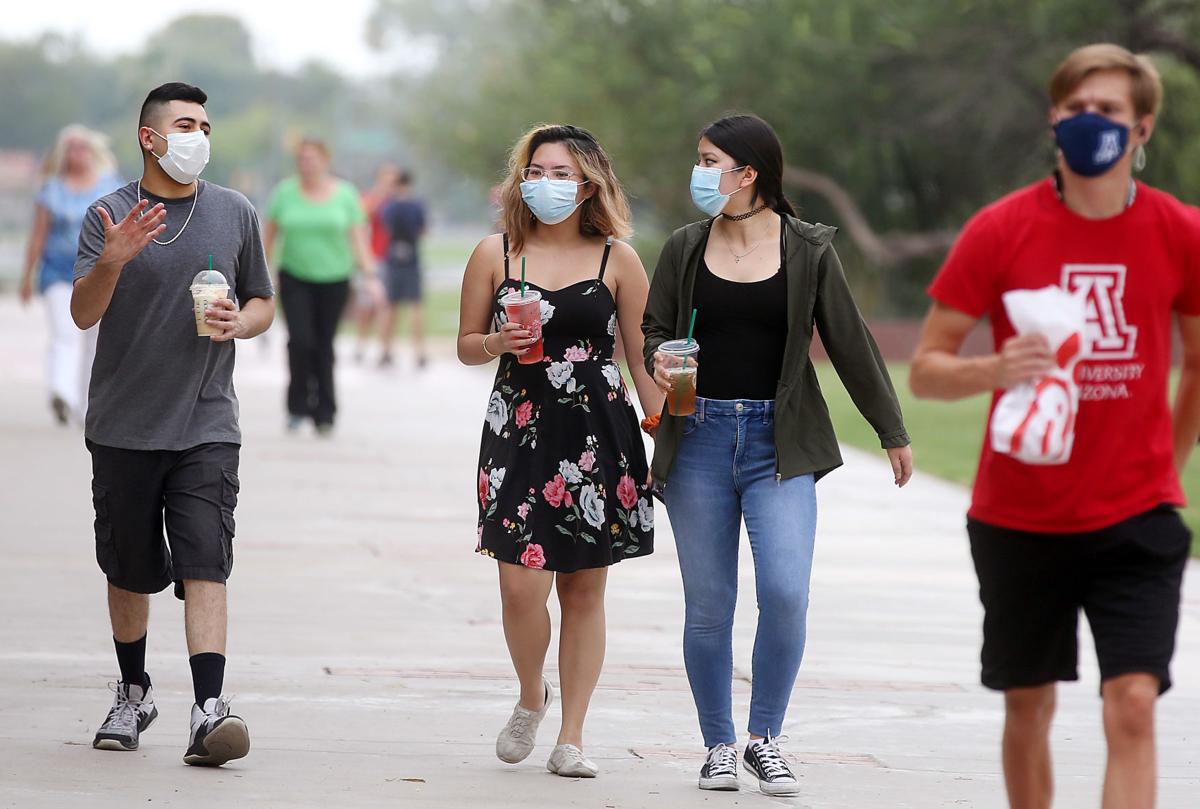 The University of Arizona is increasing its efforts to make sure students are adhering to safety and health guidelines during the just-started semester, both on campus and off.
President Robert Robbins said Tuesday that "we're hiring monitors from a private security company to patrol and ensure compliance of health and safety directives, especially face covering and physical distancing on campus."
Six private security workers, like those seen at football or basketball games, will be patrolling in three zones around the campus to remind students about the rules.
"We've had some large gatherings on campus around the sand volleyball courts outside Coronado (dorm), and it's hard to ask our student ambassadors to go and break that up with their peers; that usually doesn't go down very well. And obviously we don't want to use our armed police officers to break up those kinds of gatherings," Robbins said.
The university is also collaborating with the Tucson Police Department to respond to reports of off-campus gatherings that violate city ordinances and undermine health and safety guidelines and will respond to complaints or messages of concerns about homes around the university that are holding large gatherings. The city can use its red tag ordinance to shut down large and unruly parties.
Concerns about disturbances should be reported to 911, redtag@Tucsonaz.gov or the UA Neighborhood Hotline at 282-3649, Robbins said.
The campus security personnel will also work with the UA's COVID-19 Ambassador Team — made up of students seeking careers in health — who will "positively encourage" students to follow guidelines as well as pass out extra masks and water, the UA said.
"By the end of the week, we expect to have 30-plus student members, and this service will be offered in University Boulevard and other surrounding businesses," Robbins said. The university is also working with businesses near the campus, particularly on University Boulevard and North Fourth Avenue to ask them to enforce health and safety protocols at their properties.
In addition, sororities and fraternities are being asked to assign a person at each house to help those houses follow the rules regarding gatherings and health and safety compliance.
The university administration remains worried about noncompliance, said Dr. Richard Carmona, the UA's reentry task-force leader.
"What's happened recently is we've seen some aberrances, we've seen some people not wearing masks, we've seen people who have not adhered to these public health practices," Carmona said. He said people not following the rules are putting the campus at risk for spread of the virus.
The announcement of the increased measures follows the university reporting its largest number of positive cases since beginning its testing initiative of returning students. There were 37 new positive COVID-19 cases. There are now 105 positive cases out of the 11,761 tests completed through Sunday.
Those positive tests include those found during researchers' analysis of wastewater coming from the dorms. Last week researchers found a concentration of the virus in the Likins dorm and now have found the presence of coronavirus in the Arizona-Sonora and Árbol de la Vida dorms.
"The importance of that finding was that we were able to identify it very early before anybody was symptomatic that there were sick people in that dorm," Carmona said about the positive cases found in Likins dorm. "By morning they had been tested, identified the two students and moved them into a quarantine area to be able to keep them away and decrease transmissibility."
Those found to be positive for the virus will be moved to the isolation dorm, where students are kept in quarantine.
"We're asking, in fact, even begging our students to please comply, because for the privilege of being here, you have to help us. You are our greatest strength, but you are our great weakness if you don't comply with these public-health best practices," Carmona said.
For another week and potential for the next three weeks, Robbins said, most classes will remain online except essential in-person courses such as laboratory classes, studios and performing-arts courses, and medical schools.
Monday was supposed to mark the university's second stage of holding more in-person classes, including smaller in-person or flex courses, where students could attend in person and remotely, with 30 or fewer students in each class.
Robbins said campus health experts project that it may take until Sept. 28 to see cases go down and allow the university to enter its second phase of in-person classes.
Contact Star reporter Shaq Davis at 573-4218 or sdavis@tucson.com
On Twitter: @ShaqDavis1