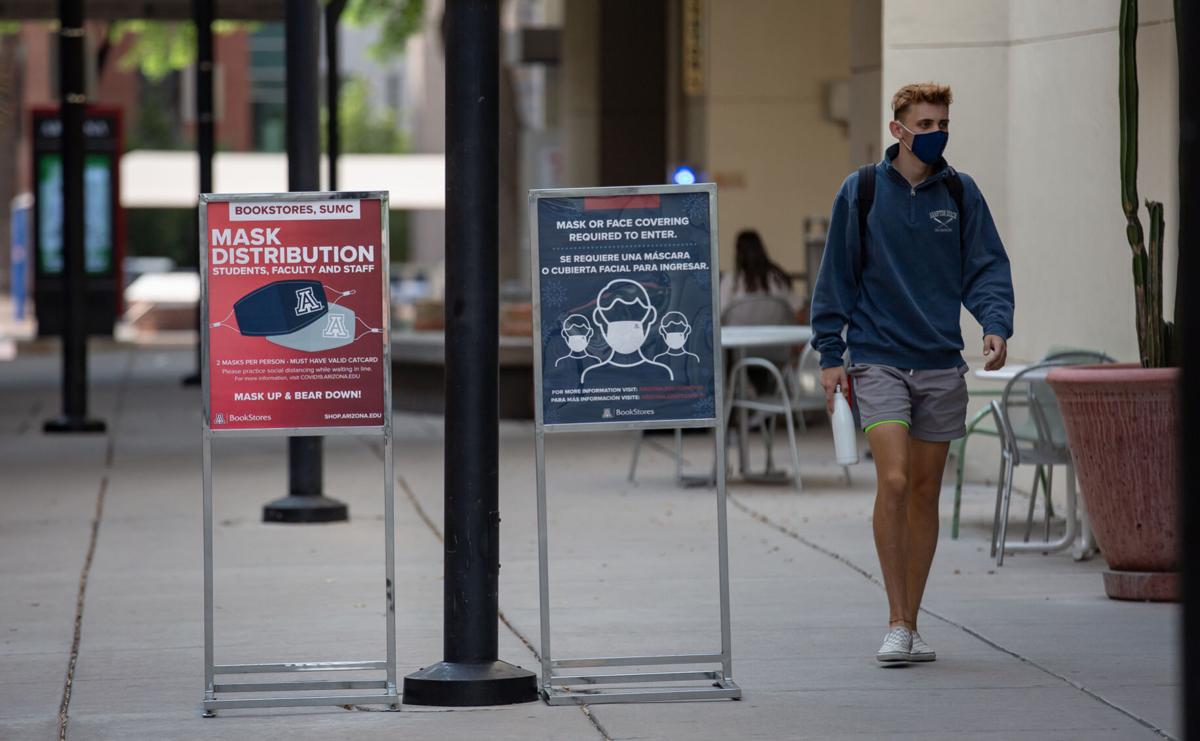 The University of Arizona will add more in-person courses starting Oct. 12 as long as coronavirus transmission continues to decline, officials announced Monday.
The latest updates related to COVID-19 in Tucson and Southern Arizona. 
In addition to the 6,200 students who are attending "essential courses," the university will allow about 2,500 more students to switch to in-person instruction for courses with 30 or fewer enrollments. These courses were pre-designated by the university after students and faculty opted in to in-person instruction.
"The students are craving this because they want that in-person experience with their classmates and with their professors," said University of Arizona President, Dr. Robert C. Robbins. "While they're in the classroom, even if it's outdoors, they'll have their faces covered, they'll be distanced and they'll be protected, even if someone that is positive were to find their way into that class."
Robbins said there have been no recorded instances of transmission in a classroom or laboratory setting so far.
The decision to start the next phase comes as recorded coronavirus cases continue to decline throughout the community. The university has recorded nearly 2,400 cases among students, faculty and staff since Aug. 4. While the UA saw its biggest spike in cases on Sept. 16, with a positivity rate of 17.5%, the most recent campus testing data shows the daily positivity rate has dropped to as low as 0.9% as of Friday.
These trends are mirrored throughout the county and state, as daily cases, deaths and hospitalizations continue to decline.
"These are good trends, but we can't be complacent," said the UA's Reentry Task Force Director, Dr. Richard Carmona. "Now we have to work even harder to make sure we stay there and continue to decrease transmissibility."
After the spike in university-based cases last month, the Pima County Health Department stepped in and recommended that all students living on or near the university shelter in place for 14 days.
While officials said the voluntary shelter in place contributed to the decrease in transmission over the past couple of weeks, there is still a chance that cases could trend upward again.
"If non compliance remains a significant issue, or if we see an increase in cases, (the shelter in place recommendation) may need to be reinstated," Robbins said. "And we're not going to be able to progress to the next stage that we're thinking about doing next week."
Last week, the UA's Campus Area Response Team, which handles complaints of large gatherings and other concerns, responded to 14 incidents in the campus area where they issued three university-related red tags, five citations and five code of conduct referrals to the Dean of Students Office.
That's compared to three red tags, 10 citations and 13 code of conduct referrals the previous week, according to Robbins.
Also joined by Pima County Public Health Director Dr. Theresa Cullen, Robbins and Carmona discussed the importance of getting a flu shot and said they will work with the county to ensure that students, employees and other community members are being given access to vaccinations.
"We're all part of a global community," Robbins said. "We each need to take responsibility for our own actions, not just for our own health, but more importantly for the health of our entire community and society."