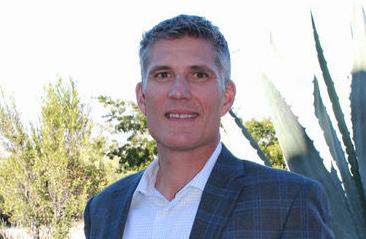 John Carruth didn't ever plan on getting into politics.
Carruth, current associate superintendent for the Vail School District and soon-to-be chief of staff for state schools Superintendent-elect Kathy Hoffman, said he kind of just fell into it — just like he fell into the education field, almost 30 years ago.
"Until Kathy called me a week or so ago, I had every intention of retiring here in the Vail School District," he said. "So this was not my plan."
Carruth, whose family has lived in Tucson since the late 1940s, wasn't always an educator. He graduated from the University of Arizona in the early '90s with a double degree in psychology and sociology. After college, he went into social work, helping kids going through the court system reunify with their families.
Though he was passionate about helping kids navigate the courts, Carruth quit his job after a he and his wife decided to move to Houston. There, she studied occupational therapy and Carruth discovered his passion for educating.
In Houston, he worked a similar social work gig to the one he had in Tucson, but decided to switch gears. His job often brought him into classrooms, working one-on-one with students with special needs, and he fell in love with the idea of being a teacher. It excited him, being able to directly impact the kids in a way he previously couldn't.
"I loved the idea that I could help kids in a different way," Carruth said. "I felt like I had more control impacting a young person's life in the walls of a classroom than I did actually being a social worker."
Carruth caught the education bug and couldn't shake it, so he enrolled in an accelerated teaching certification program at the University of St. Thomas in Houston. He has been educating ever since — for two years as a special-education teacher at a school in a small town outside Houston, and the rest at Vail.
Carruth accepted a job teaching special education at the then 1,200-student Vail School District in 1995, after his wife graduated from school. After teaching special education, he moved on to become the district's director of special education and, for the last 15 years, its associate superintendent.
"Education — it binds communities together in a way that few institutions today have the opportunity to do," he said. "And I've just been blessed to be part of that process at Vail."
Carruth is once again preparing to switch gears, career-wise. He said his time at Vail working as an educator and administrator, wrangling kids and adults to get stuff done, has prepared him for his new role at the state government. Additionally, he strongly believes in Hoffman's progressive goals for Arizona education.
Hoffman "is authentic … and courageous. People at first discounted her, and they shouldn't have discounted her," he said. "I think I can help her. I think that's why I ultimately decided to leave my dream job in the community I'm so invested in."
Vail Superintendent Calvin Baker, who Carruth called his "dear friend and mentor," speaks highly of his colleague. He said Carruth has served more as a "co-superintendent" than an assistant, so his departure is somewhat bittersweet.
"John's appointment is a big loss for Vail, but a strong step forward for education in Arizona," Baker said. "We are proud of John Carruth and confident he will do a good job."
Hoffman is no stranger to the Vail district, having worked as a speech pathologist for three years while Carruth was associate superintendent. She said she respects his dedication to creating inclusive learning experiences for Vail students and looks forward to him bringing this approach to the state level.
"I think he is going to be an amazing contributor to building this kind of culture and prioritizing equity in our schools," Hoffman said.
As for Carruth, he's excited to get to work. Despite his lack of experience running a government agency — and one as large as the Department of Education, at that — he's up for the challenge. He said he understands the nuances of Arizona's historically conservative education policy and politics, and plans on advocating for bipartisan reforms both sides can get behind.
Carruth knows bipartisan reform, especially on something as hotly contested as public education funding, won't come easily, but getting opposite sides to work together, no matter how uncomfortable that may be, is his bread and butter.
"What I have done well (at Vail) is bringing people together around a common issue and solving that … continuing to put my nose in things even when it's uncomfortable," Carruth said. "I think sometimes we shy away from disagreement, but disagreement is healthy. It makes us better."