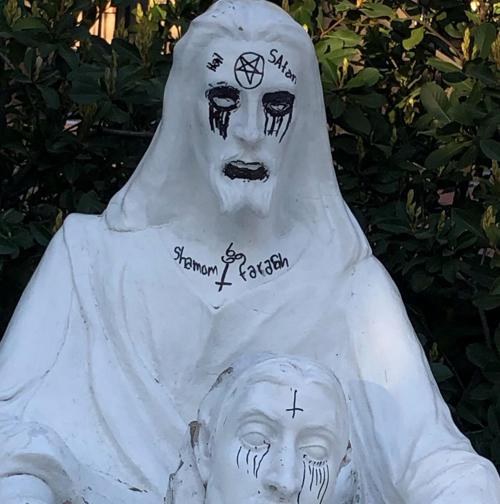 A downtown area landmark containing religious sculptures is temporarily closed after it was vandalized sometime last week.
Someone took the head off of a disciple statue in the Garden of Gethsemane, at 670 W. Congress Ave., placed it in front of another statue, and drew symbols and messages referencing Satan on both.
The vandalism was discovered Saturday morning. It's not certain how long the park will be closed, but it may reopen as soon as Tuesday, said Sean Nicholson, the Parks and Recreation Superintendent.
Next to the Santa Cruz River, the garden contains the religious sculptures by artist Felix Lucero and is popular for weddings, quinceañeras and small parties, according to the Tucson Parks and Recreation website.
This isn't the first time the religious sculptures in the park have been vandalized. In 2015, someone crushed the feet of a Baby Jesus statue and decapitated a disciple, according to Arizona Daily Star archives. And many years prior, all the statues were beheaded.
Nicholson said a sculptor who repaired the statues before will repair them this time again, though it's not yet clear how long the repairs will take or what it will cost.
There isn't currently a suspect, and Nicholson said it could have been anyone from kids to someone protesting the religious statues. 
"If we have artwork, it's going to get vandalized," he said about all the city parks that contain art.
Anyone with information is asked to call 88-CRIME, an anonymous tip line.