Some people may be skeptical about the morale and good work being done throughout the country, but retired Marine Sam Brokenshire isn't one of them.
Brokenshire is one of the many retired service members who now works for Team Rubicon, a volunteer disaster relief organization for veterans.
"There's a feeling in America right now that we're on the decline, but being on these deployments and seeing all these young veterans coming back, I think we're just at the beginning of our greatness again," Brokenshire said.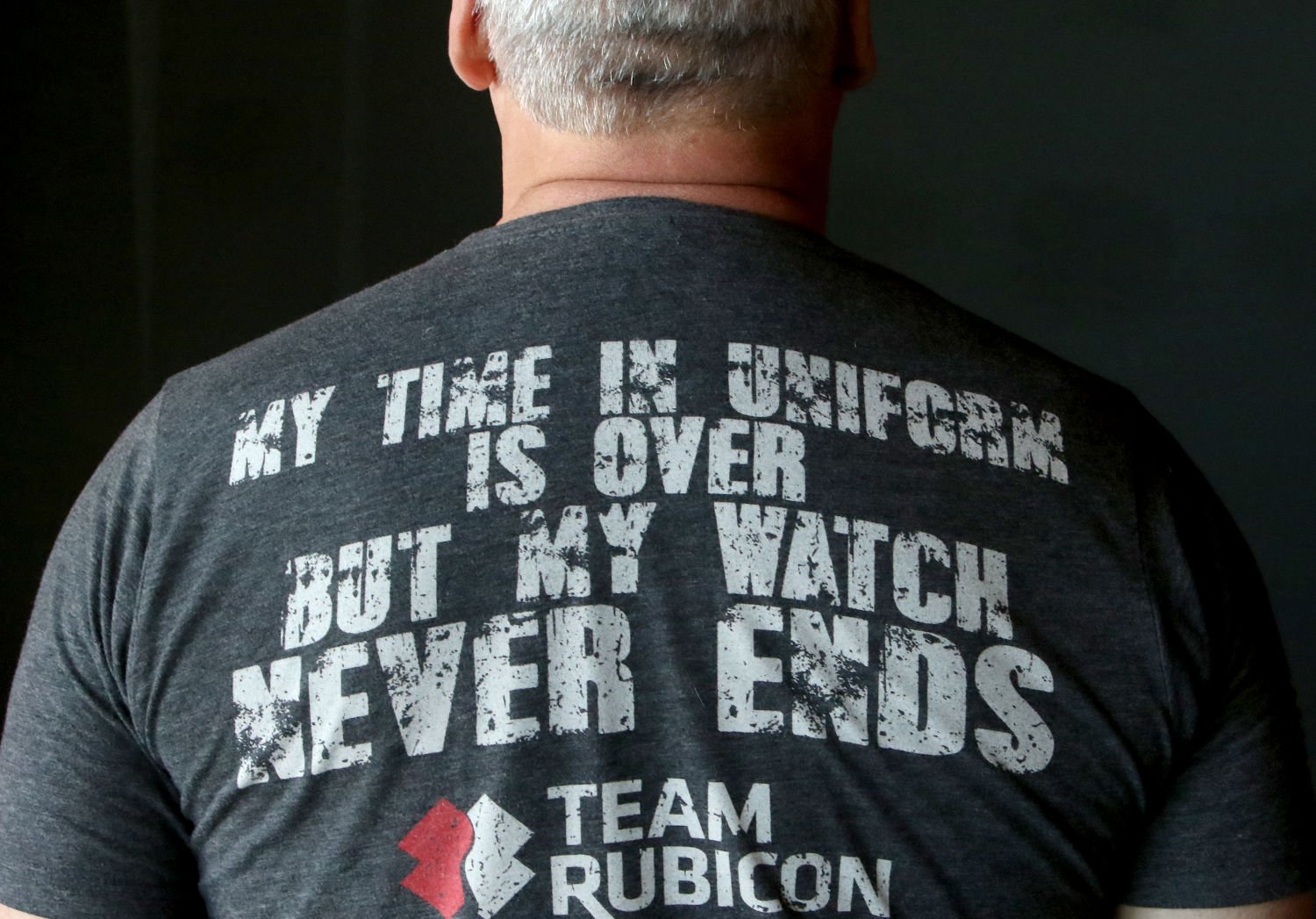 Veteran Sam Brokenshire wears a Team Rubicon t-shirt. He is a regional field operations manager with Team Rubicon, a program for veterans who serve as disaster relief workers. The photo was taken on Friday, October 23, 2015, in Tucson Ariz. A.E. Araiza/ Arizona Daily Star
He registered with the group one year before retiring as a corrections officer, and now holds Team Rubicon's regional field operations manager position which oversees Arizona, California Nevada and Hawaii.
And Brokenshire's warm, reserved smile grows when talking about the unofficial Rubicon slogan adorning his T-shirt which touts, "My time in uniform is over, but my watch never ends."
Becoming involved with the organization is a way for returning soldiers to reintegrate, and have a mission just as important as active duty, Brokenshire said.
"I think that is what's therapeutic about Team Rubicon," he said, "you can reacquaint yourself with what was important to you at one time that was lost."
Brokenshire just returned home from the relief effort in South Carolina. And, not only did the group's mission help other veterans, but its message relays a positive narrative many people are unaware of, he said.
"There is good being done out there," he added.
The stout, soft-spoken retiree from Scranton, Pennsylvania, failed his first attempt at the Marines, in officer candidate school.
He had already earned his bachelor's degree from Pennsylvania State University, so Brokenshire began teaching at Wallenpaupack Area High School.
But, Brokenshire said he felt dissatisfied with the teaching position and after two years decided to enlist. "It was always eating at me, that I had not succeeded," he said.
Brokenshire went through basic training in Parris Island, South Carolina, and became a military police officer in San Diego.
After two years of exemplary service, Brokenshire earned an embassy duty position. Between 1984 and 1986 he served in both Paris and Mogadishu, Somalia.
He was on active duty until 1991, and settled in Tucson after returning stateside.
One year before retiring from his corrections officer position, Brokenshire joined Team Rubicon and began his new full-time mission.
Katie Whichard, a Team Rubicon regional deputy communications manager, also found a second home at the organization after retiring from the Marines last October.
Whichard said team members like Brokenshire embody Team Rubicon's mission.
"He's one of those standout people who have put his heart and soul into this," Whichard said. "He's the go-to-guy, and he seems to have all the answers."
Whichard further said Brokenshire's graceful leadership skills are invaluable whether he's working side-by-side with a team or directing an effort remotely.
Brokenshire comes from a place of genuine concern and humility, Whichard said.
"He not only helps out the victims of these disasters but he helps out the volunteers with their lives," she said.