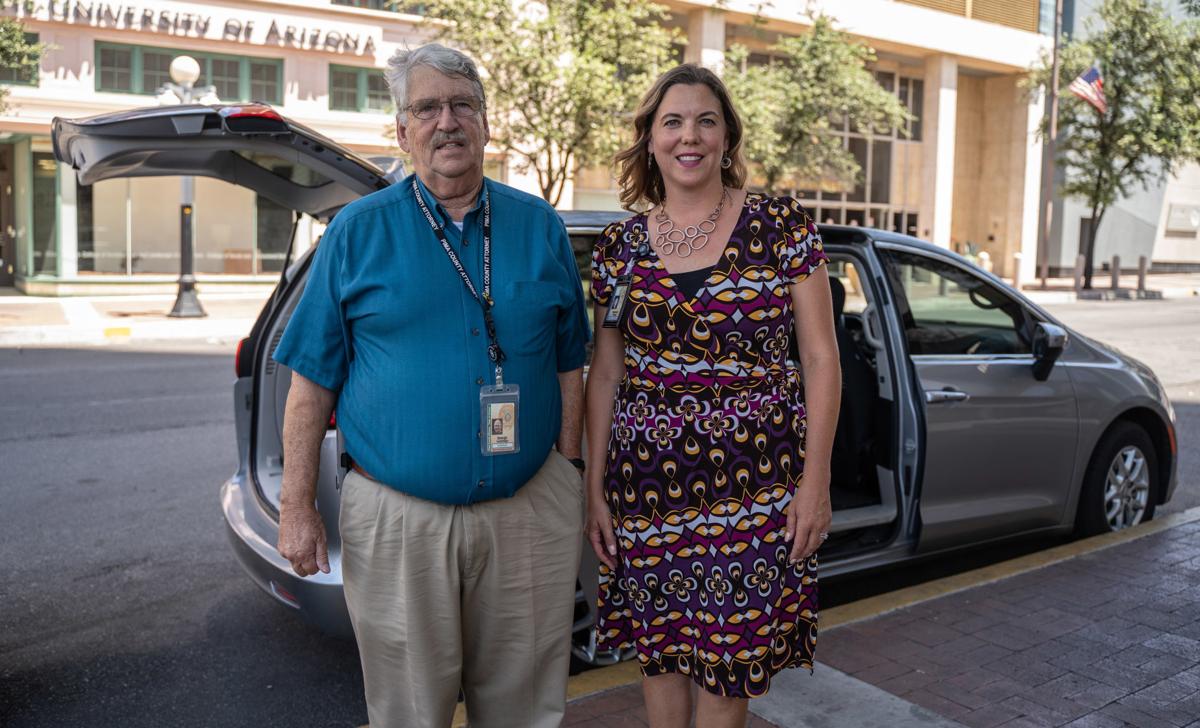 Desert dwellers know the value of water. During the sweltering Tucson summers, every drop of monsoon rain feels precious.
For one group of Tucsonans, water brings people in crisis back into focus.
"Water is the staple of crisis intervention," says George Lockridge, a longtime volunteer with the Pima County Attorney's Office Victim Services Division. In his experience, Lockridge says, stressed people get dehydrated and water helps calm them.
Lockridge would know. He began volunteering with Victim Services in 1997, back when it was called Victim Witness.
After a traumatic incident, first responders work to ensure the physical safety of victims. Victim Services looks after the victims' emotional well-being.
Victim Services' crisis intervention workers, made up of teams of at least two people, respond to the scenes of tragedy and meet with victims. They might be on a mobile unit, which patrols 24 hours a day, seven days a week, or the on-call unit.
"Most people are really surprised at how busy it is on the streets in Tucson every day," Lockridge said.
After the immediate incident, court advocacy workers accompany victims through the legal process and help them understand what is happening in court on any given day.
Both groups of Victim Services workers are trained to provide support and answer any questions victims might have. They may also give victims the contact information for other resource centers.
A national model
The Victim Services Division was formed in 1975. From the beginning it took a community based approach and focused on how to best help victims, whether through its own services or by directing them to other community resources. Its innovative system became a national model for other similar programs, according to the University of Akron's Oral History of the Crime Victim Assistance Field.
Today, Victim Services has 26 professionals employed as advocates, said Vanessa Helms, who took over as director in 2017. However, most of the division's workers are volunteers. At any given time, it has between 90 and 120 active volunteers, according to Helms.
Some workers, like Lockridge, have been around for decades and have seen the division change to keep up with the times. When Lockridge first joined, while still working with the National Guard as a firefighter, the division was smaller. There was no court advocacy component and workers communicated by radio, pagers and pay phones.
He remembered his initial training was good, but quick.
"You didn't get much chance to learn by watching other people because you got put on unit right away as soon as you were out of training because they were so short on people," Lockridge said. "So you learned a lot more on the fly then than you do now. Now we get a lot more training and ride alongs."
Most volunteers spend considerably less time with the program than Lockridge, which is part of the reason why the division is always looking for more, Helms said.
Strong support system
Married couple Maria de Lourdes Ávila and Tim Armbruster are both volunteers. Before retirement, both worked in the Pima County Legal Defender's Office.
Armbruster is a new volunteer, still in the probationary period. He joined as a court advocate this year after witnessing de Lourdes Ávila's work with the program. She began training as a crisis intervention volunteer in August 2018 and by July 2019 had advanced to the role of mobile team leader.
Both of them went through Victim Services' extensive training process.
According to Helms, all new Victim Services workers, whether paid or volunteer, go through the same initial training process.
They must first attend an information session, which are held twice a year. Then they go through 30 hours of basic training over the course of several weeks. From there, court and crisis workers split off for another 30 hours of advanced training.
After that, comes a probationary period for new volunteers before becoming full-fledged advocates.
Because of the lengthy training process, Victim Services asks newcomers to commit to at least one year of volunteering and 20 hours a month of work for crisis volunteers, or four shifts a month for court advocates.
Throughout the process, new recruits are interviewed in order to check in on their progress and how they are feeling about the process. It is not uncommon for people to decide that the work is not for them, Helms said.
Others may find that the work brings up painful memories of their own victimization.
"Because when you're a volunteer, you're working, clearly, with people who have been victimized and that can be a personal trigger for folks if they've had a recent experience with a victimization," Helms said. "And we don't want to put them in a space where this work is harming them."
She added that there are many active workers who have been victimized, but have had adequate time to process that experience.
For the folks who do stick around, Victim Services works to provide a support system not just for victims, but for the new workers, as well as the seasoned volunteers.
"We want to just make sure that the folks who are doing this work, because it's pretty intense work, feel like they have the information, the skills, the knowledge to be able to effectively work with crime victims, both in the community and in the courtroom setting," Helms said.
From the beginning of the training process, new crisis volunteers are encouraged to go on observational ride alongs with experienced volunteer teams.
While Armbruster felt that his time as a lawyer helped prepare him for court advocacy work, de Lourdes Ávila said that nothing could have prepared her for her first experience as a crisis intervention worker. She said that bits and pieces of the emotional cases stick with her.
This work can be emotionally taxing, according to Helms and other volunteers.
"It takes a toll when you are listening to trauma and crisis," Helms said. "Your brain doesn't determine whether or not it's real or not for you. It's the same type of reaction and response."
For this reason, the training emphasizes the self care that volunteers must take in order to maintain their own mental health while doing this work.
The workers themselves also form a support network. New volunteers go out with mentors who can help them debrief afterwards. Seasoned workers can attend monthly meetings for new training and support. People check in on one another after particularly traumatic calls.
"This group is really good at taking care of each other," Lockridge said. "That's another one of the reasons that I like them."
Helms, Lockridge, Armbruster and de Lourdes Ávila all said that this volunteer work can benefit anyone and encouraged people to give it a shot.
"We are so used to our comfort zone and what makes sense for us," de Lourdes Ávila said. "And to be pushed — in a very supportive way— but to be pushed to do something that you would not think was even possible and to be vulnerable in that sense is incredibly powerful."
Vanessa Ontiveros is a University of Arizona journalism student and Star apprentice.