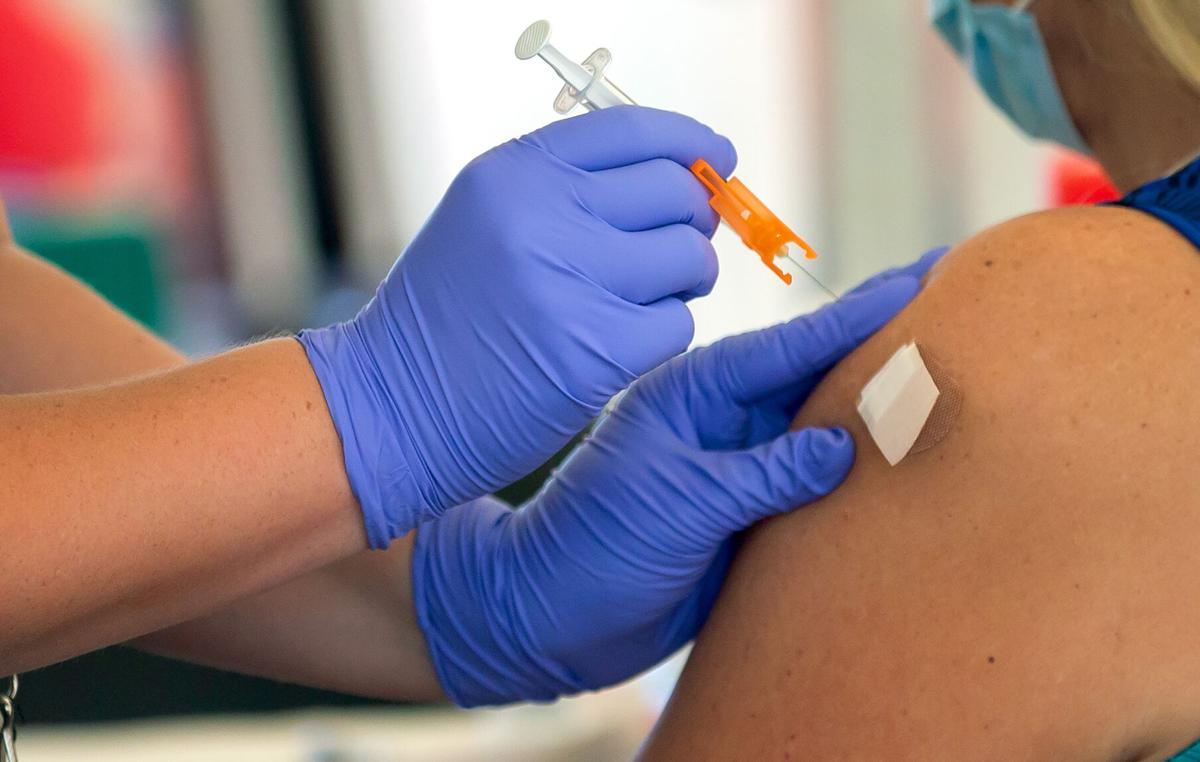 The number of new COVID-19 cases in a week has risen for the third consecutive week, this time spiking by 23% in Pima County and 20% across Arizona.
Countywide, the weekly tally of new cases has risen above the summer 2020 peak when cases first surged. At that time, new cases in Pima County topped out at about 2,500 in the first week of July 2020. Recently, new cases rose to nearly 3,200 in the first week of November.
As a result, intensive care units are filling up in Tucson hospitals, and ventilator use is high.
Statewide, new cases hit about 22,600 in the first week of November, which is still below Arizona's summer 2020 peak of 28,000.
The number of new cases in the first week of November was still well below the peak of new weekly cases in Arizona and Pima County last winter, which reached about 9,100 countywide and 66,700 statewide, according to data from the Arizona Department of Health Services.
Now the question is: Are we headed for another major winter surge?
Yes, cases have room to keep climbing, but it won't get as bad as last winter, said Dr. Joe Gerald, an associate professor with the University of Arizona's College of Public Health.
"We've got Thanksgiving, Christmas and New Year's coming up. Looks like it's going to be rough again this holiday season," he said. "So while we won't achieve the winter 2021 numbers, there's still gonna be a lot of people that are going to get sick and die over the next two months."
Too much has changed for cases to surge higher than they did last winter, Gerald said. Most significantly, more people have been vaccinated or have some level of immunity after recovering from a COVID-19 infection.
Nevertheless, Dr. Theresa Cullen, the county's health department director, said she thinks multiple factors are fueling this latest wave.
This includes the usual things that spread the virus that causes COVID-19, such as large unmasked social gatherings and people not protecting themselves while socializing, she said, adding that everyone should wear a mask inside in social settings.
The recent surge in cases is still largely happening among the unvaccinated, she said. "The most important thing is the unvaccinated need to get vaccinated. They are still the most important group."
However, waning vaccine immunity has also contributed to the recent surge of cases.
Overall, the number of breakthrough cases — in which fully vaccinated people get COVID — has been very low throughout the pandemic.
Since about February, Pima County has had about 7,600 breakthrough cases, Cullen said.
Of all the fully vaccinated people in Pima County, only 1.25% have had a breakthrough case, resulting in only .03% being hospitalized.
These countywide breakthrough cases add up to about 16% of all cases in Pima County since February.
Breakthrough cases started increasing in August, September and October, Cullen said.
"The data that shows decreased antibody response after six months is of concern," she said.
There were about 2,600 breakthrough cases in October, she said. This accounted for nearly 28% of the 9,300 new cases tallied by ADHS last month.
If and when the booster is appropriate for you, "it's now an important part of protecting yourself," Cullen said.
The health department will issue a public health advisory next week, likely on Monday, that will make recommendations on what the public should be doing now that COVID-19 is at a persistently high and increasing level of transmission, Cullen said.
The health department may extend who they recommend get a booster shot to include all adults regardless of which vaccine regimen someone originally completed, Cullen said.
She noted that the health department is still working out the details of this potential recommendation.
Currently, all adults who received the Johnson & Johnson vaccine are eligible for a booster two months after receiving the initial shot.
However, as it stands now, it's a little more complicated for adults who received Pfizer or Moderna's vaccines. They are eligible six months after getting fully vaccinated, but only if they are 65 or older, or if they fall into certain other high-risk categories.
Meanwhile, as cases rise, Tucson's hospitals are starting to see a build-up in patient loads.
"I'm worried about the hospital system," Cullen said, noting that on Nov. 12 the county's ICU bed availability was less than 5%.
A day earlier, on Nov. 11, hospitals across the state had 7% of their ICU beds available, according to ADHS data.
Banner Health, the state's largest health care provider, is seeing its highest ICU usage in Tucson in eight months, with a significant jump over the last 48 hours, said spokeswoman Rebecca Ruiz Hudman.
Ventilator use is high, she said, and has been increasing since the beginning of November at the two hospitals here, Banner University Medical Center Tucson, 1625 N Campbell Ave., and Banner University Medical Center South, 2800 E Ajo Way.
Pediatric hospitalizations for COVID have also increased in the past few days after being flat for the last two months, she said.
In northwest Pima County, hospitals are also seeing an increase.
"We have seen a gradual increase in COVID patients over the past two weeks and a sharper uptick in cases over the past several days. Our hospitals remain very busy, but we do have some inpatient capacity," said Veronica Apodaca, market director of Northwest Healthcare, which includes Oro Valley Hospital, 1551 E. Tangerine Road, and Northwest Medical Center, 6200 N. La Cholla Blvd.
"We continue to be available to care for our community, but urge everyone to take precautions as we see increased spread in our region."
Tucson Medical Center, 5301 E. Grant Road, is also seeing a significant jump, with 52 COVID patients in the hospital as of Friday, about 20 more than a week ago.
COVID-19 deaths have not yet started to show a clear upward trend in Pima County or Arizona, but deaths naturally lag behind spikes in hospitalizations. Then the data on deaths lag several weeks behind when those deaths occur, Gerald said.
"Clearly, we've transitioned into a new period, a new phase in the delta wave. What it might do, how long it might last, how bad it might get, I only have the vaguest understanding of what we're going to see," he said.
"It's not going to be as bad as it was in winter 2021. Short of that, I don't know if it'll be half as bad, two thirds as bad. Beats me."