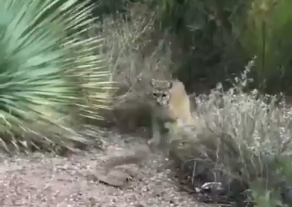 A new video captures an encounter between a snake and a bobcat in Oro Valley. 
The video, posted yesterday by the Arizona Game and Fish Department on Twitter, shows a bobcat swatting at a western diamondback rattlesnake before backing away. 
The department says the rattlesnake "drew the attention of the curious bobcat because of its movement and sound."
Watch the video below, courtesy of Game and Fish and Rolf Averill.
Nine Lives: Video taken yesterday of a bobcat thinking twice about attacking a western diamondback rattlesnake in Oro Valley. The rattlesnake drew the attention of the curious bobcat because of its movement and sound. Bobcats have no immunity to snake venom. Vid by Rolf Averill. pic.twitter.com/zz3o97naAm

— AZ Game & Fish Dept (@azgfdTucson) July 24, 2019