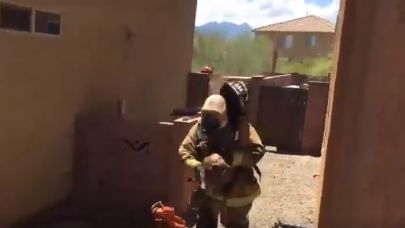 A 3-month-old Australian Shepherd puppy sustained multiple bee stings in Green Valley today. 
Fire officials responded to the scene in the 800 block of West Placita Canalito in Green Valley. Firefighters used foam to help rescue the puppy.
The puppy is alive and is on its way to a vet. No further details were released.
@GVFDPIO responded to active Bee/Swarm/attack 800 blk W Pla. Canalito GV.
Victim of attack was 3 month old Australian Shepherd puppy. FF used foam to get to puppy and rescue. Puppy was alive after being stung multiple times. Now on the way to the vet. pic.twitter.com/56yRfxk1cJ

— Official GV Fire PIO (@GVFDPIO) July 17, 2018
Contact reporter Gloria Knott at gknott@tucson.com or 573-4235. On Twitter: @gloriaeknott