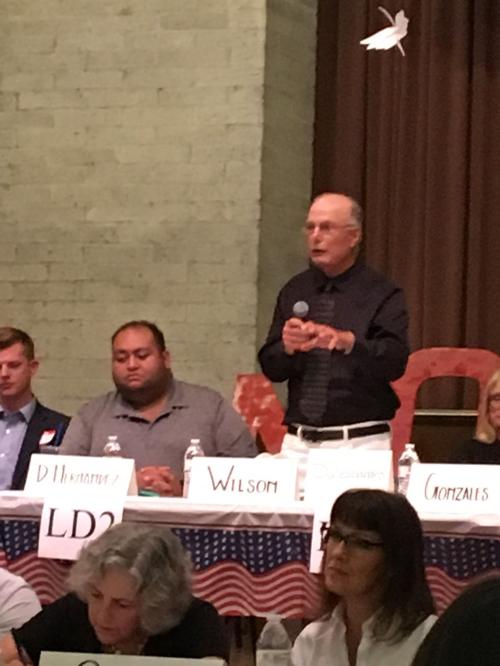 Bobby Wilson stood alone on a stage surrounded by his political opponents for nearly four minutes on July 9.
The retired lawyer, running as a Republican for a seat in the Arizona Senate, calmly explained to the Tucson audience at a candidate forum focused on gun control that "the only way to stop a crazy madman from killing innocent people is you better have a good guy there with a gun."
Wilson, who is repeatedly booed by the audience for various reasons (including saying everyone is good Christians) describes how he was nearly killed in his bed by a man who broke into his home, wanted to kill him. Wilson was able to shoot with a loaded gun he kept under his bed. pic.twitter.com/b0djHCXYLb

— Joe Ferguson (@joeferguson) July 10, 2018
He wasn't done. One of nearly two dozen candidates invited to the Moms Demand Action forum, Wilson told the crowd of about 200 people — including several survivors of the Jan. 8 mass Tucson shooting — that he was living proof of the need for guns for self protection.
In 1963, Wilson said he woke up at 3 a.m. to someone that was "hellbent" on killing him in his sleep and was armed with a semi-automatic rifle.
His assailant shot first, but the six bullets sailed past him and Wilson was able to grab a loaded .22 he kept under his bed, shooting her in the head.
While he did not say it on July 9, the woman the 18-year-old Wilson shot in Oklahoma was his mother.
In his book, "Bobby's Trials," Wilson chronicled that after he shot his mother, he turned on a light, causing an explosion fueled by gasoline that he kept in his bedroom. Wilson's sister, who was also in the home, died. The explosion blew Wilson clear into the yard.
For years Wilson claimed he had no memory of the events after he woke up. He would be tried in court, but was found not guilty.
Wilson, who said he was a proud member of the NRA, was booed and shouted down at the forum.
Seated next to state Rep. Daniel Hernandez Jr., Wilson told the crowd "You can pass all the laws you want to in the world and if you got somebody out there that wants to harm someone, they are going to do it."
Hernandez is credited with helping to save former U.S. Rep. Gabrielle Giffords' life during the Jan. 8 shooting.
Wilson will face small business owner Shelley Kais for the Republican nomination in Legislative District 2 next month, with the winner facing Democrat Andrea Dalessandro in November.
UPDATE: On his campaign's Facebook account, Wilson has dismissed news account of him at the forum.
In the post, Wilson misspelled the word "publicity," compared himself to President Donald Trump and mused about running for higher office.
"I know how President Trump feels now with all the fake news stories making the rounds about me.  Oh Well; as he said there is no such thing as bad publishisty," he wrote.
"Guess I will run for President one of these days."
Older posts link to the Arizona Daily Star's reporting on his appearance, with Wilson telling supporters to buy the newspaper on the day his story appeared.