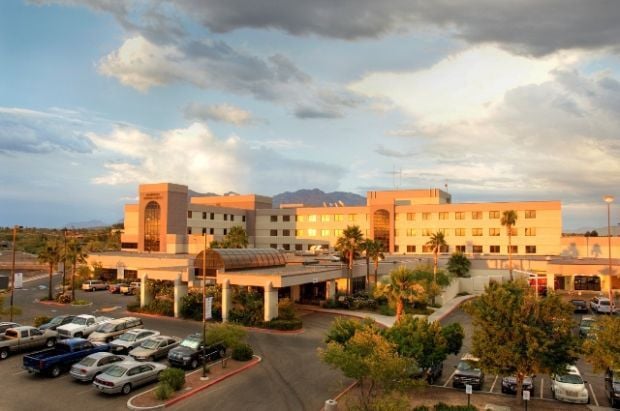 A contract dispute means Tucson residents with UnitedHealthcare may soon be unable to access a large system of northwest-side health providers.
Northwest Healthcare, which is owned by Tennesee-based, for-profit Community Health Systems, sent a letter on March 2 to patients saying the company would stop accepting UnitedHealthcare insurance on May 1.
However, both sides in the dispute say negotiations are ongoing.
Northwest Healthcare includes, in addition to numerous clinics and primary-care providers, two hospitals: Northwest Medical Center and Oro Valley Hospital.
"Northwest Healthcare is seeking significant rate increases of more than 25 percent over the course of three years without any commitment to improving the health of our members," UnitedHealthcare officials said in an emailed statement Friday afternoon.
"We are asking Northwest Healthcare to join other hospitals in our Arizona network and commit to a performance-based relationship that focuses financial incentives on quality and patient outcomes."
Officials with UnitedHealthcare in Arizona say the dispute stems from Northwest Healthcare's refusal to join other Arizona health systems in belonging to a value-based health-care model.
"We want a relationship with Northwest," said Lisa Contreras, regional communications director for UnitedHealthcare's Western Region.
In an email, Northwest Healthcare spokeswoman Kimberly Chimene said Northwest continues to negotiate with United and disputed the way the insurer was characterizing the dispute.
"UHC is seeking an immediate decrease of 25 percent in reimbursement rates to Northwest Medical Center and Oro Valley Hospital," she wrote.
"Additionally, we have asked UHC to enter into quality and cost incentive contracts, but have been refused. Northwest Healthcare participates in quality-based in incentives with all other major insurance companies in Tucson."
She added that Northwest Healthcare has agreements in place with all other major health plans in the area.
"The May 1 date is the effective date should we NOT be able to come to terms. All patients with United Healthcare are covered until that date," she wrote.
Northwest officials did not provide an estimate of how many people would be affected.
The insurance company estimates about 27,500 UnitedHealthcare members accessed a Northwest Healthcare facility in the past 12 to 18 months, and 18,600 members received care from a Northwest Healthcare physician.
Contreras emphasized that exact numbers are difficult to pinpoint as there's likely redundancy and crossover among those member visits.
A contract termination would affect UnitedHealthcare's Medicaid, Medicare Advantage and commercial plans, the letter from Northwest Healthcare CEO Kevin Stockton said.
"I'll have to find another primary care physician and there aren't many around," said Sun City Oro Valley resident Chris Clark, a retired tax lawyer who is covered by UnitedHealthcare through his wife via the Arizona State Retirement System.
"It's an hour to get into Tucson from here."
Marana resident Michael Browning received two of the letters last week — one from Desert Cardiology and another from his personal physician.
"It's going to be a real problem out here if this happens," Browning said. "They've kind of got a lock on things in this area. It is big, not just from the hospital standpoint, but from all the specialists and urgent-care providers."
The letter Clark and others received says anyone with UnitedHealthcare insurance would be unable to use their insurance at the following places:
Northwest Medical Center.
Oro Valley Hospital.
All locations of Northwest Allied Physicians.
All locations of QuickMed Clinics.
Northwest Emergency Center, the Desert Cardiology & Heart Center of Southern Arizona.
Tucson Surgery Center.
Center for Pain Management.
The exceptions would be patients needing emergency care, since any emergency patients can always access emergency rooms at in-network benefit rates regardless of network status, Northwest officials said.
Certain patients may also be eligible for continuation of care benefits through United, Stockton wrote in the March 2 letter. That includes patients receiving ongoing treatment for special conditions, or women in their third trimester of pregnancy.
United members who think they may qualify should call the number on the back of their insurance card, officials said.
"We understand this will be challenging for you if the contract reaches termination," Stockton's letter says. "Please consider expressing your dissatisfaction with United's decision by contacting them directly at 1-800-985-2356."
As of Monday, United said they did not want people to call the number Northwest Healthcare printed in its letter. Rather, they want people to call the number on the back of their insurance card.
In that case, both claimed the other party was making unreasonable demands and putting patients' access to care at risk.
BlueCross said Carondelet was demanding 40 percent increases in their reimbursement rates, while Carondelet executives countered that BlueCross had long reimbursed the hospital less than other Tucson hospitals, contributing to years of operating losses for Carondelet.
Ultimately, the two sides reached a compromise.
Contact health reporter Stephanie Innes at 573-4134 or email sinnes@tucson.com. On Twitter: @stephanieinnes