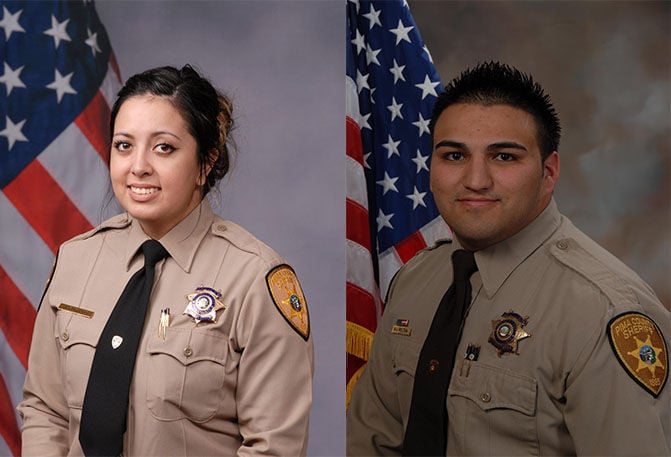 Two Pima County corrections officers who were fired in late October are back to work at the jail, after reaching a settlement with the Sheriff's Department last week, officials said.
Alexandra Barajas and Bryan Melton were fired from the Pima County Sheriff's Department on Oct. 24, after an internal investigation showed "pervasive and inappropriate lewd behavior" between the two while on duty at the jail, according to documents from the Pima County Merit System Commission.
The pair was originally placed on administrative leave without pay Sept. 8, while the Sheriff's Department investigated the claims against them. Barajas and Melton immediately appealed the suspensions with the Merit Commission and were fired while awaiting their December hearing, which was postponed, documents show.
During the Merit Commission's Jan. 4 meeting, Barajas and Melton's attorney, Mike Storie, reached a settlement agreement with the Sheriff's Department, allowing the pair to receive suspensions without pay in lieu of being fired, said Wendy Petersen, deputy director of Pima County Human Resources.
The suspensions were in effect through Jan. 8, and both have since returned to work, said Deputy Cody Gress, a sheriff's department spokesman.
The department's investigation into Barajas and Melton began in July, after it was reported that the two had been spotted "touching, petting, kissing and holding hands" while on duty and in front of inmates and staff, according to the documents.
Investigators also learned the pair left their assigned posts without permission, missed mandatory inmate welfare checks, abused their breaks, failed to administer medications and didn't "properly, truthfully and completely" document records and incidents.
Melton's suspension notice also said he used unnecessary and unprovoked force on a juvenile inmate, and mentioned that he'd been involved in "horseplay" with more than one female corrections officer.
Sheriff Mark Napier said the settlement came after the department's lawyers determined there was a good chance the Merit Commission would rule in favor of Barajas and Melton.
"As an alternative to a long hearing process with an uncertain outcome, the employees agreed to a substantial unpaid suspension and a very rigid last chance employment agreement," Napier said. "It was the best judgment of the department to accept this in consideration of the totality of the circumstances."