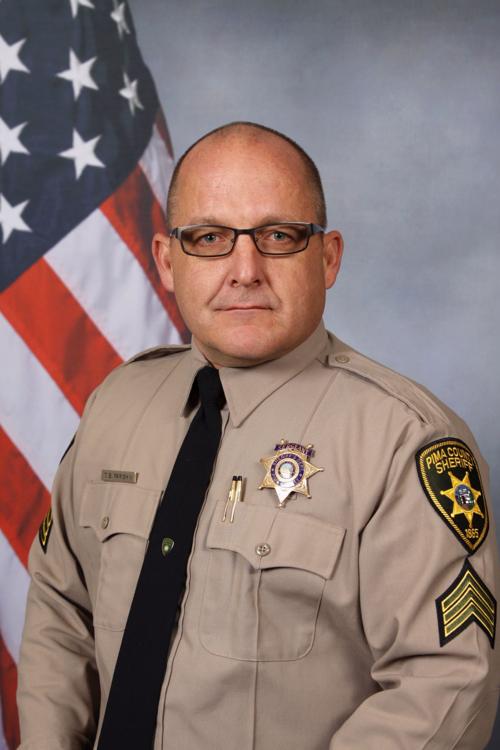 A Pima County law enforcement review board decided that the January demotion of a Sheriff's Department sergeant did not follow county guidelines.
Terry Parish was demoted from lieutenant back to sergeant Jan. 1 after newly elected Sheriff Mark Napier said Parish failed his probationary period.
Under Pima County Law Enforcement Merit System rules, suspensions and terminations are appealable, but demotions that take place as a result of failing probation are not.
After two days consisting of nearly eight hours of testimony, the Merit Commission decided it had the jurisdictional authority to hear Parish's appeal of his demotion because of unclear language in the system's rules regarding a demotion's effective date.
"It's rare but not uncommon for us to hold jurisdictional hearings," commission chairwoman Georgia Brousseau said at the start of the April 10 meeting.
Because Parish's demotion — which came on the heels of a tumultuous election for Pima County sheriff — occurred under unique or unclear circumstances, the Merit Commission decided it would hear the case to make sure no rules were broken.
"Unlike the last 37 years, we've had a change in the Sheriff Department's administration," Brousseau said. "And an action that occurred very early into the new sheriff's tenure has been called into question."
Parish's attorney, Mike Storie, said Napier demoted Parish out of retaliation for his open support of then-Sheriff Chris Nanos during the election. Nanos, who was appointed sheriff in 2015, lost to Napier in November's election.
Storie argued that regardless of the motive, the Sheriff's Department violated a Merit System rule that says a demotion must be processed at the beginning of a pay period.
Parish was demoted Jan. 1 — the day Napier took office — and his drop in pay became effective the same day.
During his testimony, Parish said that under a Merit System rule that was added last year, his demotion shouldn't have taken effect until the start of the next pay period Jan. 8.
Parish's probation period as a lieutenant ended Jan. 3, and rules require that if an employee is going to be failed, it has to happen before the probation period ends.
Also, because Parish's demotion didn't technically go into effect until Jan. 8, five days after Parish's probationary period ended, he passed his probation to remain a lieutenant, according to the Merit Commission's attorney, Barry Corey.
In order to demote an employee who is not on probation, the department must serve that person with a notice of intent and hold a hearing, so if the department intends to demote Parish, they'd have to reinstate him to lieutenant and give Parish back pay dating to January in order to begin the process, Storie said.
As of now, the situation is in a sort of limbo and it's up to the Sheriff's Department to decide how to proceed, Corey said.
If Parish is not returned to lieutenant status, the commission will be notified and set a hearing on the issue. If his rank is restored, the commission's involvement is over, Corey said.
"(Parish's demotion) was the result of input of several commanders on the Pima County Sheriff's Department, review of performance incidents during probation and was fully reviewed by Pima County Human Resources and legal," Sheriff Mark Napier said Friday. "Due to the lack of clarity in the language of the rules and the unintended consequences they created, uncertainty was created about the application of the rules specific to Sergeant Parish's demotion."
When rules are unclear, the doubt that's created "correctly leans in favor of the affected employee," he said.
The Sheriff's Department will be reviewing the matter with its legal advisers and the county's Human Resources Department to determine the best way to proceed, Napier said.