When 19-year-old Emma Sophia Peterson landed in New York City in 1873, she spoke not a word of English. Yet she felt her prospects in America were greater than those she left behind in Sweden where she had been born in 1854.
Emma made her way to Chicago and found employment as a servant. She learned English and eventually moved to Colorado working as a nanny.
In 1883, Emma hired on as a servant for Lt. Col. Henry Martyn Lazelle who was commander of Fort Craig, New Mexico Territory. When Lazelle was transferred to California, Emma stayed at Fort Craig working for Major John Kemp Mizner. Through her acquaintances at the post, she met another Swedish immigrant, Sgt. Neil (Nels) Erickson, who almost immediately fell in love with the refined and seemingly unattainable Emma. Neil, however, was a determined man.
Emma's father had been an officer in the Swedish Army and she was well aware of the social significances between officers and enlisted men. Even though she worked as a servant, she would never dream of marrying an ordinary soldier.
In 1884, Col. Mizner was ordered to Fort Huachuca, Arizona territory, and asked Emma to move with his family. She requested Neil escort her to the post. During the journey, Neil proposed to Emma but was promptly turned down. The rejected suitor reluctantly returned to his unit at Fort McDowell but continued to write Emma expressing his love.
When Mizner was transferred out of the territory, Emma decided to stay in Arizona. She found work managing a boardinghouse at Fort Bowie and happened to be on the post Sept. 4, 1886, when the Chiricahua Apache warrior Geronimo surrendered and was brought into the encampment by Gen. Nelson A. Miles.
"Geronimo was a perfect gentleman," Emma said. "After the surrender they brought Geronimo and some other Indians up through San Simon Valley — the Indians rode in an ambulance. They stopped at Mrs. Chenoworth's ranch and asked for dinner. She got together a hurried meal and then gave the Indians some watermelon. When Gen. Miles went to pay the bill she said it would be 50 cents each for the meal and the watermelon extra. He said it was a mighty poor meal but he would pay the 50 cents but he would not pay for the watermelon. With that Geronimo took out his purse and paid the difference."
During the time Emma worked at Fort Bowie, she spent her leisure hours exploring the surrounding area. About 20 miles from the post, she discovered the splendor of Bonita Canyon that Emma described as "the most gorgeous place that anyone could desire ... immense big trees all around the place and the grass was knee high — besides there was a creek with running water in it."
She bought a small, two-room cabin in Bonita Canyon, finally agreed to marry the lovestruck Neil as soon as his term of service was up and headed to Tucson to file her homestead claim.
Learning that only one family member could file a claim, she felt Neil should be the one to do so since he would be living in the house she purchased, and she did not want to embarrass her future husband by owning both house and land.
Neil was discharged from the Army in October 1866, and immediately moved into Emma's cabin to make much-needed improvements before Emma arrived.
On Jan. 25, 1887, Emma and Neil married at the Cosmopolitan Hotel in Tucson. She made her own wedding dress, which was later worn by both of her daughters. Lillian was born in 1888, followed by Louis in 1891, and Hildegard in 1895.
Over the years, Neil worked a variety of jobs and was often gone from the family home for weeks, leaving Emma to handle the chores on the small ranch. She mended fences, plowed the gardens, gathered firewood and taught the neighbors how to preserve jams, jellies, fruits and vegetables. Even when confined to crutches due to severe arthritis that she suffered for years, Emma hobbled out to the grapevines to collect the fruit.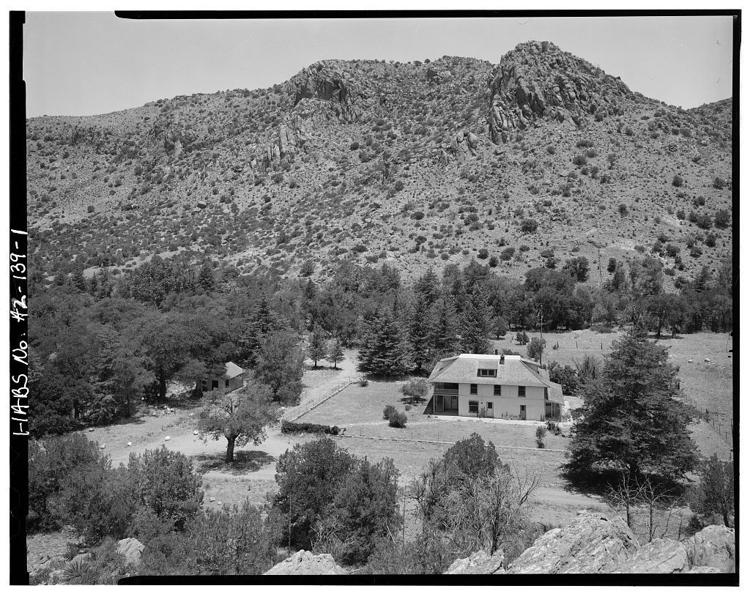 When she realized some of the neighboring children had never seen a Christmas tree, Emma brought one into her home and held the first of many Christmas parties. The event eventually grew too large for her small house and the festivities were moved to the local schoolhouse. Emma always had a gift for everyone who attended.
She taught her children at home until age 7 when they were sent to El Dorado School. After 8th grade, they attended school in Illinois where members of her family had settled.
In 1903, Neil was hired as a forest ranger allowing the family to finally live together in their Bonita Canyon home. Over the years, Neil made vast improvements and expansions to the little cabin.
The Forest Service transferred Neil to the Cochise Stronghold and later to Walnut Canyon near Flagstaff. Emma went with him, leaving Hildegard in charge of the ranch. Lillian was teaching school in Bowie and Louis had enlisted during World War I.
It was Hildegard who had the idea of turning the homestead into a guest ranch. Lillian soon joined her, and the two sisters made major improvements by adding additional land and buildings to their holdings. Faraway Ranch became a place city folks came to enjoy the wonders and splendor of the pristine canyon. After Hildegard married, Lillian continued to run the operation.
Neil retired from the Forest Service in 1927 and the couple returned to Bonita Canyon. Lillian also married and, with the help of her parents, she and her husband made Faraway Ranch one of the most enchanted destinations in Southern Arizona.
Neil Erickson died in 1937 and is buried in the family cemetery near the guest ranch. Emma continued to help with the day-to-day activities around the property even though she was now blind in one eye and losing her hearing. The arthritis that plagued her for years finally put her in a wheelchair.
Emma died Dec. 12, 1950, at the age of 96. The little cabin she bought years before is a legacy that is still treasured long after her death