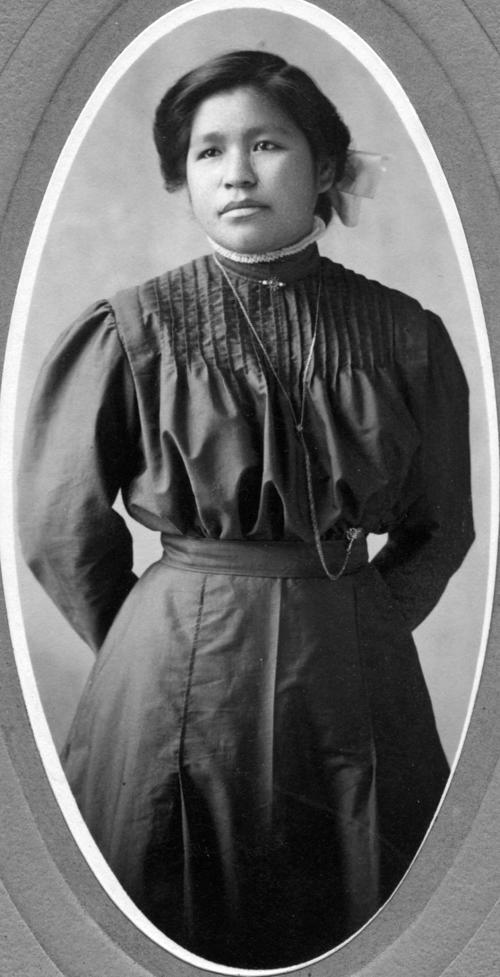 Most of her life, Polingaysi Qöyawayma walked between two diverse worlds: the community of her birth in 1892 at Oraibi on Third Mesa of the Hopi community, considered the oldest continuously inhabited community in the United States, and the white society she chose to enter at an early age.
As a teacher, she combined these factions by educating both cultures in the differences that made them distinctive and the similarities they shared.
Polingaysi's Hopi name translates to "Butterfly Sitting among the Flowers in the Breeze," yet she was never content to just watch the world revolve around her.
When the U.S. government opened a school at the base of the Hopi mesa and insisted all Hopi children attend, her mother hid her so she would not be taken by school authorities. But Polingaysi's curiosity led down the trail and into the schoolhouse.
When her mother asked who had taken her to the school, Polingaysi confessed she had gone willingly.
"You have taken a step in the wrong direction," her mother cried. "A step away from your Hopi people. You have brought grief to us. To me, to your father and to your grandparents. Now you must continue to go to school each day. You have brought this thing upon yourself, and there is no turning back."
But Polingaysi enjoyed school and found her adventures in the English-speaking world exciting and enticing. When she heard of a school in Riverside, California, that educated Indians from many tribes, her parents reluctantly allowed her to go.
The Sherman Institute opened Polingaysi's eyes to new surroundings and a wealth of learning. After four years of intense study, she embraced Christianity and decided to become a missionary.
Returning to her family in 1910, Polingaysi found it difficult to readjust to the Hopi lifestyle. She and her mother clashed over her new American ways, her cooking expertise with store-bought pots and pans, her insistence on sitting at a table to eat and a soft bed instead of a blanket on the floor. She went to live with the Mennonite family of the Rev. Jacob Frey at Moenkopi, 40 miles away, continuing her missionary studies under his tuutelage. She was given the name Elizabeth Ruth, which she kept the rest of her life.
Frey took her to Newton, Kansas, to visit Bethel Academy (now Bethel College). As eager as she was to explore new territory, she was not prepared for the strange looks her brown skin attracted on the streets of Kansas. When a waitress refused to serve her, believing she was of African descent, Elizabeth left in tears.
"What can one do about one's skin?" she said. "We, who are clay blended by the Master Potter, come from the kiln of Creation in many hues. How can people say one skin is colored, when each has its own coloration? What should it matter that one bowl is dark and the other pale, if each is of good design and serves its purpose well?"
After graduating from Bethel, the 22-year-old returned to Oraibi to begin her missionary work. She was not very good at recruiting Hopis to Christianity, however, so when presented the opportunity to teach, she accepted.
Forbidden to speak Hopi to her students and instructed to tell only American stories, Elizabeth knew children would not respond to lessons they did not understand. Ignoring the directives , she sang songs and recited familiar Hopi stories in English.
The children quickly picked up the words as they sang. When parents complained they wanted their children to learn American ways, she offered that teaching from the familiar to the unknown gave students an understanding in all aspects of education.
Asked to teach Navajo children, Elizabeth quickly learned their language and said she found the children just as eager to learn when she applied her teaching methods of learning English from their own stories.
"In the fall," she said, "we use harvest ideas. One day we may have a watermelon party. We sketch the melon, then divide it and eat it. We write descriptive words about it — smooth, round, green, cool, sweet, perhaps. We count the seeds in each portion of melon. We list the uses for the seeds. They can be parched and eaten. They can be used to oil the piki stone, and so on.
"We talk about home life. We take the child's own home experience as a basis and use it to teach him about the larger community life, and we go on from there to teach him about the state, nation, and world. In that way he becomes aware of his relation to life and his responsibility as an individual."
In 1931, Elizabeth married Lloyd White, who was part Cherokee, but the marriage only lasted a few years.
In 1954, the U.S. Department of Interior awarded Elizabeth a bronze medal for her dedication to the education of Hopi and Navajo children. She started a scholarship fund for Hopi students to attend Northern Arizona University.
Elizabeth published the story of her life, "No Turning Back," in 1964, chronicling her lifelong struggle to live peacefully with her Hopi heritage while working in the white world.
In 1976, the Museum of Northern Arizona unveiled a bronze sculpture of her. She received the Arizona Indian Living Treasure Tribute in 1978 along with the Heard Museum's Gold Medal.
Polingaysi Qöyawayma (Elizabeth White) died on Dec. 6, 1990, at the age of 98.