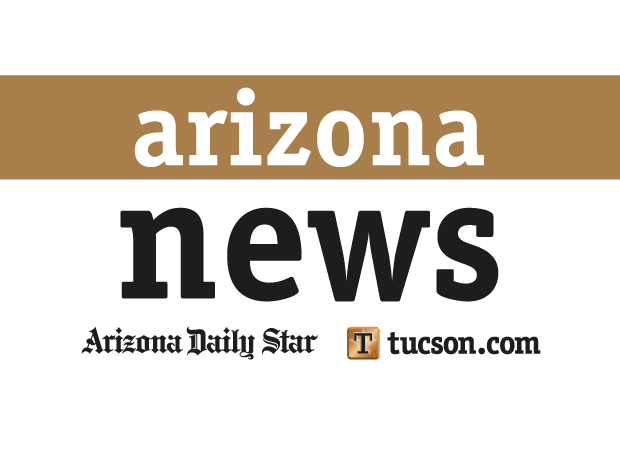 Once Sarah "Sally" Elvira Camp decided to marry 1st Lt. Frank Kidder Upham on April 1, 1871, she never looked back on what her life might have been had she chosen differently.
Frank was a career Army man, serving during the Civil War, and was already a veteran of military posts in the West.
Sarah left no record of her time in Arizona, or at any of the forts where her husband was stationed during their 28-year marriage, but Frank thought so highly of his wife's intelligence and bravery that he lauded her in a story about their two-year stint at Camp Apache, giving her credit for keeping the peace on at least one occasion.
Frank's tribute to his wife, "Incidents of Regular Army Life in Time of Peace," which was published in the Overland Monthly in 1885, demonstrates how many soldiers stationed in the West understood and recognized the sacrifices made by their families during their time on the Western frontier.
Sarah was born in Fillmore, Illinois, on Nov. 23, 1852. At age 18, she married Frank. He had joined the 7th California Infantry during the Civil War, and the couple spent their honeymoon traveling on the Union Pacific Railroad from Illinois to San Francisco so that Frank could rejoin his unit.
Having recently served in the Arizona Territory, Frank hoped his next assignment would be in more pleasant, and possibly cooler surroundings. His orders, however, sent him back to the dust and heat of Arizona, this time to Camp Apache.
In June, the couple boarded a steamer for San Diego and made their way across the desert along the Gila River. The trip took six weeks during the hottest part of the Arizona summer.
Finally arriving at Camp Apache, the Uphams' accommodations consisted of a coarse, one-room log building replete with gaping crevices between the logs crudely packed with adobe. They did have a wooden floor, unlike many military houses at the time, and the ceiling made of rough rafters covered with boards let in more than sunshine during the rainy season.
Social life was practically nonexistent at Camp Apache, which later became a fort, as few Army wives came with their husbands. The Uphams did enjoy riding out on horseback to explore their new surroundings, occasionally visiting Indian camps, where they always felt welcome. Yet with Frank serving as the post quartermaster and commissary, he was seldom home as his duties consisted of dealing with about 1,400 Apaches coming onto the post to be counted and to obtain rations. Sarah had to find her own entertainment.
She soon had a small contingent of Apaches gathered outside her window almost every day who taught Sarah their language and customs. Frank proudly boasted that within a few months, his wife had "acquired a more extensive knowledge of the Apache language than any white person who was connected with the post at the time."
Not only did this give Sarah an opportunity to learn about her neighbors, but the Apaches regarded her with respect and courtesy. According to Frank, "The chiefs and head men made regular calls at the house at proper intervals, and seemed by common consent to concede to her a status which was unusual for a woman."
These friendships also brought a bounty of game to the Upham table. The Apaches eagerly brought Sarah freshly caught meat that they were more than happy to exchange for commissary flour.
On Sept. 7, 1872, Sarah gave birth to her first child, Frank Brooks Upham. She had three more children over the ensuing years. John Southworth Upham was born in 1881 while the family was stationed at Fort Walla Walla, Washington, followed by Ethelbertha Upham in 1883 in San Francisco and Edith Upham at Fort Walla Walla in 1884.
Sarah's friendship with the Apaches was sorely tested the day a cluster of Indians became unruly just outside the post. Suddenly, one group dashed toward the fort followed by an equal number of angry men in hot pursuit. The first contingent ran toward the Upham home and gathered near the rear of the house. All were armed.
"The situation in the inside of the house was critical and alarming," wrote a worried Frank. "(A)s usual at that time of day, I was absent. My wife and child were alone, and she fully understood the situation. ... Immediate action was necessary, for the danger from a chance bullet coming through the chinks in the logs was considerable, and not to be despised; besides which, the possibility of the Indians crowding their way inside the house, when they found she was alone, was not pleasant to contemplate. She did not long remain undecided, however, but took a small riding whip which hung against the wall, went at once outside the house, and drove them away by a lively application of the little whip to their bare feet and ankles. Several of these intruders were young Indians with whom she had a personal acquaintance; but they all immediately sneaked off with a sickly smile, and would, no doubt, have greatly preferred to have faced the fire of the other party, to be subjected to the mortification and disgrace of being thus dealt with by a woman."
By the time the soldiers arrived at the house, Sarah had everything under control.
In 1873, the family left Camp Apache. Sarah went east with her son, while Frank and his company set off to fight the Modoc War in Oregon.
Frank retired in 1892 and settled his family in Los Angeles, where he became quartermaster and treasurer of the National Home for Disabled Veterans. In 1899, he accidentally shot himself with his revolver. He died instantly and is buried in Los Angeles.
After settling her husband's estate, Sarah received a $20-a-month pension from the Army.
Sarah died in Canandaigua, New York, in 1921, at the age of 69. She was buried in Los Angeles beside her husband.
Although Sarah left no words of her own describing her time at Camp Apache, her husband knew she had probably saved the camp from a disastrous incident because of her friendship with the Apache people. He was insistent that her deeds be recorded and remembered.