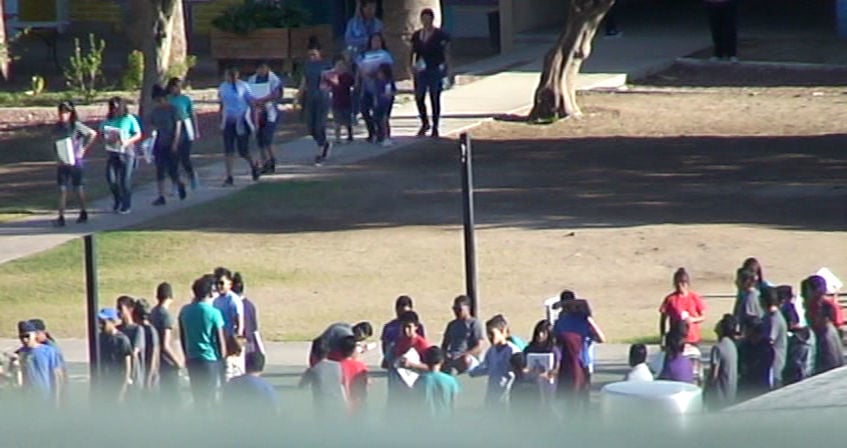 It is unclear where newly arrived unaccompanied minors in Arizona are being housed more than a week since Southwest Key reached an agreement with the state that keeps it from receiving children.
As part of the agreement between the Texas-based nonprofit and the Arizona Department of Health Services, Southwest Key also had to pay a fine and close two Phoenix-area shelters with a combined capacity for 559 minors.
The Office of Refugee Resettlement, the federal agency in charge of the minors who arrive in the United States without a parent or guardian, will relocate all children currently sheltered at Casa Phoenix by Nov. 22, a spokesperson said in an email. The unaccompanied minors previously housed at the Hacienda del Sol facility were moved before Sept. 28.
"Additional information was unavailable at this time as (the federal agency) continues its monitoring and investigation of Southwest Key Programs and determines next steps," the email said.
Agency officials did not answer the Arizona Daily Star's questions about where those arriving at the border after the agreement was reached on Oct. 24 are being housed, nor where those housed at the now-closed facilities are being relocated.
Consuls from Guatemala and El Salvador in Tucson said they aren't authorized to speak to the media. The Guatemalan Consulate directed all inquiries to a communications person in Guatemala City, but that request also went unanswered.
The U.S. Border Patrol in Tucson and Yuma apprehended 770 minors in September, the latest month for which data is available. Another 134 minors presented themselves at ports of entry to seek refuge.
There are 13 facilities in Arizona that house unaccompanied minors, with a capacity of about 1,600, based on public records obtained by Reveal and ProPublica. Eight of those are run by Southwest Key, which describes itself as the largest provider of shelter services for unaccompanied minors in the country. Nationwide, there are about 100 facilities operating in 17 states.
The agreement stemmed from an Oct. 9 informal settlement held after Arizona threatened to revoke Southwest Key's licenses in September, saying the nonprofit had failed to prove it was complying with required background checks of employees.
As part of the settlement agreement, Southwest Key admissions and readmissions are on hold "until the Licensed Facilities are no longer in substantial violation of the requirements of licensure of a residential behavioral health facility and the (ADHS) Director is assured that the health and safety of the residents is no longer in immediate danger."
The Arizona Department of Health Services will inspect each facility upon the request of Southwest Key and lift the hold on admissions on a facility-by-facility basis, said ADHS spokeswoman Melissa Blasius-Nuanez.
Among other things, Southwest Key will also submit to continued unannounced, on-site inspections by ADHS of all Arizona facilities.
A Southwest Key employee in Tucson said employees had a meeting this week in which they were told that everyone had to work six days a week in anticipation of a state inspection to take place in the next month.
The employee, who asked not to be named because they are not allowed to talk to the media, said they were told they needed to help make the shelter spotless, including repainting and making sure all case files and paperwork is in order before the inspection, after which the nonprofit hopes it can start receiving children again.
"We have been notified that they will inspect some programs as if for the first time," said Jeff Eller, a spokesman for Southwest Key, adding that Southwest Key welcomes "the closer partnership" with ADHS and sees "the value in those inspections."
In regards to the employees, he said, they "have the option to work extra hours on a volunteer basis to help prepare for that. We're fortunate that response has been very positive."
The network of shelters that house unaccompanied minors has come under increasing scrutiny after housing some of the children separated from their parents as a result of the Trump administration's "zero-tolerance" policy, which led to criminal prosecutions of everyone crossing the border illegally, including parents traveling with their children. President Trump signed an executive order in June halting the practice.
Media reports since have uncovered incidents of physical and sexual abuse and overmedication of minors.
There are more than 13,000 unaccompanied minors under the custody of the Office of Refugee Resettlement — a record. They are being housed longer in places that were designed to be short-term solutions while case managers reach a parent or relative who can sponsor the minors as their immigration cases are processed.
Get local news delivered to your inbox!
Subscribe to our Daily Headlines newsletter.