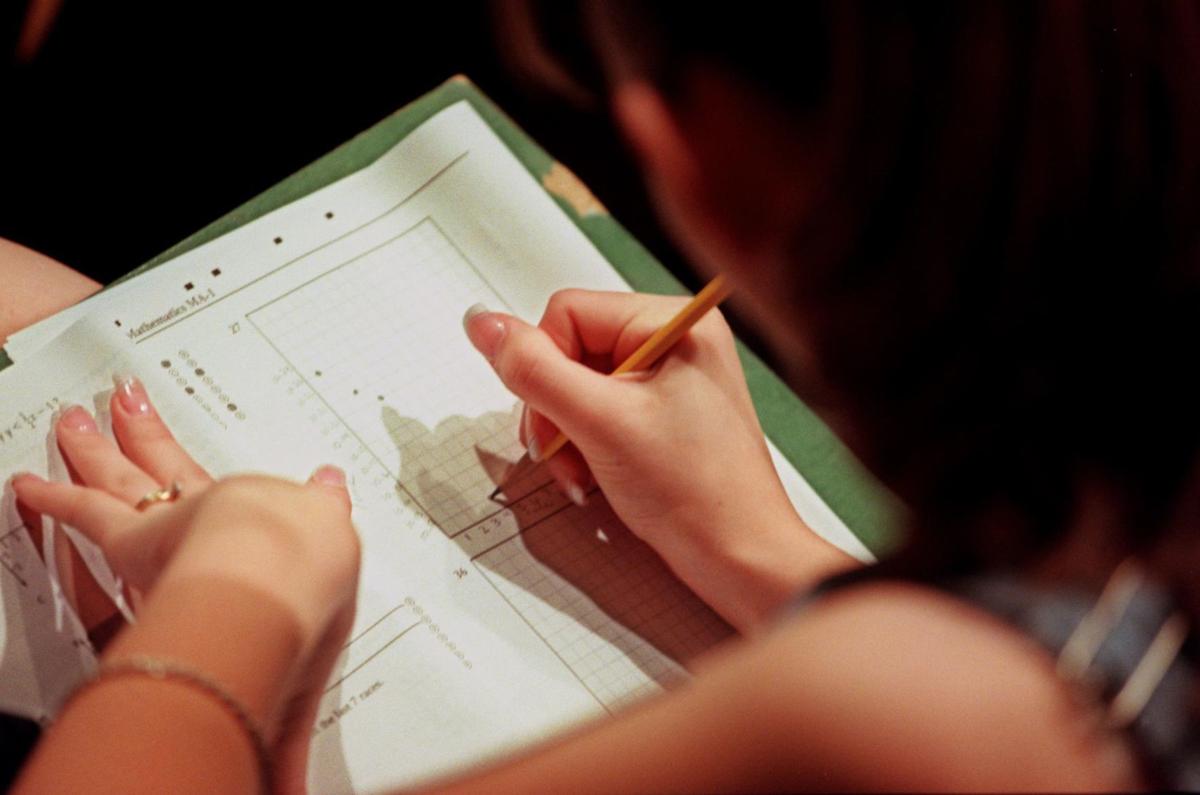 Failing and near-failing schools sent out their scarlet letters last week, filling thousands of mailboxes across Arizona with legally required notices stating the local public school earned a D or F in the state's new letter-grade system.
The notices are part of the state's efforts to ensure that poorly performing schools are held accountable.
But the state's own role in helping struggling schools — often under-resourced and in the poorest neighborhoods — pull themselves up by their bootstraps has diminished in recent years, leaving the schools with few additional resources to help them improve.
Even federal school improvement grants have slowed to a trickle of what they used to be.
But with or without the additional funding and support, schools are charged with improving.
To that end, schools across Arizona are drafting improvement plans, laying out steps they hope will help push the schools out of failing or near-failing status.
In the Tucson Unified School District, many D and F schools are implementing 90-minute reading blocks and 60-minute math blocks.
They're adding targeted, technology-based instruction for struggling students, starting guided-reading programs, adding more teacher assistants and expanding professional development for teachers and principals.
The Sunnyside Unified School District is focusing the improvement plans for its D schools by reorganizing staff to strengthen middle school mathematics, hiring a new intervention specialist to support students who aren't passing the AzMerit test and utilizing lead teachers to monitor the effectiveness of other teachers.
Tina Stephens, TUSD's director of school improvement, noted that the myriad factors that create a failing school go beyond just not enough instruction, and the schools' plans for improvement shouldn't stop in the classroom, either.
"Many things impact schools — it can be high poverty, those children may have some trauma, they may be coming to school hungry. So it's sometimes addressing other needs that we don't think of when we're looking at AzMerit. It's looking at that whole child and supporting them in as many ways as we can."
And the stakes for failing to improve are high.
Stephens said while it hurts her to know her schools are failing or near failing (she prefers to call them "struggling" schools), the only way for schools to better serve their students is to accept the label and work on improving it.
"It's sad — it does hurt when you get these labels. But I want to honor that label for what it is. We need to recognize where we have to start. But I don't want to just stare at that label forever," she said.
Beyond the incalculable loss to society in general, and the students in particular, when a school fails to educate youths, the schools themselves face the threat of state takeovers if administrators can't pull them out of failing status within a certain time frame.
Pima County has a high number of failing or struggling schools. More than 16 percent of district and charter schools here were labeled D or F, compared to 12 percent statewide.
The Tucson Unified School District, especially, is a hotbed of failing schools.
The district is home to eight failing schools: Anna Lawrence Intermediate, Cavett Elementary, Drachman Primary Magnet, Maldonado Elementary, Ochoa Elementary, Santa Rita High, Secrist Middle and Valencia Middle.
That's nearly a third of Arizona's total 25 failing schools, excluding charters. TUSD represents roughly 5 percent of the state's non-charter-school students. Roughly 30 percent of TUSD schools are rated D or F.
No other school district in Pima County has any F schools, though three local charter schools — Las Puertas Community School, Academy Adventures Primary School and Copper Point High School — were also given F grades.
In addition to the eight failing schools, TUSD has another 17 schools branded with D's.
Sunnyside has four D schools, while the Amphitheater and Marana school districts each have one. Another local charter, Tucson International Academy West, was also labeled D.
The federal government has its own designation for struggling schools —defined as low-income schools that score in the lowest 5 percent on the state's standardized test: Comprehensive Support and Improvement schools. That designation frequently overlaps with the state's designation of F schools. All of TUSD's F schools are also Comprehensive Support and Improvement schools, for example.
Many requirements
go unfunded
Supporters of the state letter-grading system say it's not meant to stigmatize struggling schools, but rather to identify them for targeted support.
But even lawmakers who approved the A through F system now say it's too simplistic, and are working to enact a "dashboard" of data points about a school's performance, rather than distilling the performance factors into a single grade.
And despite expectations that schools improve, the Arizona Department of Education acknowledges it doesn't have the resources to help struggling schools that it once had.
Kelly Koenig, associate superintendent in the Department of Education's student achievement and educator excellence division, said the department sends solutions teams to schools that are struggling, but many of the requirements to help boost student performance outlined in statute are unfunded.
"We don't receive any funds from the state for that, to implement any of that on the state side, so that's what's making it difficult for our team. ... We do not get state funds for school improvement, other than the state tutoring fund," she said.
Last year, the state tutoring fund distributed roughly $1.3 million to more than 150 schools, with awards ranging from a few hundred dollars to $10,000 per semester. The grants are competitive and awarded on a first-come, first-served basis.
The funds are used to provide teachers with stipends to do after-school tutoring, or school districts can contract with outside tutoring companies. But even the largest awards don't buy much, TUSD Superintendent Gabriel Trujillo said.
Still, both Trujillo and Stephens said the state has been helpful with developing improvement plans for struggling schools, offering training and school walkthroughs and assistance with identifying root causes of the problems.
Trujillo described the one-person support team as the district's "caseworker" and said the Department of Education has been supportive and collaborative in helping raise up schools, rather than heavy-handed or threatening.
Federal funds for school improvement are more plentiful, though they're only a sliver of what they used to be.
Last year, TUSD received $435,000 from federal school-improvement grants to support its federally designated Comprehensive Support and Improvement schools, Trujillo said.
"When you have $435,000 for 27 schools, you can do some things. But to do the kind of transformational types of things that will elevate schools from good to great or poorly performing to performing, it's going to take a lot more resources," he said.
Between 2009 and 2015, the federal government pumped more than $7 billion into school-improvement grants, mostly through the American Recovery and Reinvestment Act, with limited success, according to a government report. That funding has mostly dried up.
Cash infusion can bring dramatic improvement
But the infusion of cash worked wonders in TUSD, says former Superintendent John Pedicone.
During his tenure as superintendent from 2010 to 2013, Pedicone took drastic measures to turn around Palo Verde and Rincon high schools.
To accomplish that, the federal government gave him a school-improvement grant of roughly $1 million the first year, with the money tapering down over the next several years.
"There's nothing like that at all now," he said.
As part of the agreement, Pedicone had to choose between three options for turning around the schools: the transformation model, which means firing top leadership; handing over the schools to an independent operator; or firing the entire staff, with the ability to do limited rehires.
He chose the latter, laying off the entire staff of two schools, replacing top leaders and others who weren't performing, and rehiring only the best.
With the drastic change in staff and the additional funding from the federal government, both schools improved dramatically, he said.
Pedicone criticized the state grading system, saying it largely measures socioeconomic status, rather than performance. While there are some factors in the calculation — such as giving points for student performance growth, rather than relying only on the percent passing — that help combat the strong correlation between poor and failing, it still doesn't go far enough, he said.
"If the assessment measures demographics rather than the students themselves, it's inappropriate," he said.
The state letter grades are largely based on the results of AzMerit tests, the state's main standardized test. Because of repeated delays in setting and finalizing the grading system, schools were only officially labeled D or F when the state Board of Education finalized the grading system in April, based on AzMerit scores from the 2016-2017 school year.
Schools were officially notified of their grades on May 15, setting in motion a three-month timeline of requirements for notifying the public, developing an improvement plan and holding a public hearing about that plan.
The public hearings and presentations about the improvement plans are required by mid-August. Sunnyside has already set its public meetings for early July.
Under the Every Student Succeeds Act (ESSA), which replaced No Child Left Behind, the federal government doesn't mandate school turnarounds like the ones that happened in 2011.
But it does leave the option open for states to take over schools dubbed Comprehensive Support and Improvement that don't improve within four years.
Threat of state takeover
State law dictates what happens to schools that fail to show significant improvement.
A school assigned a D grade for three consecutive years automatically becomes an F school, per state law.
Any district with more than five F schools for more than two consecutive years is required to post a notice on the ballot at the next election of Governing Board members, notifying the voting public of the number of failing schools in the district.
But the most dramatic consequence for a school failing to improve is the threat of a state takeover.
State law dictates that the Department of Education must visit and evaluate every F school, and recommend to the state Board of Education whether to hold a hearing and vote on the state taking over administration of the school, and how complete that takeover should be.
Koenig at the Department of Education said that's not something they're considering right now.
"I know for sure our team would not recommend anything like that — hiring and firing, that's up to the district and the schools," she said.
Stephens, the improvement director at TUSD, said while school takeovers aren't ideal, for a school to truly improve, it can take dramatic sustained shift in not only practices, but mentalities.
"It's hard. If you look at the research, it can take five to seven years to truly and sustainably turn a school around," she said. "It requires a culture shift. I call it a change of mindset."