Pam Haskell no longer has to worry about long lines, a shortage of food and zero toilet paper and cleaning supplies at Costco and Walmart.
These two retailers were her go-to when it came to buying meats, chicken, produce, dairy products and canned goods. They were her go-to for paper products, disinfectants and other cleaning supplies.
But since customers have been going in droves to these two businesses and supermarket chains — hoarding products off the shelves since the coronavirus pandemic, the owner of El Rancho Encanto Assisted Living in Tucson searched for another way to secure goods.
Haskell is now purchasing foods and cleaning supplies directly from distributors — the local Merit Foods of Arizona, and Sysco Arizona in Tolleson, a suburb of Phoenix. The large bulk foods and supplies distributors that routinely deliver to restaurants are working with Haskell and are open to delivering to the smaller assisted-living and care homes.
"I have an extraordinary sense of relief," said Haskell of the needed deliveries for her business.
On Tuesday morning, Haskell went to Merit Foods and picked up her order, including kale, apples, baking potatoes and creamers. In the afternoon, a Sysco truck made a delivery for her assisted-living homes on the city's north side. The delivery included chicken, milk, yogurt, eggs, bread, vegetables and fruits. Cleaning products, toilet paper and paper towels were also delivered.
"I have been trying to take every precaution I can to be protected so that I don't bring it (coronavirus) back to the facility," explained Haskell. "I have 18 residents and one is 102 years old, and this coronavirus is devastating in group home communities," she said.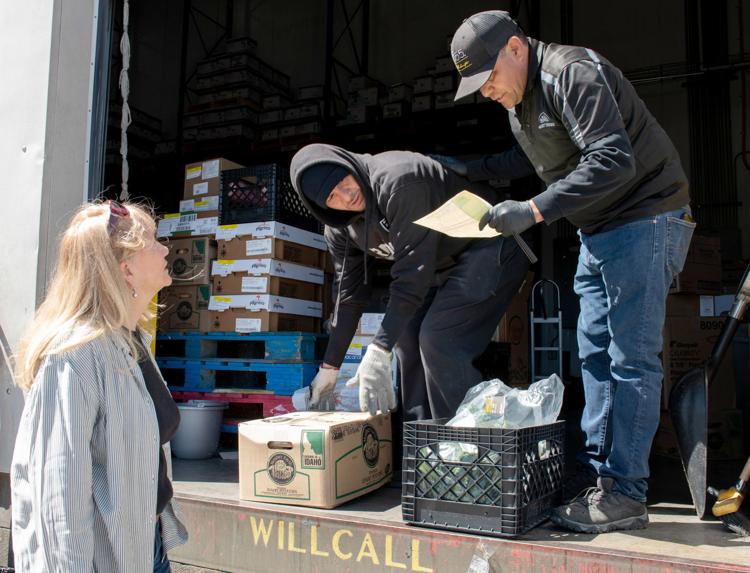 Last week, Haskell said she confronted problems accessing service for ordering and picking up groceries outside supermarkets that offered that option, and she also had trouble with home delivery services.
When she went to Costco on East Grant Road during senior hours, she found a line around the building.
"People were shoulder to shoulder. It was not a good situation for social distancing. I took off my mask and gloves and left," said a frustrated Haskell. "I feel a heavy responsibility toward keeping my residents as safe as humanely possible."
Sean Bennett, president of Assisted Living Network of Southern Arizona, said the organization has several hundred members who represent about 40 small care homes in Southern Arizona. Each home has about 10 residents.
"We are trying to support the care homes and make sure they have all the supplies and resources they need," said Bennett. He said he has communicated with members about a janitorial supply company they can work with to order supplies.
Bennett said he also plans to talk to Haskell, who is a member of the network, about care homes possibly uniting and placing large orders with Sysco and Merit Foods.
Merit Foods President Matt Sadowsky said the Tucson company serves Southern Arizona and has been busy developing a system to allow customers to pick up at its center or to deliver groceries safely to consumers in a non-crowded atmosphere.
"We are traditionally a food service distributor and primarily deliver to restaurants, but restaurants are not allowed to serve in their dining areas and have moved to takeout. Those establishments that were not set up for fast food are down 75 to 80% in customers.
"So we have turned over to retail and are opening our doors to the public. We have foods, but the demand for toilet paper, napkins, paper towels, cleaning supplies and gallon bottles of detergents ramped up so quickly. We should have these products next week," Sadowsky said.
He said typically the company serves about 800 restaurants and another 200 institutions and manufacturers.
"We will be able to help out smaller group homes who go to Costco and Walmart. We are a good option for them," said Sadowsky. He said large families, retirement communities or neighborhoods that pool together and want bulk deliveries for refrigerators or storage will also be served. (See box on Page B1)
He said some businesses are also interested in purchasing bulk items to make it available to their employees.
Sysco also is delivering food to various businesses, including smaller care homes, said Kevin Barko, marketing manager for the company. "This is an unprecedented type of scenario, and when it comes to food service, people are always creative to solve problems."
He said he is working with food banks that need small deliveries in the Phoenix area. "Our warehouse is in Tolleson, but we deliver every day to Tucson. Customers need to open an account and can place orders online or over the phone.
"This (coronavirus) event took us all by surprise, but we are blessed to live in the state of Arizona," said Barko, mentioning that people are responding with kindness, appreciation and thankfulness.
Contact reporter Carmen Duarte at cduarte@tucson.com or 573-4104. On Twitter: @cduartestar
Get local news delivered to your inbox!
Subscribe to our Daily Headlines newsletter.