In the fall of 2016, Chris Baisan was perusing the archives of the Laboratory of Tree-Ring Research at the University of Arizona, where he is a senior research specialist.
"I was going through these boxes, which nobody has looked at since the '70s," Baisan said.
From one dusty cardboard box he pulled a splintering chunk of wood dotted with barnacles and the turquoise residue of oxidized copper. Worms had carved mazes throughout.
Tacked to it was yellowed index card that read:
"Timber from Shipwreck off coast of Florida (Boca Raton) Associated with coin of 1640's(?) Donated by Charles Hoffman July 14, 1966."
"I go 'what the hell is that? That's cool looking,'" Baisan said. "So that's kind of where this story starts."
Boca Raton, 1966
Charles Hoffman was a young UA Ph.D. student studying anthropology at the UA in the mid-1960s.
While visiting Florida, where he received his bachelor's degree in journalism and master's degree in anthropology, he discovered a curious piece of wood, and possibly a centuries-old coin, while combing the beaches of Boca Raton.
"It's entirely possible that a 1964 hurricane in Florida exposed this timber just long enough for it to get a few barnacles and a few shipworm things and he found it," Baisan said.
Hoffman brought it back to Tucson and showed it to Marvin Stokes, his professor of dendrochronology, which is the science of dating environmental conditions, events and artifacts through timber growth rings.
"He was just a grad student," said Baisan. "It was probably something he brought as a curiosity to show Marv. They couldn't do anything with it and Marv thought it was cool and they stuck it in a box."
The beginning of a treasure hunt
Curiosity piqued, Baisan sought to uncover the plank's origins.
Armed with a mysterious hunk of wood, a dated note referencing a missing coin, and, most fortunately, an arsenal of experts trained to tease secrets out of layers of wood, he got to work.
Only recently have these experts had the technology and the data needed to probe the anonymous plank's history.
What he found was that the wood possibly came from a shipwreck famous among treasure hunters — a Spanish fleet carrying newly minted coins from Mexico in 1641.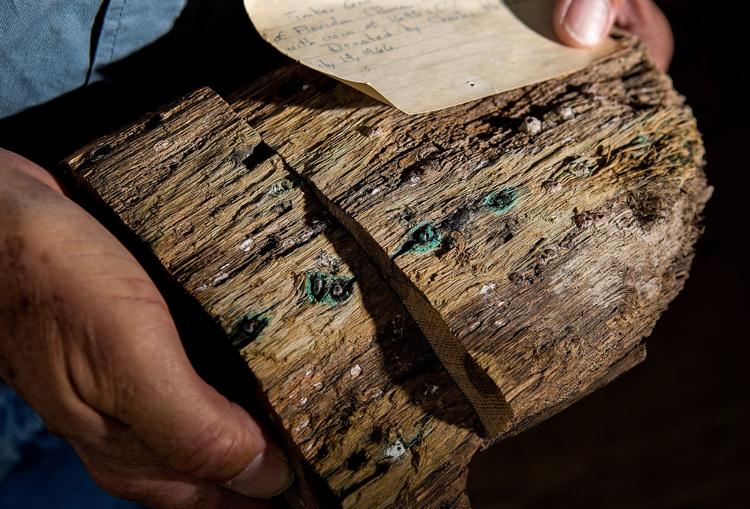 The 1641 fleet
In 1641, the Spanish were scheduled to haul freshly minted coins from Veracruz, Mexico, to Spain.
The Spanish were wary of pirates while transporting such precious cargo, so they had additional ships built to serve as armed escorts to the approximately two-dozen cargo ships. While there are differing opinions about how many ships were in the fleet, estimates hover around 30.
By the time the fleet reached Havana, Cuba, taken on additional cargo, done repairs and addressed other matters, it had been delayed by about a month. Under pressure to return home, the fleet pressed on just as hurricane season was picking up.
Soon after, a hurricane overwhelmed and scattered the fleet as it was sailing through the Straits of Florida.
One ship made it back to Spain. A few more made it to St. Augustine on Florida's eastern coast, Havana, Puerto Rico and Hispaniola — what is now Haiti and the Dominican Republic.
At least one ship, the Nuestra Señora de La Pura y Limpia Concepcion, crashed on a reef called Silver Shoals about 85 miles northeast of Hispaniola.
This ship and its loot have enticed treasure hunters for centuries.
About four decades after the wreck, Sir William Phips, the first governor of the Province of Massachusetts Bay and famous for creating and dismantling the court that enabled the Salem witch trials, discovered much of the precious cargo.
In 1978, two more men hauled up additional treasure from the same site with the help of author Peter Earle, who wrote the book from which Baisan cited in most of his casual research, "The Treasure of the Concepcion: The Wreck of the Almiranta."
"Most of those ships they've never found, except for the one off the coast of Hispaniola," Baisan said.
Reading between the lines
Earle's book had not been written nor the treasure found by modern explorers when Hoffman brought the plank to Tucson in the 1960s. But since then, there have been additional advancements that have helped Baisan uncover its history.
If you've ever seen a tree stump, you've noticed a series of concentric circles emanating from the center of the stump to the bark of the tree.
Each ring represents a year of growth, and the thickness of each ring correlates to the environmental conditions during the tree's growing season. The thicker the ring, the more favorable the water and temperature conditions at the time.
In this way, trees are local weather logs going back decades, centuries and sometimes millennia, depending on the age of the tree. Dendrochronologists use many tree species over a broad geographic area to build large collections of these historical logs, called chronologies.
Tomasz Wazny, a UA associate research professor of dendrochronology, has been working with a group for years to create a multi-millennia chronology spanning central Europe to Turkey.
Baisan asked Wazny to pinpoint this timber's origins in place and time.
"For me it is an anonymous piece of wood, so I needed to identify the species of oak," Wazny said. "It's a type of white oak ... and the ring stacks (or tree ring pattern) are very European. Next I measured this tree ring widths and I compared with tree chronologies."
Wazney was able to match — and verify statistically — the ring pattern from the ship timber with oaks growing in southern Germany. The oldest ring was from the mid-1400s, and the last ring preserved in the sample was from 1586.
However, this was not a pristine slice of a tree.
Oaks have a dark reddish collection of inner rings called heartwood and a light tan collection of outer rings called sapwood.
After trimming the wood to build the ship and additional wear and tear, the outer layer of sapwood was totally missing as well as an unknown amount of the inner heartwood. The team therefore could not know the tree's exact cut date.
Fortunately, when you work with trees your entire life, you start to notice patterns.
Wazny was able to calculate that, for oaks of that region, there were on average 19 rings of sapwood.
Adding 19 years to the last ring intact at 1586 places the cut date to at least 1605. The Spanish ships sailed before 1641.
"OK, it fits. It could be a ship of that vintage," Baisan said.
He also knew that during this time, Spain was importing wood from southern Germany to build-high quality ships to carry its explorers to the New World.
Next, Baisan wants to take advantage of another advancement to identify this timber.
Embedded in the timber are nails made of metal such as copper, bronze or brass. The metal will have impurities that are unique to the region and time period the metal was forged.
The X-ray fluorescence machine in the tree ring lab will allow Baisan and colleagues to do a chemical analysis of whatever metal is exposed. He hopes to run this test in the near future.
Piecing evidence together
Baisan recognizes that this hypothesis hinges on the legitimacy of the coin noted by Hoffman.
"Maybe he was beach-combing and he found a timber and he found a coin after the storm; that's a pretty weak association," Baisan acknowledged.
But he also finds it significant that Hoffman thought the coin was related to the timber in the first place.
Baisan wishes he could find some evidence of the coin, but unfortunately, Hoffman and Stokes have both died.
Inquiries to Hoffman's former colleagues to search his notes have turned up no results, and he cannot find a way to contact any family members.
What is most frustrating to Baisan is that Hoffman was living in Flagstaff for years before he died in 2005.
"I was here at the lab at the same time (Hoffman was in Flagstaff). If I had looked in the box and found it and figured out who it was, I could have asked him about it," Baisan said. Stokes also helped train Baisan.
Baisan cannot definitively say the timber originated from the wreck of this famous fleet.
He can say, however, that based on the mounting evidence, it is still a possibility. The evidence fits. He has even ruled out other wrecks in that area from the same time period.
"You get one piece of wood," he said, which is "way less than ideal … but this fits with this huge, grand story."