Marla Sweeney's training schedule isn't for the faint of heart.
The 73-year-old's regimen includes lifting weights, running up and down trails in the Tucson Mountains, jogging while carrying a bucket of rocks, flipping a large tire and throwing a spear into a bale of hay.
Since 2015, she has competed in 54 obstacle-course races, including the physically grueling Spartan courses. She is now preparing for her next Spartan race, coming in two weeks in Southern California.
Sweeney, a retired administrative assistant from the Tucson Unified School District's special education department, does it all in spite of chronic health issues, including scoliosis, degenerative disc disease and osteoarthritis.
As the result of degenerative disc disease, compounded by being a victim of a head-on crash with a drunken driver about 12 years ago, the vertebrae in her neck are of a fiberglass material with a titanium plate and screws.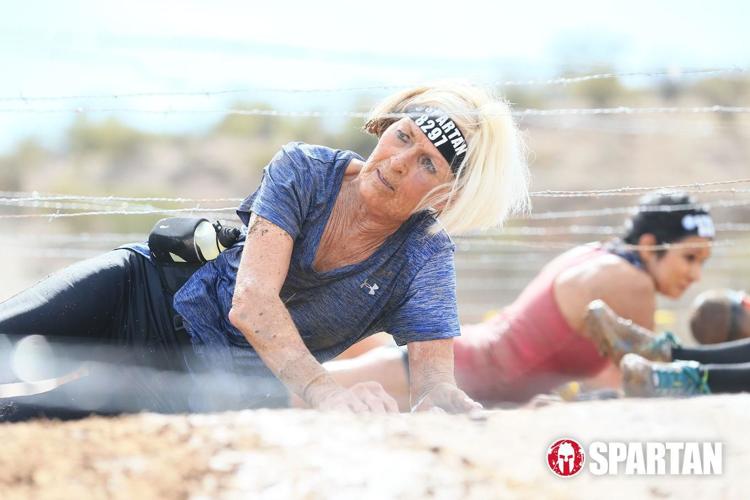 However, she said the training and competition are a godsend. After she got off the couch and began working out, her physical pain lessened because her muscles got stronger, taking pressure off her joints, she said.
On Oct. 20-21, she — along with thousands of competitors — are set to take on a 12-plus mile "Beast" race over tough terrain at Tejon Ranch in Lebec, California, where she will endure running in "virtually untouched land while climbing steep inclines, rugged mountains, oak-covered rolling hills and heavily wooded valleys," said Shannon Flynn, a spokeswoman for Spartan.
She said the 30-plus obstacles on the course include monkey bars, a spear throw, rope climb, cargo net climb, tall walls and a barbed-wire crawl through mud.
Sweeney inspires other racers and organizers of the Spartan events in the United States and abroad. Spartan competitors in the United Arab Emirates, Japan and Mexico "want my mom to come out to their countries and run and inspire women. I just love the fact that she is out there doing it," said her son, Brad Sweeney.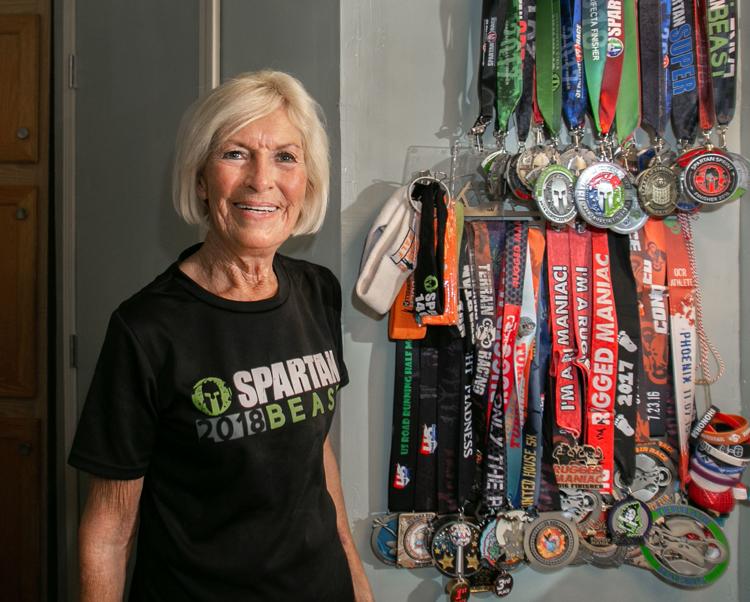 The 44-year-old security systems contractor in Phoenix began obstacle course racing in 2013 and encouraged his mother to compete, too.
"I would watch him and his friends in the races," said Marla Sweeney. "It was so much a part of their lives. They are the ones that I credit for helping me and showing me how to do obstacles. They have been an important part of my journey," she said.
"They run elite races and when they are done, they go back and run alongside me to cheer me on," she said. "They have made me a part of their group, and they are in their 30s and 40s. They are the ones that support me and encourage me. When you are going straight up a mountain, your legs hurt and feel like jelly, your back hurts ... but they and other racers are the ones that keep me going."
Marla said the most difficult obstacles are the ones where she has to use grip strength, such as swinging from ring to ring or monkey bars, because of osteoarthritis and surgeries on her right hand. Then, she remembers seeing veterans with missing limbs attack the course without excuses, including one whose prosthetic leg broke, and he crawled on his hands and knees through "rocks, gravel and asphalt to make it across the finish line."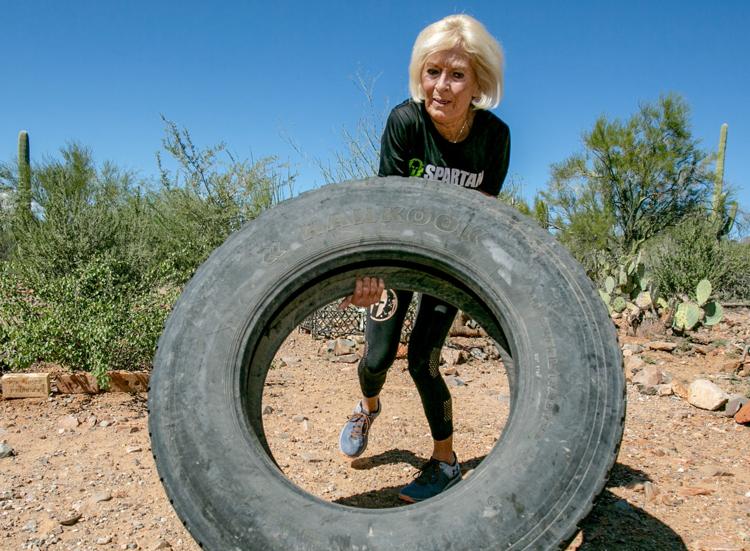 When racers cannot complete an obstacle, they are penalized and must do 30 pushups and jumping jacks before continuing. Marla, who competed in volleyball and softball leagues and was a barrel racer in her 20s and 30s, now competes in open heats — where she races to beat her own time or races with friends. She does not compete for prizes or cash purses in the obstacle course races.
Flynn said Marla is an "outstanding" participant. There are between 2,000 to 4,000 competitors at each race and about 40 percent are female. More older people are running in the 50-plus age category with an average of 82 people per race, and about four are over the age of 70, Flynn said.
Brad said his mother's participation in obstacle course racing makes him proud, and she will always have his support.
"She is my mom. I want to make sure she is all right," he explained about turning back and running by her side after he finishes the course. "I want to push her forward. It is a lot of fun to see her progress. She has inspired so many others to do the same thing — get off the couch and be active."