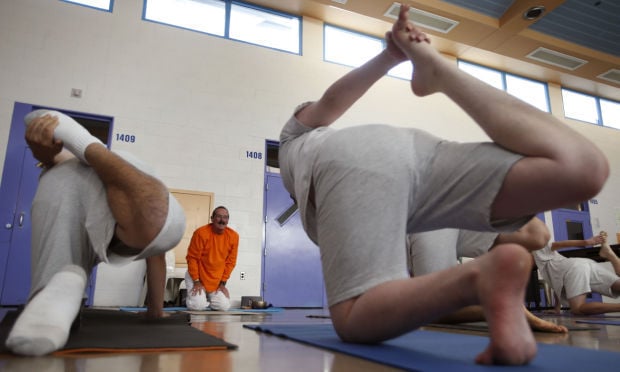 Peter Lund is no stranger to dealing with children.
He was a probation officer for about 12 years at the Pima County Juvenile Court, working in the juvenile domestic violence program and an outreach program that sent him out to schools.
That was more than a decade ago.
These days, the 70-year-old spends his Friday afternoons volunteering at the same place he retired from — this time, as a yoga teacher for the children being held at the juvenile detention center.
He's been doing that for more than five years now.
"I want to show them something that empowers them to lead a more balanced life," Lund said.
The yoga classes are one of many programs offered at the Pima County Juvenile Detention Center to supplement the regular rehabilitation and education programs for the youths detained there. Some of the other programs include poetry classes and gardening.
On average, youth offenders stay about 21 days in the detention center, said Kim Chumley, the center's deputy director. Some youths are there for months, while others only stay for a couple of days.
Many of the teens enter the detention center with various issues going on in their lives that range from post-traumatic stress disorder, to substance abuse, to attention deficit disorders, she said. For youths already dealing with stress and anger, programs that help them find balance are critical to their rehabilitation, she added.
"Kids need to learn how to feel peaceful and hopeful for our programs to really stick," she said.
The yoga classes at the juvenile detention center began in 1998 when Chumley was a program coordinator. She was interested in alternative healing methods, and had taken yoga herself. She said she saw value in helping kids deal with stress through yoga.
But there wasn't a whole lot of budget, Chumley said. So she asked then-director Rick Wood, who was a certified yoga instructor, to volunteer to teach on his lunch break several times a week. The program has been going on since, with the help of volunteer teachers.
Different approaches work for different kids, she said. And it's important that the kids learn tools in detention that they can take back home, she said.
"We don't want to teach them institutional behaviors," she said. "We want to teach them things that they can use in the community."
In the classroom, Lund, a 35-year yoga practitioner, said he has two rules: respect yourselves and respect others.
He incorporates the history of yoga into the lessons and uses Tibetan singing bowls and tingshas, which are small Tibetan Buddhist bells. Complicated techniques and big words aren't the focus of his classes at the juvenile detention center. Instead, it boils down to the basics in Lund's class.
"How long can you live without food? Kids say one hour. How long can you live without water in this climate? They say not very long. How long can you live without breathing? Kids go, 'Uh, a minute?'" he said.
He tries to bring the kids' awareness to the obvious things in life, such as breathing.
"I try to focus them fairly quickly on some things that maybe nobody's taught them," he said.
To Lund, who also teaches yoga at Pima Community College and the University of Arizona Cancer Center, yoga is a "centering, focusing and balancing thing that I need in my life." He said he hopes to share that with the youths "in the kind of snapshot of their lives."
Matt, 17, has been confined to the detention center for two months. In that time, he said he's gone to about five or six yoga classes, and has taken classes at a different treatment center.
Matt said the yoga classes help him relieve stress. He said he began taking yoga classes because it couldn't hurt to try, but now he has taken to extracurricular yoga practices, such as meditating in his room to find peace of mind.
"You can't be mad when you're in a tree pose," Matt said. You'd just look ridiculous doing it, he added.
David, 16, said for him, practicing yoga and meditating makes it less difficult to be inside the detention center.
It's a way to be "one with myself," he said.
The teens' last names are being withheld because they are juveniles in custody.
Lund said what he is giving the youths in detention through his classes is intangible, but valuable. Yoga gives them a chance to be aware of themselves.
His classes usually end in Shavasana, or the corpse pose, which puts the kids lying on their backs with arms and legs straightened out. It's a moment of silence and tranquility after having sweated and struggled from doing more challenging poses.
"They're like tuna fish on the floor," he said. "That's probably the first time in the day they haven't wiggled or made noises."
Contact reporter Yoohyun Jung at yjung@tucson.com or 573-4224. On Twitter: @yoohyun_jung