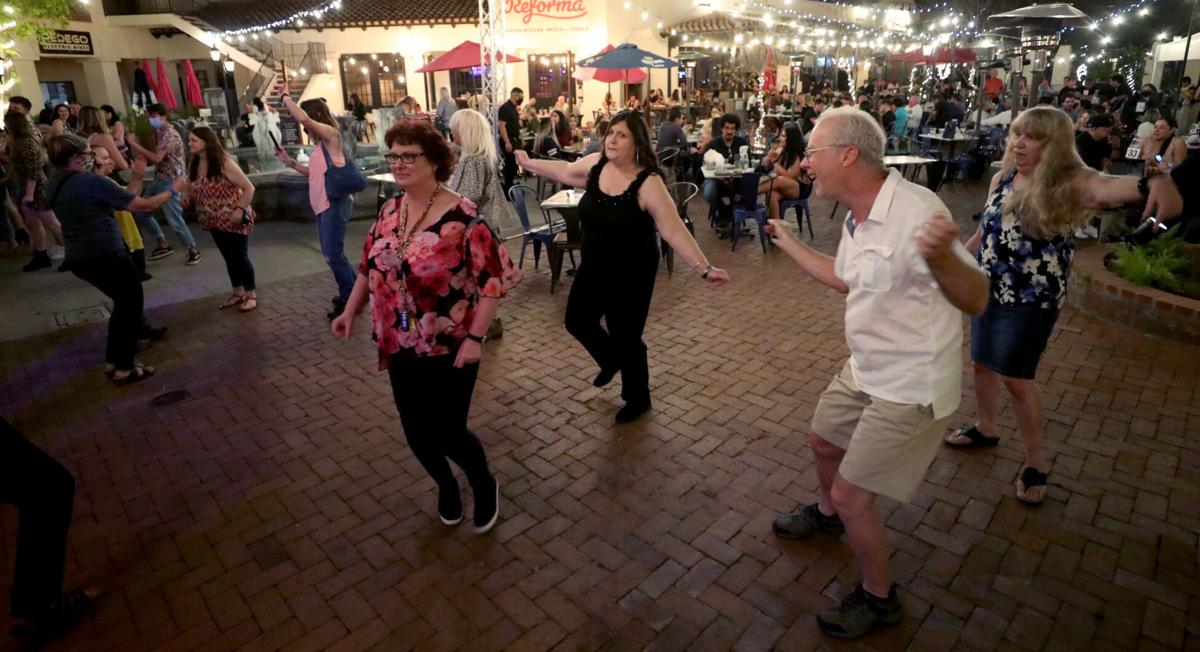 Ever since mask-wearing became mandatory in Grant Krueger's businesses in May, the hostess stand at his restaurants became a forum for debate.
The owner of the dining plaza comprised of Union Public House, Reforma Modern Mexican and Proof Artisanal Pizza & Pasta in St. Philip's Plaza said patrons would approach his restaurants either declaring they didn't need to wear masks or worrying face coverings were not enforced enough.
But now, Krueger is placing the decision of whether to wear a mask while entering his restaurants in his customers' hands.
The restaurant owner said he is following Gov. Doug Ducey's executive order issued March 25 that rescinded the remaining COVID-19 restrictions for Arizona's businesses.
Citing rising vaccination rates and decreasing COVID-19 case counts, the governor made requiring masks optional for businesses while lifting restrictions on gatherings of more than 50 people.
Ducey never imposed a statewide mask mandate but did require masking at businesses such as restaurants, bars and gyms.
The governor's new executive order also prevents local governments from enforcing mask mandates, but both Pima County and Tucson have kept masking requirements in place anyway, citing statutes that give them authority to regulate public health.
The governor has indicated he will not take action to curb the decisions of cities and counties that ignore his directive to annul mask mandates.
While neither the city nor the county has issued citations for mask violations, both have consequences in place for those disobeying the mandates.
In Pima County, individuals violating the mask ordinance face a $50 fine while businesses face a $500 fine and the possible loss of their license to operate. Tucson does not have specific consequences for businesses, but individuals face a civil infraction worth up to $50.
The county Health Department uses a "three strikes" policy where businesses are warned once the department receives a complaint, and the third instance results in ramifications.
The Health Department does not regularly screen businesses for mask compliance but rather looks into complaints it receives from the public.
County Administrator Chuck Huckelberry said the county has received 2,675 mask complaints and responds to them with an "education first" approach. He said 20 complaints called for follow-up, but none went to the third stage of fining or revoking business licenses.
Dr. Francisco Garcia, the county's chief medical officer, said rising cases and the emergence of more contagious coronavirus variants in Arizona factored into the county's decision to keep its mask mandate.
Although Pima County has administered nearly 500,000 vaccine doses, COVID-19 cases rose from 462 cases the third week of March to 569 cases the fourth week, according to county Health Department data.
"Were it not for the fact that cases are starting to go up both nationally and here in Pima County, were it not for the fact that we have started identifying some of these potentially more transmissible, more concerning variants, we might not have taken the action that we have taken," Garcia said. "But we are far from being done with this pandemic."
Customers' choice
Despite the county's mandate, some businesses are leveraging Ducey's new guidelines to operate without masking or capacity restrictions.
While Krueger is still requiring his employees to wear masks, spacing out tables and offering outdoor dining in a 20,000-square-foot patio, it's now up to his customers to wear a mask when entering his restaurants.
Krueger said most of his customers still wear masks, but many are confused about which rules to follow.
"There are conflicting opinions about what the current rules are at this moment. Are we under the governor's orders? Are we under the county's orders? Are we under both?" he said. "When we, as business owners, aren't told or getting clarity and we don't understand, how are the patrons going to understand?"
Garcia says the county understands the confusion, but ultimately, the county has jurisdiction over local public health operations.
"There is legitimate confusion that we need to be able to mitigate. We have no control over what the governor's office or the Arizona Department of Health Services does, but we do have control over how our processes work here," he said. "We really are trying to give people the benefit of the doubt. We really are trying to get them into voluntary compliance."
Krueger is part of a joint lawsuit against the county that caused a Pima County Superior Court judge to force the county to halt its mandatory curfew in January.
In addition to agreeing that the plaintiffs — all restaurant and bar owners in the county — proved the harm the curfew caused them by preventing operations during peak businesses hours, the judge said the curfew violated Ducey's May 12 executive order declaring no local jurisdiction can create a regulation conflicting with the state's COVID-19 guidelines.
Although the county was not successful in its curfew court case, Huckelberry said enforcing masks is different. While the validity of a curfew as a public health measure can be debated, the science behind mask-wearing is solid.
"There is absolutely no question that masks are an effective public health measure as documented by numerous scientific studies," Huckelberry said. "Therefore, it is an effective, enforceable public health action."
The Pima County Attorney's Office says it cannot comment on the specifics of the mask mandate, as the legal arguments for it are covered by attorney-client privilege. Huckelberry hinted the county is leaning on Arizona Supreme Court precedents that grant the county public health authority the state can't supersede.
The county administrator said the mask mandate also protects businesses from liability claims.
"If, in fact, an individual in their business becomes infected, if they're completely disregarding valid local law, it probably subjects them to increased liability," Huckelberry said.
Businesses differ on wearing masks
While restaurant-goers often remove their masks after they make it to their table, mask-wearing at other businesses like gyms and retail stores is a less temporary experience.
Daniel Sawaya, the owner of Tucson Strength, a locally owned gym specializing in powerlifting, has also decided to rescind his business' mask mandate after Ducey's order.
He said most of his customers have been vaccinated and the equipment at his gym is 6 to 8 feet apart. The gym is conducting all its group classes outside.
"We strictly enforced masks when the governor mandated us to," Sawaya said. "Masks aren't optimal to exercise in. I don't believe that it's healthy for people to do it. I enforced it because I had to, but I'm not going to force people to wear them when I don't have to force them to wear them."
The gym owner is not afraid of repercussions from the county. In fact, Sawaya said he spoke directly with the governor's senior advisor who told him the county can't make him enforce mask-wearing.
"They can say what they want to say, but it's very clear that the state overrides local authority," Sawaya said. The county "can do whatever they want; I mean, it's not enforceable by law."
But to Garcia, the stakes of rescinding mask requirements are higher than a fine or license loss.
"Those businesses (without mask mandates) have employees, have customers, who end up being cases, who end up being deaths," he said. "So obviously, they will choose to do whatever they choose to do. I hope and I expect that most people in this community will continue to abide by our recommendations."
Other businesses in the county are, in fact, continuing to follow the county's guidelines.
Desert Sports and Fitness' gyms require masks, do temperature checks at the door and have customers sanitize their equipment before and after use.
"We did work so hard to keep everybody safe throughout the pandemic and throughout the CDC guidelines, so we wanted to continue to keep that going," said Joella Parra, manager of Desert Sports and Fitness' southwest location. "We're here for all of our members; we want to keep them safe. We want to be a part of the solution, so hopefully, we're helping out."
Rebecca Safford, owner of Tap & Bottle, a craft beer and wine tasting room with three Tucson locations, is continuing masking of staff and customers, social distancing and capacity limitations at her businesses.
"We really are looking to the Pima County Health Department for guidelines," Safford said. "I really value the opinions of my staff and keeping my staff safe, and unanimously, my staff wants to continue to wear masks, and they want our customers to continue to wear masks."
Garcia believes most residents will support businesses with mask requirements and avoid patronizing those that don't.
"I think ultimately, a lot of consumers are going to vote with their feet. I see people routinely turning around from establishments that have signage that says 'no masks required,' " he said. "I know that the vast majority of business owners really are trying to do the right thing."