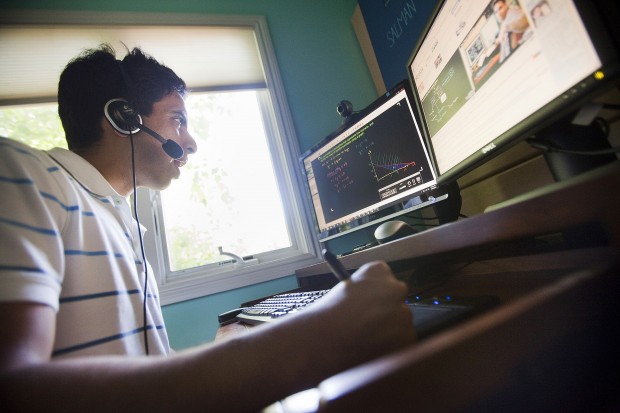 SAN JOSE, Calif. - From a tiny closet in Mountain View, Calif., Sal Khan is educating the globe for free.
His 1,516 videotaped mini-lectures - on topics ranging from simple addition to vector calculus and Napoleonic campaigns - are transforming the former hedge fund analyst into a YouTube sensation, reaping praise from even reluctant students across the world.
"I'm starting a virtual school for the world, teaching things the way I wanted to be taught," explains Khan, 33, the exuberant founder and sole faculty member of the nonprofit Khan Academy, run out of his small ranch house, which he shares with his wife and infant son.
Khan has never studied education and has no teaching credentials. His brief and low-tech videos, created in the corner of his bedroom, are made with a $200 Camtasia Recorder, $80 Wacom Bamboo Tablet and a free copy of SmoothDraw3 on a home PC.
But every day, his lectures are viewed 70,000 times - double the entire student body of UC Berkeley. His viewers are diverse, ranging from rural preschoolers to Morgan Stanley analysts to Pakistani engineers. Since its inception in 2006, the Khan Academy website has recorded more than 16 million page views.
At a time when conventional education is under stress, his project has caught the attention of educators and venture capitalists such as John Doerr, who just invested $100,000 to help pay Khan's salary.
Jason Fried, CEO of tech company 37signals, said he invested in Khan's nonprofit because "the next bubble to burst is higher education. It's too expensive. It's too much one-size-fits-all. This is an alternative way to think about teaching - simple, personal, free and moving at your own pace."
With a computer science degree from the Massachusetts Institute of Technology and an MBA from Harvard, Khan settled into a lucrative position at Sand Hill Road's Wohl Capital Management, while his wife studied medicine at Stanford.
Then, his young cousin Nadia started struggling in math. In afternoon long-distance conference calls to Louisiana, Khan taught her "unit conversions" using Yahoo Doodle as a shared notepad. He wrote JavaScripts to generate random algebra problems.
Soon Nadia's brothers and other far-flung family members wanted help, too. Frustrated by scheduling tutoring sessions around work, soccer schedules and different time zones, he simply posted his talks on YouTube.
"Then somebody searched YouTube for 'greatest common divisor,'" he said with a laugh. Web traffic now soars 10 percent a month.
His approach is learn-as-you-go. Students can start anywhere in the curriculum. Stumped? Simply stop the video and repeat. He's off camera and conversational. Lessons are bite-size. The modules offer immediate feedback - what's right, what's wrong. There's conceptual progression.
Some lessons - in math, computer science and physics - are spontaneous, as Khan works from memory. Other topics, such as cellular respiration or the Haitian revolution, are more scripted. He immerses himself in material, roaming the aisles of the used bookstore BookBuyers. When stuck on a question, he calls experts.
"I just ponder things, until they're clear," he said.
So clear that Felix Thibodeau, 11, of Wilmington, N.C., can enjoy math.
"I think he rocks. I'm studying pre-algebra and I love it," he said in an e-mail message to the San Jose Mercury News.
Saudi dentist Fawaz Sait wrote: "He deserves a Nobel Prize."
It's not possible to verify the accuracy of each video. But in their testimonials, students say Khan helped them master the material - particularly math.
"I learned more about calculus in the last few hours than in the whole of the last semester at university," said Derek Hoy, majoring in geological science/geophysics at Australia's University of Queensland. "I was almost ready to change majors, because I wasn't understanding a lot of the content but am now up to speed."
Khan laughed. "I'm the 'Dear Abby' of math problems. But if you understand something, shouldn't you be able to explain it? Isn't that the whole point?"
Sal Khan's topics include math, chemistry, physics, biology, finance and history. Several modules cover material in the California Standards Test in Algebra I and II. See them at www.khanacademy.org
Be the first to know
Get local news delivered to your inbox!