Fact-checking claims from the first Democratic debate of 2020
A look at some statements from the Democratic debate and how they compare with the facts.
Biden on child care: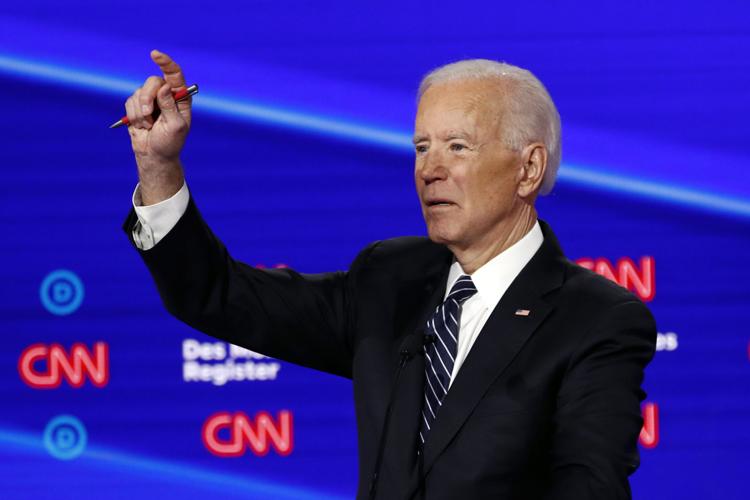 JOE BIDEN: "I was a single parent too. When my wife and daughter were killed, my two boys I had to raise. I was a senator — a young senator — I just hadn't been sworn in yet. I was making $42,000 a year. I commuted every single solitary day to Wilmington, Delaware — over 500 miles a day, excuse me, 250 miles a day — because I could not afford ... child care. It was beyond my reach."
THE FACTS: Child care costs are burdensome for most working U.S. parents, but the former vice president wasn't quite as broke as claimed when suggesting he took the train back to Delaware because child care costs were too high.
That $42,000 salary might not sound like much today. In fact, Senate records show it was actually $42,500. But Biden joined the Senate after winning his seat in 1972. Adjusted for inflation, he was earning more than $256,000 in today's dollars. That is more than four times the median household income.
Sanders on Medicare for All: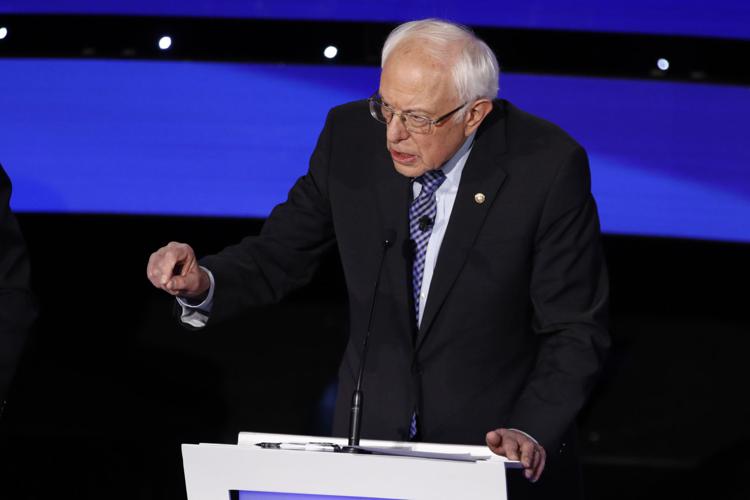 BERNIE SANDERS: "Medicare for all ... will cost substantially less than the status quo."
THE FACTS: There's no guarantee that "Medicare for All" will cost less.
The nonpartisan Congressional Budget Office said in a report last year that total spending under a single-payer system like Sanders is calling for "might be higher or lower than under the current system depending on the key features of the new system."
Those features have to do with the design of the system, questions like payment rates for hospitals and doctors, and whether patients are required to pay part of the cost of their care. The Vermont senator says his plan would require no cost-sharing from patients, no copays and no deductibles. But completely free care could trigger a surge in demand for medical services, raising costs. Other countries that provide coverage for all do use cost-sharing to help keep spending in check.
A research report last year by the nonprofit Rand think tank estimated that Medicare for All would modestly raise total U.S. health spending.
The study modeled a hypothetical scenario with a plan similar to Sanders' legislation. It found that total U.S. health care spending would be about $3.9 trillion under Medicare for All in 2019, compared with about $3.8 trillion under the status quo.
Biden on the war in Iraq:
BIDEN: "I was asked to bring 156,000 troops home from that war, which I did. I led that effort."
THE FACTS: Biden is roughly right about bringing troops home, but he didn't mention that the U.S. had to send some back.
President Barack Obama did designate Biden to take the lead in pulling U.S. forces out of Iraq and coordinating efforts to maintain stability in Baghdad. His results were mixed. Biden and Obama failed to win agreement from the Iraqi government to keep a limited number of U.S. troops there after December 2011. That was the deadline for a complete U.S. pullout under a deal negotiated by the Bush administration in late 2008. Biden was still vice president when Obama was compelled to return American troops to Iraq in 2014 after the rise of the Islamic State extremist group.
Sanders on cost of NAFTA and permanent normal trade relations with China:
Sanders repeated his claim that NAFTA and permanent normal trade relations with China have cost the US "some 4 million jobs."
"I am sick and tired," said Sanders as he drew a contrast with former Vice President Joe Biden, pointing to large multinational corporations that he says have reaped the benefits.
THE FACTS: This is likely an overestimate of the impact trade agreements can have on the country's employment.
It's difficult to measure the overall economic impact of the North American Free Trade Agreement since trade and investment trends can be affected by a number of factors, including economic growth, inflation and even a weakening dollar, according to the Congressional Research Service.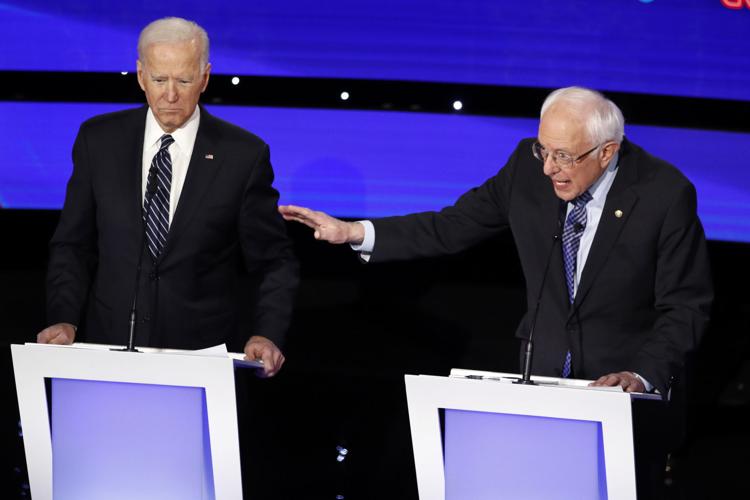 Most estimates find that NAFTA had little if any impact on national employment levels, though the effect was uneven across regions and industries.
The left-leaning Economic Policy Institute found that between 1993 and 2013, the US trade deficit with Mexico and Canada increased from $17 billion to $177.2 billion and displaced 851,700 US jobs.
By contrast, the entry of China into the World Trade Organization in 2001 likely had a much larger impact because of sudden competition from cheaper imports. But even the high end of job loss estimates from EPI found that the change in trade status for China caused a loss of 3.4 million jobs between 2001 and 2017.
Another estimate, from a 2016 study by economists at the Massachusetts Institute of Technology, found that normalizing trade relations with China cost the US between 2 million and 2.4 million jobs between 1999 and 2011.
- Donna Borak, CNN
Biden on Iraq War stance:
Biden repeated his false claim that he opposed the war in Iraq from the moment the war began.
Biden said he made a "mistake" in casting a 2002 vote, as a senator from Delaware, to give President George W. Bush the authority to go to war in Iraq. But he said he cast the vote because the Bush administration had said "they were just going to get inspectors" into Iraq to check for weapons of mass destruction -- and that, once Bush actually went to war, he became immediately opposed: "From that point on, I was in the position of making the case that it was a big, big mistake."
THE FACTS: As fact checkers have repeatedly noted, Biden did not oppose the war in Iraq from the point it started in March 2003. He did begin calling his 2002 vote a "mistake" in 2005, two years into the war, but he was a vocal public supporter of the war in 2003 and 2004. And he made clear in 2002 and 2003, both before and after the war started, that he had known he was voting to authorize a possible war, not only to try to get inspectors into Iraq.
CNN's Facts First team has debunked various versions of Biden's claim that he opposed the war from the moment it started. Read longer articles on that here, here and here.
Here are a few representative Biden quotes. In a February 2003 speech in Delaware, he said, "Let everyone here be absolutely clear: I supported the resolution to go to war. I am NOT opposed to war to remove weapons of mass destruction from Iraq. I am NOT opposed to war to remove Saddam from those weapons if it comes to that."
It's true that Biden criticized Bush's approach to diplomacy in the lead-up to the war, warned in the lead-up to the war that Bush was not being honest about how hard the war would be, and he criticized Bush's handling of the war from its first weeks on. But Biden made clear that he supported the war despite that criticism.
In a July 2003 speech at the Brookings Institution, Biden said: "Nine months ago, I voted with my colleagues to give the president of the United States of America the authority to use force and I would vote that way again today. It was the right vote then and would be a correct vote today."
During the debate on Tuesday, Biden also offered a confusing timeline of his positions on the war, saying, "I said 13 years ago it was a mistake to give the president the authority to go to war if, in fact, he couldn't get inspectors into Iraq to stop -- what thought to be -- the attempt to get a nuclear weapon. It was a mistake. And I acknowledged that."
When Biden said "13 years ago," he appeared to be referring to how, in 2006 and 2007, he was calling his 2002 vote a mistake. The vote itself was more than 17 years ago.
- Daniel Dale and Nate McDermott, CNN
Biden on threat to US embassies:
Biden said that President Donald Trump "flat-out lied" when he claimed the US killed Iran's top military general because he was targeting four US embassies.
"Quite frankly, I think he's flat-out lied about saying that the reason he went after -- the reason he made the strike was because our embassies were about to be bombed," Biden said.
THE FACTS: Trump has yet to provide evidence backing up his claim that Iranian Gen. Qasem Soleimani was actively planning new attacks against four US embassies and top administration officials have struggled to defend the President's comments. But there is no way to know if Trump "flat-out lied" without seeing the underlying intelligence, which remains classified.
Trump claimed at an Ohio rally last week that Soleimani "was actively planning new attacks." He later told Fox News, "I believe it probably would've been four embassies," naming Baghdad as one.
Senior administration officials have repeatedly pointed to danger facing US embassies in the Middle East.
Defense Secretary Mark Esper said this past weekend he "didn't see" a specific threat against four embassies in the intelligence.
"What the President said with regard to the four embassies is what I believe as well. He said that he believed that they probably, that they could have been targeting the embassies in the region," Esper added.
Similarly, Trump's national security adviser Robert O'Brien said in an interview on Sunday with ABC's "This Week" that it was unclear whether embassies or US military bases would be targeted, but insisted Trump's claim about four embassies being threatened was "consistent with the intelligence."
Citing two State Department officials, CNN reported on Monday that State Department officials involved in US embassy security were not made aware of imminent threats to four specific US embassies and didn't issue warnings about specific dangers to any US embassy before the administration targeted Soleimani.
The State Department sent a global warning to all US embassies before the strike occurred, a senior State Department official said and the department spokesperson confirmed, but it was not directed at specific embassies and did not warn of an imminent attack.
- Zachary Cohen
___
The-CNN-Wire™ & © 2020 Cable News Network, Inc., a WarnerMedia Company. All rights reserved.
Buttigieg on Trump administration admitting Iran deal worked: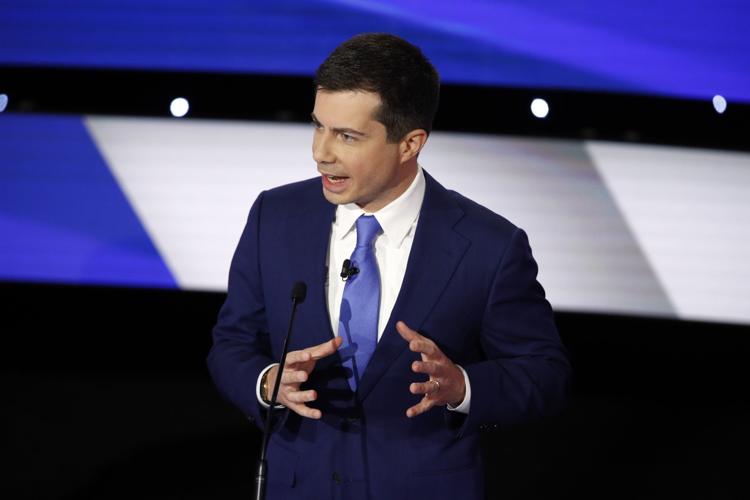 Former Mayor Pete Buttigieg asserted during the debate on Tuesday that the Trump administration admitted that the Iran nuclear deal was working before pulling out of it.
Buttigieg said, "By gutting the Iran nuclear deal, one that, by the way, the Trump administration itself admitted was working, certified that it was preventing progress toward a nuclear Iran, by gutting that, they have made the region more dangerous and set off the chain of events that we are now dealing with as it escalates even closer to the brink of outright war."
THE FACTS: This is basically true. By repeatedly recertifying the nuclear deal and waiving sanctions against Tehran as a result, the Trump administration effectively acknowledged that Iran was abiding by the terms of the deal even as the President publicly criticized it.
The terms of the nuclear deal required the US president to reauthorize it every 120 days to keep sanctions from kicking in. Trump didn't leave the deal until May 2018 and reauthorized it a handful of times after taking office.
CNN previously reported that the President promised to kill the deal on the campaign trail but was persuaded by cabinet members and allies several times to recertify Iran's compliance. Former Defense Secretary James Mattis told the Senate Armed Services committee in April 2018 that the verification provisions in the pact were "pretty robust" though he did not publicly back the deal. Despite his criticism of the deal, neither Trump nor his aides had been able to say that Iran was violating the terms of the agreement.
- Caroline Kelly and Zachary Cohen, CNN
On beating an incumbent Republican in the past three decades:
ELIZABETH WARREN: "The only person on this stage who has beaten an incumbent Republican any time in the past 30 years is me."
SANDERS: "Just to set the record straight, I defeated a Republican incumbent running for Congress."
WARREN: "I said, I was the only one who's beaten an incumbent Republican in 30 years."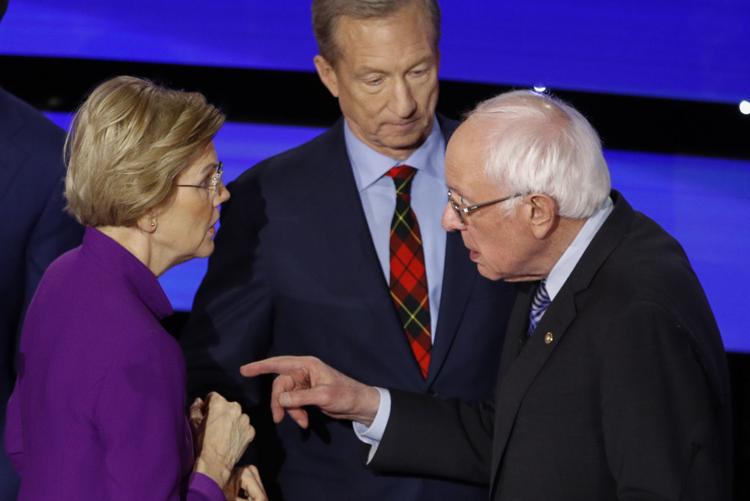 THE FACTS: Sanders wins this argument — one of the stranger disputes of the night — by a matter of months. In November 1990, Sanders beat Republican incumbent Peter Smith to take Vermont's only House seat. That was 29 years and two months ago. Sanders' win, technically, slips in the 30-year window.