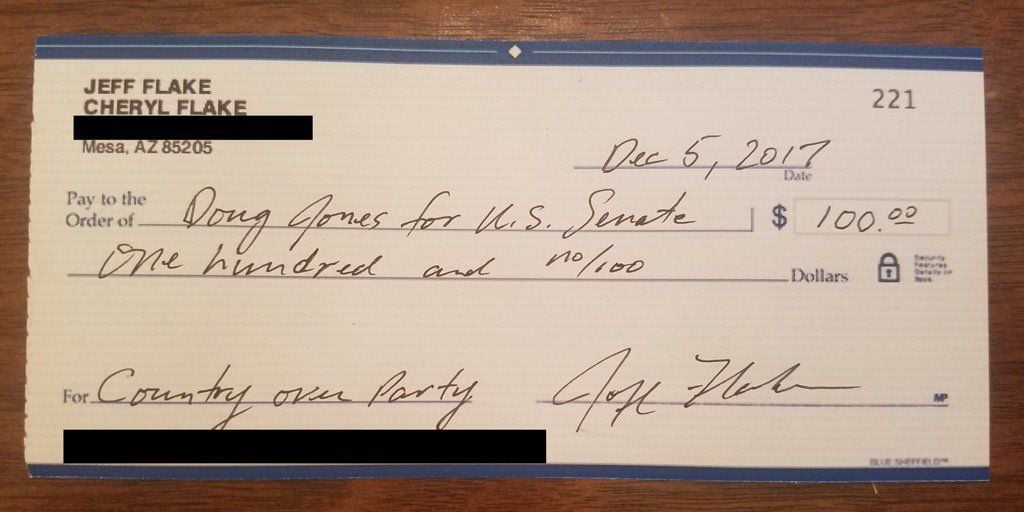 Republican Jeff Flake posted a photo of a personal check made out to Roy Moore's Democratic rival Doug Jones on Tuesday afternoon. 
The Arizona senator posted a photo of the check on his Twitter account, made out to Jones' campaign, with the memo line "Country over party." 
Flake has been outspoken opponent of Roy Moore, who is running for a U.S. Senate seat in Alabama. 
Allegations about Moore have surfaced during his campaign, claiming that the candidate had sexually assaulted teenage girls decades ago, including one who said he molested her when she was 14 and he was in his 30s.
Despite the allegations, both the Republican National Committee and President Donald Trump have endorsed Moore.  
While many national Republicans have called on Moore to step aside in the wake of the allegations, Flake is one of the first senators to prominently show support for Moore's democratic opponent.
The check drew mixed reactions on Twitter, with some saying $100 was too little an amount. "Purely symbolic. Not impressed," @clubbing_guy also wrote.
Republican Ben Sasse, a junior  senator from Nebraska, criticized Flake's check on Twitter Wednesday morning, saying "this donation is a bad idea. It's possible to be against BOTH partial birth abortion AND child molestation. Happily, most Americans are."
The Associated Press contributed to this report.