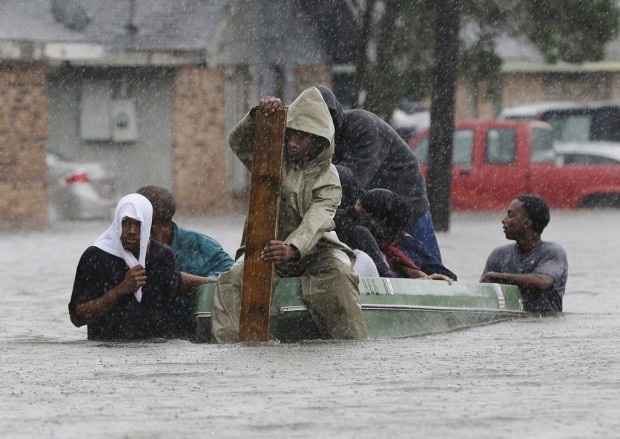 NEW ORLEANS - Isaac hovered over Louisiana for a third day Thursday, shedding more than a foot of additional rain that forced authorities to hurriedly evacuate areas ahead of the storm and rescue hundreds of people who could not escape as the rapidly rising waters swallowed entire neighborhoods.
The huge spiral weather system weakened to a tropical depression as it crawled inland, but it caught many places off-guard by following a meandering, unpredictable path. The storm's excruciatingly slow movement meant that Isaac practically parked over low-lying towns and threw off great sheets of water for hours.
"I was blindsided. Nobody expected this," said Richard Musatchia, who fled his water-filled home in LaPlace, northwest of New Orleans.
Inside the fortified levees that protected New Orleans, bursts of sunshine streamed through the thick clouds, and life began to return to normal. But beyond the city, people got their first good look at Isaac's damage: Hundreds of homes were underwater. Half the state was without power at the one point. Thousands were staying at shelters.
And the damage may not be done. Even more rain was expected in Louisiana before the storm finally drifts into Arkansas and Missouri.
Isaac dumped as much as 16 inches in some areas, and about 500 people had to be rescued by boat or high-water vehicles. At least two deaths were reported.
Five feet of water poured into Musatchia's home before a neighbor passed by with a boat and evacuated him and his 6-year-old boxer, Renny.
He piled two suitcases, a backpack and a few smaller bags onto the boat and said that was all he had left. He abandoned a brand-new Cadillac and a Harley-Davidson.
"People have their generators, because they thought the power would go out, but no one expected" so much water, Musatchia said.
Other evacuees were picked up by National Guard vehicles, school buses and pickup trucks.
Daphine and David Newman fled their newly decorated home with two trash bags of clothing. They have lived in their subdivision since 1992 and never had water in their home from previous storms, not even Hurricane Katrina.
The comparison was common, since Isaac hit on the seventh anniversary of the devastating 2005 storm, though the differences were stark.
Katrina was more powerful, coming ashore as a Category 3 storm. Isaac was a Category 1 at its peak. Katrina barreled into the state and quickly moved through. Isaac crept across the landscape at less than 10 mph and wobbled constantly.
Hundreds of people in lower Jefferson Parish chose to ride out the storm - and many of them had to be rescued.
Along the shores of Lake Ponchartrain near New Orleans, officials sent scores of buses and dozens of high-water vehicles to help evacuate about 3,000 people as floodwaters lapped against houses and stranded cars.
The water rose waist-high in some neighborhoods, and the Louisiana National Guard worked with sheriff's deputies to rescue people stuck in their homes.
More than 900,000 homes and businesses around the state - about 47 percent of all customers - were without power Thursday. Utility company Entergy said that included about 157,000 in New Orleans.
New Orleans' biggest problems seemed to be downed power lines, scattered tree limbs and minor flooding.
Be the first to know
Get local news delivered to your inbox!