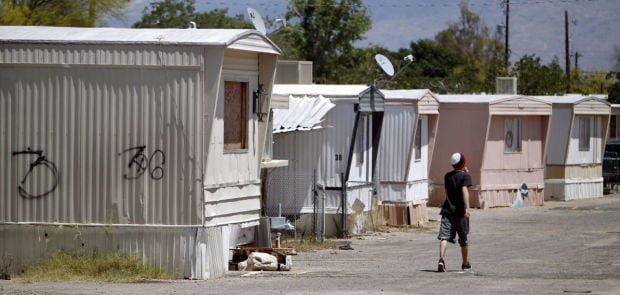 The Pima County Board of Supervisors has approved a zoning-code amendment requiring proof of rehabilitation for mobile homes built before 1976, when federal construction standards for mobile homes were established. Mobile home owners must provide that proof to Pima County Building and Site Development before importing trailers into the county, relocating them within the county or connecting them to utilities.
"These are really basic, life-safety improvements," said Mark Holden, principal planner with Pima County Development Services. "There might be an extra cost involved, and hopefully that cost isn't going to get passed on to the people who are buying these units."
The new rule brings greater consistency to a patchwork of regulations on old trailers. Already under Arizona statute, mobile homes that are moved into the state, and trailers that are moved between mobile home parks, must have certification of rehabilitation before they are installed, Holden said.
The new Pima County regulation, which takes effect in a month, will expand that provision to cover mobile homes that are moved onto private property, as well as trailers moved between parks, he said.
Pima County's poverty rate is about 18 percent, compared with 14 percent nationally, Census data show. In the city, the statistics are more dire: One in four Tucson residents lives below the poverty line.
About 17,400 pre-1976 mobile homes are registered with the county Assessor's Office and many of them are in disrepair, according to Pima County.
The new regulation requires a certificate of rehabilitation from the Arizona State Department of Housing Manufactured Housing Division. The rehabilitation includes:
Window exits in every room intended for sleeping;
A smoke detector;
Sealing compartments for gas-fired appliances, like water heaters, with gypsum board;
Testing of gas-piping systems;
And proper connections for aluminum wiring.
The rehab certification isn't required for getting a permit to add additions or make other improvements to mobile homes that are staying in place.
But Sabrina Fladness, an attorney with Southern Arizona Legal Aid, worries the zoning change could have unintended consequences for low-income families, at least in the short term.
Families who own their pre-1976 mobile home, but rent the trailer space beneath it, may not be able to move their home to a new location if they have problems with their landlord, or may find it difficult to sell the home, Fladness said in an email. And irresponsible mobile home park owners might sell these homes to unsuspecting families, even knowing that they can't be hooked up to utilies, resulting in families living in unhabitable conditions. 
"In the long term, this zoning change should make homes safer, but there is going to be a lot of fallout in the meantime," she said.
The move might ruffle feathers among buyers seeking dirt-cheap trailers to rent, but public safety is more important, said County Supervisor Richard Elías.
"If you're buying a $5,000 trailer, which some people do, it'll probably cost you a little bit more" under the new rules, he said. But "I don't think it's that big of an imposition."
The updated code has the support of the manufactured-housing industry: Ken Anderson, president of the Manufactured Housing Industry of Arizona, whose members include suppliers, brokers and installers, said similar zoning rules have been proliferating in Arizona over the past decade.
Pima County could have gone with an even-more-restrictive regulation, such as an outright ban on old trailers moving in, which might have impeded access to affordable housing, Anderson said.
Apache, La Paz, Mohave, Pinal, Yavapai and Yuma counties have various types of bans on pre-1976 units, according to Pima County Development Services.
Pima County's zoning change is a good compromise, Anderson said.
"As an industry, we recommended (the change) to Pima County about five years ago, so we're happy to see the action," he said.
The new rule also has the support of Arizona Association of Manufactured Home and RV Owners, whose members own their trailers and often rent the trailer-park space upon which the mobile homes sit.
The group's president, Eileen Green, said the county's challenge will be actually enforcing the rule and reining in unscrupulous mobile home dealers who transport decrepit trailers — sometimes after a dangerous trailer park gets shut down — to new sites in the dead of night.
"It's one of those things where, no matter how many laws you put in effect, you have to have someone to enforce it or it's not worth the paper it's on," she said.