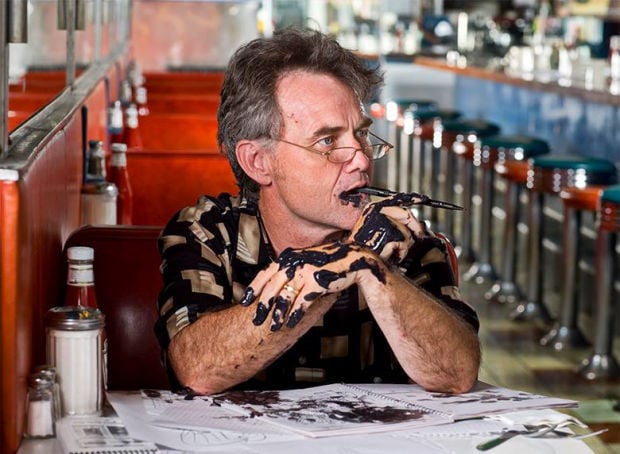 Rosa couldn't concentrate. She poured coffee and pretended to smile, but thanks to the new president's immigration policy she was consumed with fear for those she knew who lived in the shadows.
Her cousin, Maria. Carlos' uncle. Would her old friend Carmen get picked up? Last Tuesday night Carmen pleaded with Rosa, "If I get deported will you watch over my daughter, Selena?" Selena was born here months after her father died crossing the Devil's Highway.
And there was young Fernando, the dishwasher. He'd escaped the gangs of El Salvador in hopes of making enough money to buy his mother a tin roof for their shack. He borrowed hundreds of dollars from the gangs to pay the coyotes. He got deported last week. The gangs will own Fernando for the rest of his life.
Last weekend Sour Frank had stunned the cafe by losing it and cursing under his breath at his Sunday paper. "Round 'em all up. Ship 'em back! The law is the law!" Everyone heard him.
When Frank came into the Arroyo Cafe this morning, the chill was palpable. Romero ignored Frank's "Good morning." Rosa poured him a cup of silence. Lurlene turned her back on Frank so she could better hear Romero's story about what had happened to him at the store: "I was in line and some jerk behind me whispers to his buddies,'I know how to shorten this line. Yell 'Immigration!' His white friends thought that was hi-larious. Yeah. Real funny. I'm telling you the malls are ghost towns. The Sonorans aren't shopping here anymore."
"Fake news" muttered Sour Frank. "Malls are fine."
No one was changing anyone's mind at this point. Everyone in the cafe had burrowed into their respective positions like saguaros rooted in granite.
No one wanted to hear it again. "He'll make America great again." "He's making America hate again." "Give him a chance, for God's sake." "Impeach him." "He's a hater. " "You're a hater!" People hissed at each other like coiled rattlers.
Frank muttered at his cold eggs, "All I know is that someone is finally going to build the damned wall and make us safe." Frank was certain they'd all change their minds once America was great again.
In a booth a pair of snowbirds snapped at each other. "He's a dangerous pathological liar!"
"He's an entertainer. Don't take him so literally!"
"You're crazy! 'The press is the enemy of the people'? Who says that?"
I shouted over to them, "Any enemy of the press is the enemy of democracy."
Donald Trump's wall was beginning to take shape in this cafe, winding its way between old friends.
Frank tapped Romero on the shoulder. "What's up buddy? Did I say something? You're quiet this morning."
"I didn't get my check from Soros today."
Romero didn't. "I got a story for you, Frank."
"This old friend of mine, an old buzzard named Raul, owns this beautiful old ranch in town. Along River Road. One day the old man was working in his front yard, this was years ago, and he's hacking prickly pear and raking the brush, having a great time, enjoying a good workout. He decides to take a breather by the fence. He's leaning on his rake, catching his breath, mopping his brow, when a car pulls up. This white woman rolls down her window and the gringa smiles at him. 'You do nice work.'
"Raul smiles. He says,'Thank you, ma'am.'
"She asks him how much he charges.
'Landscaping. How much do you charge?'
'I usually work for free. But ... He points to his front door. The woman is confused. 'Ma'am, you'll have to talk to my boss.'
'My wife. This is our house.'"
"Funny, huh? He didn't bother to tell her it had been his great-grandfather's house back before the first steam engine roared into this town and that big white 'A' was cemented onto that hill west of downtown."
Romero responded with a sarcastic smile. "When Brewer gave us SB 1070, I was just waiting for some cop to stop me and ask to see my papers. Now Raul is an old man and he said he's counting the days until he's working in his yard and some redneck in a huge pickup, with a giant red, white and blue flag flapping in the back, pulls up and yells at him to 'Go back home to where you came from!'
"Now Raul is taking down his mesquite fence and building a wall.
"Hasta la vista, baby, the times have changed. Have you ever met Rosa's cousin or her daughter? Ever wonder what happened to the dishwasher? Nice kid. Law's the law, right?"
Frank shook his head. His coffee had gone cold.