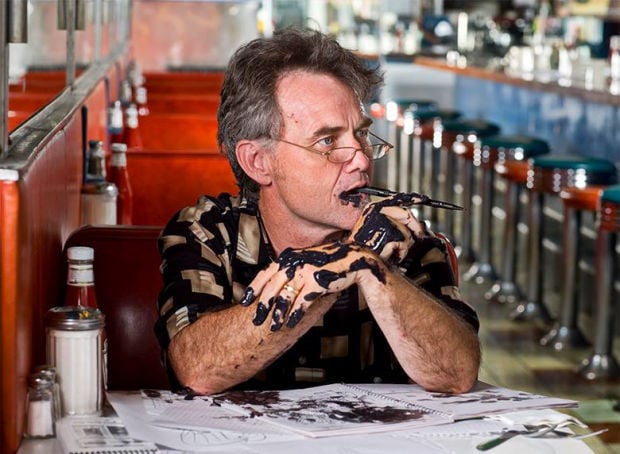 My wife was nearly five months pregnant in the spring of 1996 when her obstetrician pointed to the sonogram of our baby boy and said to us, "See that white spot? That's a cyst on his brain."
My wife gasped. I reeled. He added, "Could be Trisomy 18."
"What's that?" I asked, pretending none of this was real, that it was actually a fascinating PBS special about someone other than our baby boy.
"An extra chromosome. One-hundred percent lethal. Most die in-utero. If we confirm it you may want to consider terminating the pregnancy."
Our knees buckled us into our chairs.
"In Arizona the 20th week is your cutoff for abortion." He said the word. I thought of the gruesome images pro-life protesters carry on placards. To them we'd be murderers. Butchers.
As our doctor listed Arizona's abortion restrictions I thought of the many times I had visited the Legislature, only to leave, feeling dismayed by the pompous ordinary men who governed our lives. Each patronizing legal hoop these mullahs had created was intended to humiliate, shame and discourage citizens, like us, who were seeking a legal procedure.
On that spring day I could feel the entire mediocre membership of our statehouse invading the sanctuary of our doctor's office, one by one, entering the conversation with us, expressing views refuted by medical science, citing holy writ and haranguing us as we contemplated the life of our baby boy.
More than 20 years later the same fanatics who claim they don't want government to come between you and your doctor come between a woman and her reproductive healthcare provider every day. This month Gov. Doug Ducey signed a law mandating a doctor must use "all available means and medical skills ... to promote, preserve and maintain the life of the baby" if there is a live birth during an abortion.
This law applies to the induced delivery procedure we were facing in '96.
It was written for our lawmakers by Cathy Herrod, chief crusader for the Center for Arizona Policy, a cabal of Phoenix's finest pharisees. Over the objections of medical experts it condemns parents to witness the cruel suffering of futile resuscitation, also known as "God's will."
Such righteous souls assume if you're pro-choice you're an indifferent monster, or a deluded fool, who has no idea how grave and grievous an abortion is. Thus patronizing waiting-periods, forced sonogram viewings, vaginal probes, graphic flyers and other insulting hurdles are a part of women's health care around the nation. If men were treated similarly they'd lay siege to Washington.
Back in '96, leaving the doctor's office, my sobbing wife blurted, "I can't carry a stillborn to delivery. I can't. Our baby — dead? Inside me? It's too horrible to imagine."
We both always thought abortion should be legal. And safe. And rare. In the end, as I saw it, it was my wife's call.
I deferred to her in memory of my mother. During the Depression my mom's husband demanded she get an abortion. She refused. He abandoned her and the baby. Yet Mom was vocally pro-choice until her last breath. "It's my body. Nobody is going to tell me what to do with my body. Especially some man." Also, Mom made certain we would know the story of a young girlfriend who had died from an botched abortion in the '40s.
Days later blood was drawn from the umbilical cord in order to get our baby boy's chromosome sample.
We were prepared for any verdict. I had looked at horrifying pictures of the effects of Trisomy 18 in a medical library. Having seen my parents die a slow agonizing death from cancer, I erred on the side of mercy.
My wife's answer came as we watched a sunset. "He wouldn't have even known he existed." We both fell into the greatest silent sadness one can feel.
The waiting drove her to anger. "We'll have to go out of state for an abortion. If abortion is legal why do I feel like a criminal?
Politics sucks the humanity out of every issue. All they're doing is injecting fear, shame and guilt!"
Week Twenty: The lab results came back.
Extra material was found on his 22nd chromosome, eliminating Trisomy-18 as the villain. Next, the geneticist had us all tested and extra material was found on my 22nd chromosome. The geneticist pointed out that I appeared "normal" and, after everyone had a good laugh at my expense, added that this phenomenon is called a "hidden defect."
Later that week the cyst vanished.
I'd like to forget that harrowing time when our private agony intersected with Arizona's medieval abortion laws.
On the bright side I will forever remember that day in July when we brought our healthy baby boy home. He looked so handsome in his tiny football jersey. Number 22.
Number 22 is a beautiful grown man now. And pro-choice.