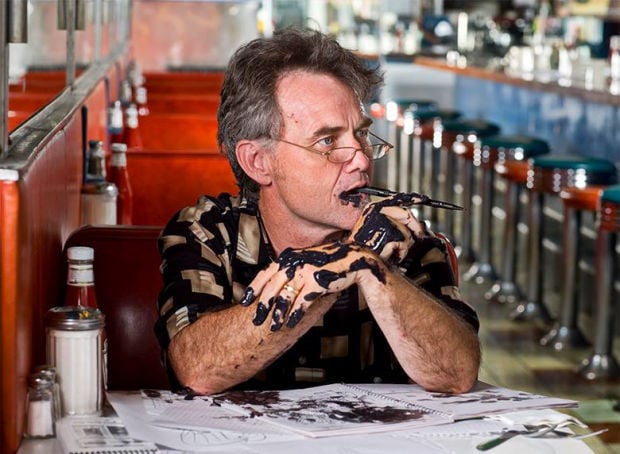 As I have watched this historic campaign, I can't help but wonder what would have happened had Donald Trump risen up at other times in our history.
1742
As soon as young George Washington Trump cut down his father's cherry tree, his father found the fallen tree and asked the boy if he knew what had happened. "Did you cut down this cherry tree?"
"I cannot tell a lie. What cherry tree? I don't see any cherry trees."
"It's right there on the ground in front of us. You have an ax in your hand."
"Wrong. There is no cherry tree. This isn't an ax. Lie about the tree again and my lawyers will destroy you. Listen, old man, by the time this is over I'll own Mount Vernon and you'll be shoveling pig feed in Trenton."
G. W. Trump avoided fighting in the Revolution, claiming "bone spurs." He went on to lose his Mount Vernon Casino in bankruptcy court. That spring, he was killed by his slaves.
1776
In Philadelphia, Thomas Jefferson Trump lit his 42-carat gold candle, dabbed his 42-carat gold pen in his Tiffany inkwell and busied himself with writing the new nation's declaration of principles, a call for independence.
"We hold these truths to be self-evident, that all men are created equal, except for gays, Latinos and Muslims, and that us guys should never have to change diapers. Am I right? And that Rosie O'Donnell is a fat disgusting pig. And one more thing. After a woman has kids she loses her looks. Is that ever true! That's why I dumped Ivana for Marla. Are you with me on that? Make Monticello great again. I want to see John Adams' birth certificate. Throw Hillary in the stocks. Frankly, I like King George. He called me a genius. He knows how to lead."
1863
With great deliberative care, Abraham Lincoln Trump signed the Emancipation Proclamation, freeing the slaves.
"I've had a great relationship with my blacks. I love my African-Americans. Now that they're free they can live wherever they want! Except for any of my rental properties. Bad for real estate values. So sue me. I'll sue you back, lose and claim victory."
1941
An armada of Japanese Zeros had just attacked Pearl Harbor, and now, he, the president of the United States, Franklin Delano Trump, was asking Congress to declare war against Imperial Japan and its allies, Nazi Germany and Fascist Italy.
"Don't worry folks, I know more than the generals. Every last one of them. I have a secret plan. You won't believe how fast we're going to be winning. Any ideas from the crowd? I'm all ears. Who is Hirohito? Can we hold back on Germany and Italy until I get this war thing figured out? Hitler called me 'bold' and Mussolini called me a 'genius'. Don't trust the lying mainstream press. Those guys know how to lead."
1962
President John Fitzgerald Kennedy Trump and his anxious advisers studied the satellite photos showing missile sites under construction in Cuba. Trump's admirals told him the Russian ship carrying ballistic missiles was fast approaching their naval blockade. The world was on the brink of a global Armageddon that could empty every missile silo on the planet.
"So is there an actual red button? What do I say? You're fired?"
"Mr. President, the way this works—
"Can I nuke that pig, Rosie O'Donnell? I hate her. No? OK. Get me Nikita on the phone. I know how to talk to Russians. Tremendous people. Hello, Nikita? It's Donald. Two things. First, I have a complaint about my latest Russian mail-order bride. She wants children, and I thought everyone knew I can't stand to look at a woman after she's had children. Ugh, right? Second, let me tell you my missile works just fine, if you know what I mean. I got no problems in that department. So if you're thinking ... Hello? Nikita? Hello? He hung up. Can I get taco bowls in the White House bomb shelter? No salsa. I like my taco shells crisp."
1963
The president stood in front of the Berlin Wall and addressed the citizens of Berlin, an island of freedom encircled by Communist East Germany.
"Nice wall! See. It works. No Mexicans in Berlin. Not a one. Did you know Nikita Khrushchev called me 'bold'? The man's tough. I like that. He knows how to lead. I think we can work together building walls. He loves my idea for a wall on the Mexican border. Want to see my impression of FDR trying to walk? It's hilarious."