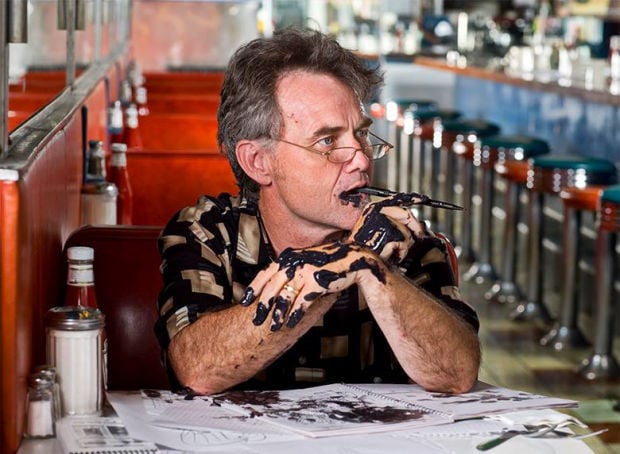 With education in the news it was time to interview my favorite Arizona legislator, State Senator Rip Fiddler, from Cactus Flats.
Me: Senator, critics say vouchers will drain dollars from Arizona's public school system, a system that is already underfunded. What do you say to that?
Sen. Fiddler: What I always say. You can't throw money at the problem.
What do you throw at the problem, senator?
Senator Fiddler, are you proud of having slashed public education funding for decades?
Not as proud as I am of my ability to act shocked when poor schools underperform the rich ones. Where's my Oscar?
Let's talk about teachers. One out of every five teachers quits teaching in the first year. Senator, exactly what percentage is that?
I'm a lawmaker, not a pocket calculator.
Twenty percent. And another 20 percent quits after the second year. So how many quit in the first two years?
Do I look like the Rain Man?
Forty percent, senator. Nearly half quit in the first two years. That's a huge teacher shortage.
Short or tall, I can't do anything about the height requirements.
Senator, the pay raise Gov. Doug Ducey gave teachers was a pittance.
Are you kidding? It'll turn lives around. It's more than enough to cover the U-Haul rental they'll need to move to a state that pays a decent wage.
Let's talk higher ed. Senator, is it smart to price higher education out of the reach of working-class students?
Tell those losers you got to spend money to make money. Know who said that? The last corporate education lobbyist who bribed me. I meant, "Supported my campaign."
Senator, why did you kill adult ed and vocational training?
If adults want to go back to school to develop a job skill, they can go to any number of our fine prisons where they can learn to sew leather mail bags for the U. S. Postal Service or stamp out license plates. In fact that's an industry the state is investing in. Big time.
Senator! Arizona is at the bottom when it comes to education. What is your plan to reform education?
Well, first we financially starved public education for years. We cut it to the bone. Now school choice vouchers are going to suck the marrow out of what's left. We have a dream: The rich will choose to go to beautiful private schools subsidized by your taxes and the poor will go to prison and special-needs kids will go to dying public schools.
You say you're applying free-market principles to education, but, in fact, you're creating a system that's rigged against public schools. When it comes to tax credits you rigged the system to benefit private schools. You don't apply the same regulation or accountability to private schools.
Well, we got bold visionaries here in the Legislature who have an interest in private schools wiping out the competition and making the big bucks. That's what our beloved "free market" principles are all about. We want Arizona to offer our children the best education that money can buy. And that money belongs to the people, and specifically, the corporations that are "the people" who donate to my campaign every year.
How will the vouchers plan work?
The tax dollars that once went to your kid's Godless public school will now be divvied up among folks homeschooling their kids or sending them to private charters, exclusive prep schools, private academies, and assorted madrassas. You'll be subsidizing their choice to abandon the public-education system.
Robbing Peter to pay Paul.
This has nothing to do with the Beatles.
Arizona is at the bottom when it comes to education, senator.
Education is overrated. Look at me! I haven't cracked a book in decades and I'm a lawmaker. Did your hear our bold, visionary governor wants all-day kindergarten?
Only in Arizona could something so commonplace in the civilized world be considered bold and courageous. Good grief.
Arizona already has all-day kindergarten. It's called the Legislature. Senator, are our public schools underfunded and overcrowded, our kids overtested and our teachers grossly underpaid?
No way, Chief. Our public schools got three problems: Kids can't pray, teachers can't carry guns and they got too many frills like computers, walls and pencils. When I was a kid we carved petroglyphs onto rocks and we pledged allegiance to the flag every day, unless it got snatched away by a pterodactyl. Look at me! Ol' Rip Fiddler turned out fine.