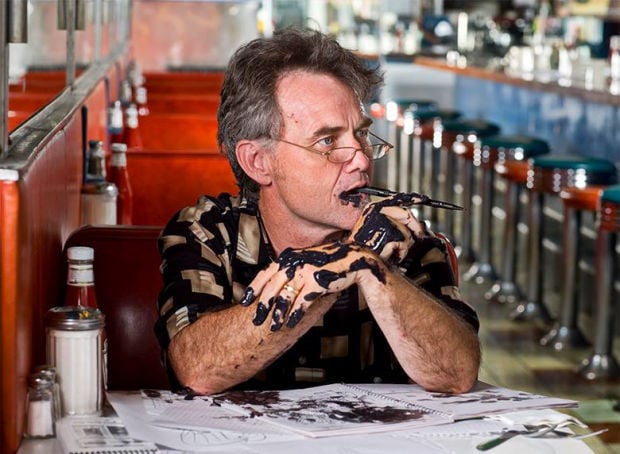 The following column is the opinion and analysis of the writer:
The dame handed me a shopping list and rubbed her wedding ring like she was rubbing a genie's lamp. I set down my detective work, rolled back from my desk and said, "Your wish is my command, kitten."
"Get us a pack of martini napkins. Find some with a Thanksgiving theme. Something with some pilgrims on 'em, daddy."
She pursed her cranberry lips and rubbed her wedding ring again. Trench coat on, I finessed my fedora and headed out into the night. After a short drive with some finger-snapping Bobby Darin on the squawk box, I pulled into the parking lot of retailsville, where the nighthawks shop when they aren't at Hopper's diner. I buried my freezing hands deep in my jacket, deeper than the mob buried Vinnie Romano in '57 and watching my back, I walked to the entrance.
The greeter said, "Howdy." For some reason Lurch let me pass without asking for a password. I put my bang-bang finger to my hat, saluted granddad and muttered, "same to you, Daddy-o."
I walked in, scanned the joint and saw the usual suspects. One of Darwin's dead-enders, wearing ski pants tighter than the existential despair that gripped her suburban life, ran over my spats with her cart. It was loaded with feral brats, a case of Coors, too many tabloids and blister pack of lost dreams. I cursed the dame and limped on into the night, casing the joint; hot on the trail of cheap plastic serving trays shaped like turkeys and a pack of martini napkins featuring Squanto.
What I found knocked me on my rump roast. I reached for my flask, swallowed hard and rubbed my peepers.
I couldn't believe the huge stacks of tinsel, glitter and lights. Where was Thanksgiving? What holiday was this? Liberace's birthday? Wait just a Bethlehem minute. It hit me like a snowball straight to the bongos. It was Christmasville.
Had I flash forwarded to the future? Had I lost a month? Did I already celebrate Thanksgiving? Maybe the doll at home had slipped a mickey into my gravy … or maybe it was the turkey. Was I tripping on tryptophan or was it the spiral cut ham? Did I have ham-nesia? I was as lost and confused as Robinson Crusoe marooned on Christmas Island in the middle of July.
At the end of aisle 22 I saw a shop boy with a pencil-thin mustache stocking shelves and humming "Deck the Halls." I tapped him on the shoulder and before he could say, "Can I help you?" I grabbed him by the collar.
"Where in the name of Pocahontas is Thanksgiving?"
"W-w-we like to get a head start on Christmas. People like to shop early. You know what they say. Early bird gets the worm."
"Christmas ain't no worm, ya creep. Turkeys aren't even in the oven yet."
"They haven't even thawed yet."
"My Butterball still has a head on his shoulders."
"Turkeys have shoulders?"
"Shut your yapper, Pee Wee. Dig this, little man, you got reindeer bells jingling in my ear at the very same minute my turkey is still strutting in some farmer's yard making gobble-gobble sounds and planning on buying a hat for the headbangers ball. It ain't right."
I was out of my mind. I'd been on edge ever since some joker down at Spillane's Tap Room slipped two bits into the jukebox and punched "White Christmas" way too soon. Rosita, the waitress with a heart of copper, unplugged it.
"No one wants to hear that cat Crosby cry about Christmas. Any of you barflies dreaming of a shot of Wild Turkey in honor of Thanksgiving?"
I pressed my nose against the early bird's beak and locked my headlights on him.
"Every red-blooded American knows Christmas doesn't show up until the Macy's Thanksgiving Day Parade. Is nothing sacred to you people? What's that in your hand?"
"F-f-f-frankincense c-c-cologne."
I poked his name tag, right in the yellow happy face. "Frankly, I'm incensed. And I come bearing gifts — five of 'em."
"Sir. You're baring your knuckles."
"That's right, creep. Kringle's ETA is six weeks off. Keep decking the halls and I'm decking you — dig?"
The bum called security on me. It was time to split.
"Rein in the fuzz, shopkeep. This cat knows when it's time to mosey on."
On my way out the door I grabbed six boxes of icicles lights, a polystyrene wreath, a staple gun and some pine scented room freshener. When I got home the blonde tugged me toward her, looked me in the headlamps and reminded me what it was all about.
I had forgotten the martini napkins.