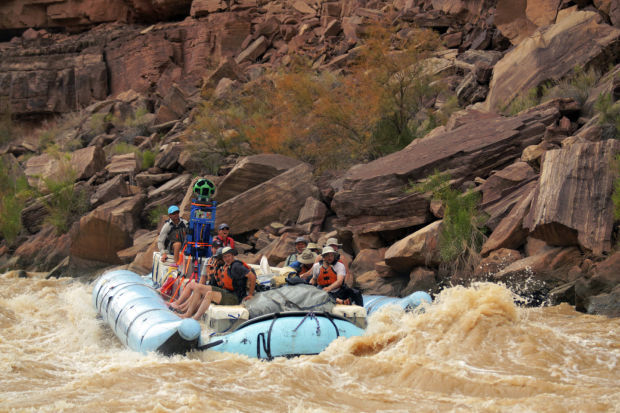 WASHINGTON — Without Colorado River water, Arizona's annual gross state product would drop more than $185 billion and the state would lose more than 2 million jobs, a new report says.
The first-ever study, released by Protect the Flows, estimated the Colorado's economic impact on the six states and seven Southern California counties that draw water from the river at $1.4 trillion a year.
A total of 16 million jobs in the region rely on direct, indirect and induced economic benefits from the river, the report said. Those jobs ranged from recreation and agriculture, which depend directly on the river, to employment in industries indirectly reliant, like health care, manufacturing and biotech.
The report tried to put the river's overall regional impact in perspective by noting it would equal one-twelfth of the nation's gross domestic product — or three times Walmart's retail sales in 2012.
While no one expects the river to ever dry up, shortages due to drought and overuse are expected in the next decade. Various studies have predicted climate change could reduce flows by 5 percent to 40 percent by 2050.
The report looked at various levels of water losses and found:
A 10 percent reduction in river flows would eliminate 1.6 million jobs and $143 million in gross state product over the seven-state Colorado River Basin.
A cutback of 25 percent would cost 4 million jobs and $358 million in gross state product.
A 50 percent decrease would kill 8 million basinwide jobs and cost $717 million in gross state product.
"I think what this shows us is just how critical having a healthy river is to Arizona's overall economy," said Garrick Taylor, a spokesman for the Arizona Chamber of Commerce and Industry, which was not involved in the study.
The study shows the river's shared value to all basin states, regardless of each state's priority for use of the water, observed Chuck Cullom, Colorado River program manager for the Central Arizona Project, which serves Tucson and Phoenix with drinking water from the river.
"All states and water-use sectors should band together to protect the river, because an economic impact will be felt across the basin, regardless of priority or sector that's reduced," Cullom said.
The study was commissioned by Protect the Flows, a coalition of businesses in the region — some in Tucson — that rely on the river. It was produced by the L. William Seidman Research Institute at Arizona State University's W.P. Carey School of Business.
The report looked at gross state product, employment and labor income of Arizona, New Mexico, Nevada, Colorado, Utah and Wyoming, and the Southern California counties of Los Angeles, Orange, Imperial, Riverside, San Diego, San Bernardino and Ventura.
It also looked at the amount of river water consumed by farms, cities and industries in those areas. Then it calculated what would happen to economies if that water weren't available for a year.
Arizona, which draws 40 percent to 50 percent of its water from the Colorado, would see some of the sharpest impacts, edging Colorado in job losses and trailing slightly in gross-state-product declines.
Both states would lose just under 2.15 million jobs. Colorado would lose about $189 billion in economic activity to Arizona's $185 billion.
Southern California, which draws up to 92 percent of its farming water and 37 percent of its municipal and industrial water from the river, would lose 7 million jobs and $657 billion in gross state product.
A Protect the Flows official said that while the river probably won't dry up, looking at that possibility was the only way to determine its total value.
The river's flows have dropped up to 20 percent since 2000 without major job losses, but only because its reservoirs have provided enough water to keep it flowing to users, said Ann Tartre, the group's director of corporate partnerships.
Now, Lake Mead and Lake Powell are declining, triggering the prospects of shortages.
"This study is not making any argument that one of these scenarios of cutbacks are more likely than any other," Tartre said. "It's that this is a significant resource.
"If we waste it, we're throwing money down the drain and jobs."
Taylor, of the Arizona Chamber of Commerce, said the report illustrates businesses' interest in protecting the resource.
"You can be both pro-business and be pro-water conservation," he said.
Arizona Daily Star reporter Tony Davis contributed to this report.