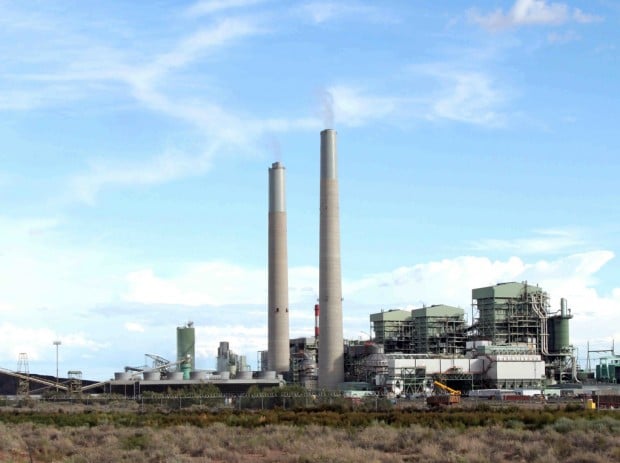 PHOENIX - State officials and utilities are trying to kill a plan by the U.S. Environmental Protection Agency to force owners of three coal-fired power plants to install expensive pollution-control equipment to improve visibility.
Henry Darwin, director of the state Department of Environmental Quality, said the federal proposal to reduce oxides of nitrogen, known in the business as NOx, will impose hundreds of millions of dollars of unnecessary costs on utilities, and, by extension, their customers.
Darwin said the reduction has nothing to do with public health, instead focusing on EPA's claim that pollutants are impairing visibility in the Grand Canyon and other natural parks.
But Darwin insisted there would be "no discernible identifiable difference" in visibility between the less-expensive plan his agency is pushing and what the EPA wants.
Gov. Jan Brewer has her own take on the proposal.
"I don't think it has anything to do with air quality," she said. "It has everything to do with the Obama administration going to war on coal. It's more about politics and not science."
But EPA spokeswoman Margo Perez-Sullivan said that theory ignores the fact that Congress, not the president, enacted the law more than a decade ago requiring her agency to begin reducing visual pollution.
The fight pits visibility at the Grand Canyon and a dozen other federal parks and wilderness areas against economics.
Congress approved laws in the 1990s requiring restoration of "natural visibility" - the visibility that existed before power plants and other sources of visual pollution - in these parks by 2064. More immediately, states are required to show they are making reasonable progress toward that goal.
But unlike laws on health effects, Congress specified that the plans have to be based on a cost-benefit analysis, weighing the price against the improvement.
The federal Clean Air Act requires power plants built between 1967 and 1977 to adopt the "best available retrofit technology" to improve visibility within 186 miles. Each state was given the chore of doing that analysis.
EPA accepted state proposals for cutting sulfur dioxide and particulates. But it rejected the state's analysis of costs versus benefits for NOx.
"We believe that we propose a cost-effective solution," Darwin said. It generally involves relying on burners designed to reduce pollutants. The EPA is instead pushing more expensive catalytic converters.
Kelly Barr, senior director of environmental policy management at Salt River Project, whose Coronado power plant is being targeted, said her utility already spent $500 million installing a catalytic converter on one of the two units of its Coronado plant near St. Johns. But Barr said EPA now wants an even more effective converter on the other plant, something she said would add another $110 million in expenses.
Barr said she cannot say what that translates to in customer costs, but she said a "significant portion" of SRP's current 4.8 percent rate increase is linked to paying off that first $500 million.
Geoff Oldfather of the Arizona Electric Power Cooperative, whose Apache power plant in Cochise is one of those affected, said spending the extra money EPA wants for catalytic converters over the change in burners proposed by DEQ, would result in an "imperceptible" difference in visibility.
"We don't agree," responded Colleen McKaughan, associate director of EPA's regional air quality division. She said EPA's studies show there would be a "perceptible" difference, especially where the combined effects of the three Arizona power plants are concerned.
Ed Fox, at Arizona Public Service, echoed Brewer's charge that the requirement is politically motivated and could force APS to close down one of the units at its Cholla plant.
"They give no consideration about the jobs that are going to be lost because of their over-regulation and the higher energy costs for the Arizona energy consumers," Brewer charged. If the federal government really believes the difference in visibility is worth the expense, she said, the feds should put up the money.
McKaughan said her agency is weighing the costs in relation to the benefits. But she said there is no specific formula, and each power plant is being evaluated on a case-by-case basis, relative to the cost and the plant owner's ability to recoup that cost over the next 20 years.
But the bottom line, she said, is EPA has the research to show that people will be able to see the difference once the pollutants are removed from the air - and that what is being proposed will not be an undue financial hardship on the affected utilities.
Darwin questioned the point of spending billions of dollars to fix something that doesn't have to be fixed until 2064. McKaughan said EPA has no choice: A lawsuit against her agency by environmental groups for failing to meet deadlines resulted in a consent decree requiring EPA to take final action by Nov. 15.
The first in a trio of public hearings on the plan is in Phoenix tonight. Two additional hearings will be held in Holbrook and Benson in mid-August.
Hearings on EPA power-plant pollution standards are:
U.S. District Court in Phoenix
Public hearing begins at 6 p.m.
Northland Pioneer College in Holbrook
Tiponi Community Center Conference Room
Public hearing begins at 6 p.m.
Cochise College in Benson
Public hearing begins at 6 p.m.
Be the first to know
Get local news delivered to your inbox!