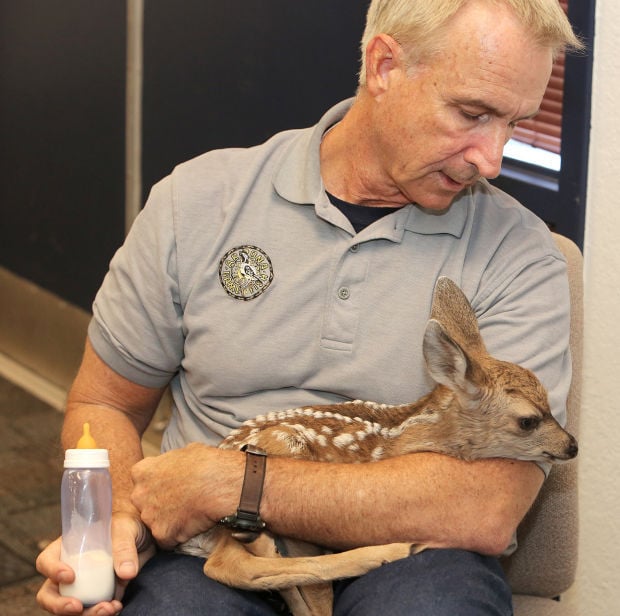 A newborn mule deer fawn that was said to be found near Willcox by a man who claimed its mother was killed by a coyote will arrive at its new home in a Prescott zoo today.
The man took the fawn to Avalon Southwest Health and Rehabilitation in Tucson on Friday and told the staff he was there to visit someone but ended up abandoning the fawn, Arizona Game and Fish Department spokesman Mark Hart said.
The man told the staff of the elder care home that the fawn was born Friday and was found with its umbilical cord still attached, Hart said.
The deer was then taken to the Tucson Wildlife Center, where it spent the weekend, and was brought to the Arizona Game and Fish Department's regional office on North Greasewood Road Monday, Hart said.
The fawn began its journey to the Heritage Park Zoo in Prescott Monday afternoon.
Game and Fish is investigating the man's claim.
The big issue with deer is that they transmit chronic wasting disease, an illness similar to mad cow disease, Hart said.
"It's fatal and it's something that researchers don't really know about as much as we would like to," he said. "One of the questions we have is whether or not it's transmitted from a pregnant mother to a fawn."
There are no confirmed cases of the disease in Arizona, but there are cases in nearby states, Game and Fish Regional Supervisor Raul Vega said in a news release.
But if officials don't know where a deer came from and a home can't be found for it, it has to be euthanized to prevent the possibility of the disease infecting Arizona deer, Hart said.
"We're calling the little fawn Lucky, because Lucky just happened to have room for her at the Heritage Park Zoo in Prescott," Hart said.
Hart warned that people who see baby wildlife alone should leave the animals where they are.
"It may seem hard and cruel, but you may be separating it from its mother unknowingly because you don't understand that wildlife's behavior, or if you attempt to rescue and turn it over and there's no place for it, there may be a complicating issue that leads to euthanization - like trying to prevent chronic wasting disease from coming into the state of Arizona," Hart said.
Game and Fish officers have not found the man who abandoned the fawn.
Anyone who has any information about the incident is asked to call the Operation Game Thief 24/7 Hotline at 1-800-352-0700.