As a child living in poverty, Brianna Dolana remembers well the kindness two Tucson doctors showed her family.
Those early experiences were so significant that Dolana decided she also wanted to be a physician who helps those most in need.
Her calling comes at a critical time: The pandemic has not only illuminated health disparities here, it has also compounded them just as Medicaid enrollment in Arizona is poised to drop significantly.
People living in economically distressed parts of Pima County, as well as those in rural areas and tribal lands throughout Southern Arizona, are experiencing greater health challenges due to the pandemic. Burned-out health-care workers, job vacancies and delayed care are among many issues.
"We're not rural compared to other places but we're dealing with the same issues," said Herminia "Minnie" Frias, a member of the Pascua Yaqui tribal council.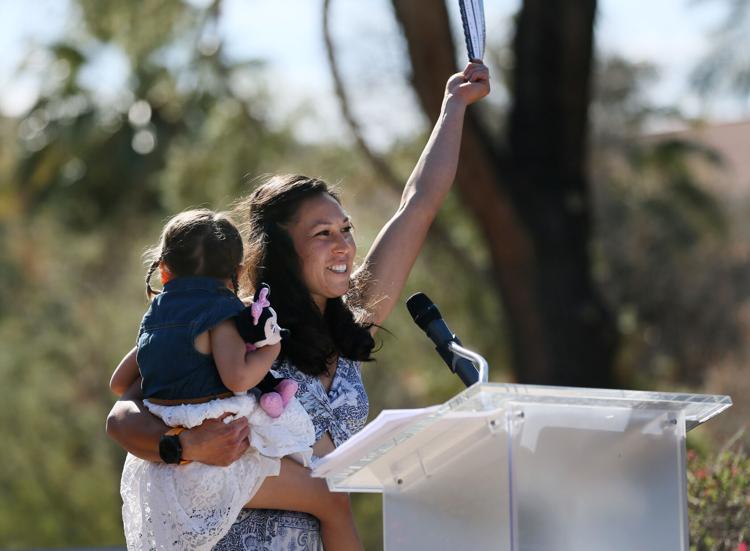 One of the things that's become apparent is the need to better coordinate services, particularly for tribal elders and tribal children.
"It's been hard because we've been so focused on COVID that some of the other things we've been doing in the past, such as community services, have taken a back seat," Frias said. "Behavioral health has been one of the most needed services during the pandemic, and it still is."
Increases in patient loads and the severity of the cases is something that's become a challenge for Clinica Amistad, which offers free health care to Tucson residents who lack insurance.
"We are seeing an average of 35 new patients every month on top of our regular patient load," said Nicole Glasner, executive director of Clinica Amistad. "Many in our community have lost jobs and/or insurance, which results in more patients seeking attention for primary care needs."
Those numbers could climb even more in coming weeks when Arizona begins disenrolling people no longer eligible for Medicaid and KidsCare coverage. Medicaid in Arizona is commonly called AHCCCS, which stands for Arizona Health Care Cost Containment System.
The number of people receiving AHCCCS increased by 26%, or 490,528 people, during the pandemic. Since March 2020, enrollment has been continuous but once the federal government declares an end to the public health emergency, disenrollment will begin.
There are 2.3 million Arizonans currently enrolled and about 500,000 will either stop meeting eligibility requirements or will need to provide more information in order to stay enrolled.
Gaps in health-care system
The factors that work against an individual's well-being or a family's health are multifaceted, said Suzanne Teeple, a Tucson attorney who helps underserved populations as director of the Tucson Family Advocacy Program. Several things are compounding Southern Arizona's current problems, and poverty is a significant one.
Local poverty rates, based on Census Bureau 2020 data, are nearly 21% for the city of Tucson and just under 16% for the greater metropolitan area. In comparison, the poverty rate in Arizona that year was 14% and nationwide it was 11.4%.
Vulnerability can be determined by a number of factors, including not only poverty but also lack of affordable housing or transportation, as examples.
"The housing crisis is just so difficult for our patients and then to add the fact that you're disabled, or you have limited language proficiency," Teeple said. In such cases, she said, accessing care is "difficult, if not impossible."
Teeple's program includes a legal-medical partnership in which she works with family medicine doctors to help patients with health-care access issues as well as what she calls other "health-harming problems" such as evictions, trouble getting benefits or a lack of access to healthy food.
Teeple also provides free legal services to low-income people who use one of two primary care clinics staffed by the University of Arizona's Department of Family and Community Medicine providers. She holds six training sessions each year for medical residents so they can learn about the social determinants of health, and how to better advocate for their patients.
"This exposes them to the realities and gaps in our health-care system," she said. "I hope they will think about ways to help people who fall through these gaps."
Kindness of doctors
Dolana was one of more than 110 students who on Friday moved into the next phase of medical training as part of the UA College of Medicine's Match Day ceremony. The celebration was held in person for the first time in two years due to the pandemic.
During the last year of medical school, students interview for residency slots at institutions where they hope to receive further training. The match is then completed by the National Residency Matching Program, with training through these partnerships typically lasting from three to seven years, depending on the specialty.
Dolana, 32, received her undergraduate and master's degrees from the UA. Between degrees, she spent more than two years working on an ambulance, and that experience sealed it — she wanted a medical degree. Her residency will be in a UA emergency medicine post.
Dolana and her four brothers were raised by their single mother and, due to poverty and access challenges, health care was often lacking. That changed when they met Dr. Augusto Ortiz, a renowned local doctor who advocated for low-income patients and set up mobile clinics in rural areas.
"He became a family friend who made house visits and allowed us to stop by his house as well," she said of Ortiz, who died in 2006. "He provided free health care and kindness that I will never forget. From stitches to ear infections, he helped with it all."
The second person she remembers fondly is Dr. Christopher Demas, a local plastic surgeon.
"My brother had a horrific accident that required hand surgery," she said. "After learning about my family's financial situation, he cut his cost in half."
It was the kindness of a doctor that also influenced Adam Carl's decision to become a doctor. Carl is a first year medical student at the UA and, when he finishes his studies, he will be one of the nation's first 10 doctors from the Hopi Tribe.
Carl grew up seeing family members and community members struggle with health issues like diabetes and cardiovascular disease. His sister died in a car accident when he was 13, and he was devastated.
"The doctors were very supportive," said Carl, who grew up in Flagstaff but is originally from the Hopi Reservation in Northeastern Arizona. "They were like superheroes during that time."
He's not sure what kind of medicine he wants to practice just yet.
"I want to be able to do something, to be able to go out to rural areas and be proactive," he said. "It would be nice if it were Hopi, but it doesn't have to be."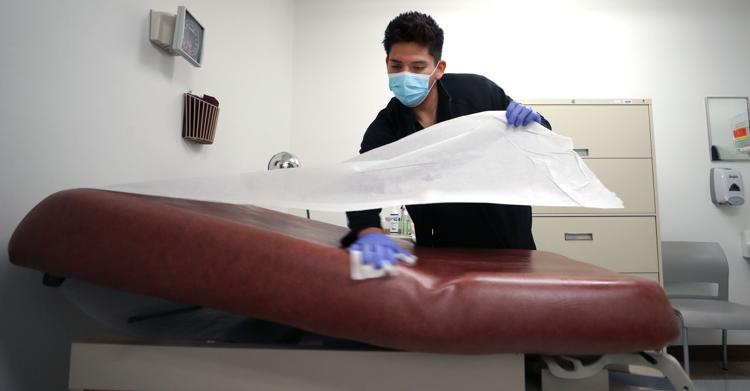 There are roughly 32 Native American students studying medicine and health-related fields at the UA right now, said Dr. Jennie Joe, director of the Wassaja Center, which is part of the UA's Department of Family and Community Medicine.
The Wassaja Center, which started in 1983, offers support to doctors and nurses training to work in high needs communities.
Primary care shortage
Arizona's current shortage of primary care physicians is estimated to be nearly 600 statewide, and workforce projections show the state will need nearly 2,000 more by 2030.
To help, the UA's colleges of medicine in Phoenix and Tucson in 2019 started offering the Primary Care Physician's Scholarship. Through this scholarship, tuition is covered in exchange for practicing primary care in a rural or urban underserved community.
Students must commit to at least two years of service, and a maximum of four years, and must do their residency training in one of the following areas: family medicine, general internal medicine, geriatric medicine, general pediatrics, general surgery, psychiatry, and obstetrics and gynecology.
Sascha Delzepich is attending medical school here on a primary care scholarship, and plans to work with underserved people.
Delzepich was born in Germany but grew up in Chandler. As part of his application to medical school, he was asked about influences in his life that made him want to be a doctor.
It wasn't hard for him to answer.
His mother, who is from Nigeria, had been having medical issues but was very distrusting of doctors based on her life experiences. She was from a very rural area in Nigeria, Delzepich said, and did not have any formal education that could help her grasp Western medicine.
"It was really interesting to see how her mindset is so different from mine," he said. "It took her a long time to open up and say, 'OK, I am safe here.'"
Helping those without insurance
Tina Kohl moved to Tucson a year ago from Northern California, where she left behind a pharmacy job with Kaiser Permanente.
"I lost my benefits when I moved here and they didn't have COBRA (insurance) plans for Arizona," she said, adding she's researched her options and didn't find anything affordable.
"There's only so much you can do," she said. "I'm not pulling in any income right now."
Kohl's husband is on Medicare so the move didn't affect him, but Kohl, at 59, still has some years to go. It was Kohl's uncle who encouraged her to call the University of Arizona's College of Medicine to see if they offer any clinics to help those without insurance.
That's when Kohl first heard of the Women's Clinic, one of seven so-called CUP Clinics, which stands for Commitment to Underserved People. These are offered through the UA for patients without insurance. Kohl said the care she received was excellent.
There have been more new CUP patients lately, people who lost insurance benefits during the pandemic or people like Kohl, who are no longer employed but not yet eligible for Medicare.
"We serve patients who have no other source of health care, and as such, we do not accept patients with health insurance plans, including AHCCCS," said Dr. Patricia Lebensohn, medical director of the CUP clinics.
A lot of people stopped seeking health care during the pandemic, she said, and so lately they've been seeing patients who have gone without seeing a health professional for long periods of time.
"We try to do as much as we can," Lebensohn said, explaining they do have small grants that enable them to get lab work done or order an X-ray.
Enrollment for services have also been increasing at El Rio Health, the largest local provider of medical and dental services for uninsured people and Medicaid recipients in the area, up from 112,765 at the end of 2020 to 125,449 at the end of 2021. During 2019, there were 106,920 patients and in 2018, 101,563.
Glasner, with Clinica Amistad, said it's been the same at her clinic, including a sharp increase in patients needing help for serious health problems.
"The increase in the severity of cases along with the rise in appointments necessitates more funding for basic clinic expenses including PPE, hand sanitizer, germicidal soap, medications, insulin, supplies and consumables," she said.
"Clinica has also seen a surge in costs to our organization for lab work, tests, imaging and other consultative services used to diagnose, treat and care for our patient load which has been disproportionately affected by COVID-19."
Mental health care needed
Dr. Carlos R. Gonzales oversees the CUP volunteer posts and also works to help people from underserved communities get into medical school.
Gonzales, an associate professor of family and community medicine and advisor for the Traditional Indian and Western Medicine Collaboration, tracks where shortages are in Arizona and then tries to reach out to prospective students in those areas.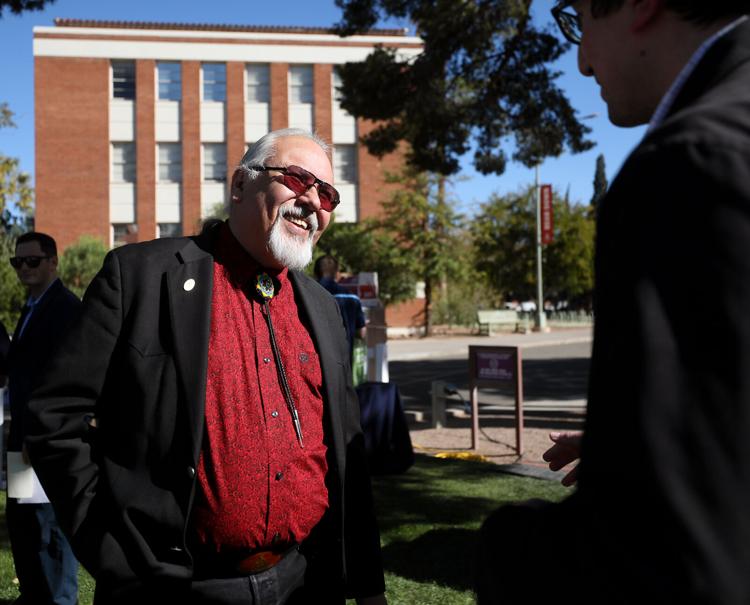 "Since I graduated in 1981, the areas in Arizona that were underserved then are the same underserved areas now," he said.
Gonzales grew up in South Tucson and says there were no physicians working near his home as a child.
"Thank God for El Rio," he said. "They brought several clinics to the south side."
He said the UA's new primary care program now has 42 students participating. One of the areas with the most deficiencies? Psychiatry.
"Basically, we need more mental health providers in rural Arizona," he said. "The psychiatrists focus on urban areas."
Marcos Moreno knows well the gaps in behavioral health services with the Pascua Yaqui Tribe. Moreno, who is doing his residency at Yale University, is planning to work as a psychiatrist for the tribe when he returns in a few years.
Moreno was born and raised on the reservation and said he's known since he was a child that he wanted to work in medicine. Over time, the focus became psychiatry and, particularly, addiction and child and adolescent work.
He paid for medical school by taking a National Health Service Corps scholarship that requires him to work in an underserved area for each year he received assistance. "It was a no-brainer for me because I was going to do that anyway," he said.
Many of the people he grew up around struggled with addiction and mental health challenges that were largely unaddressed.
"It's not a system that has been well received, unfortunately," he said. "People do not want to seek help, and do not want people to know they are going in for those kinds of things."
Marcos said he's seen changes over the years, and people are growing more receptive.
"It's better," he said, "but we've still got a long way to go."
Photos: UA College of Medicine 50th Commencement
UA Commencement, College of Medicine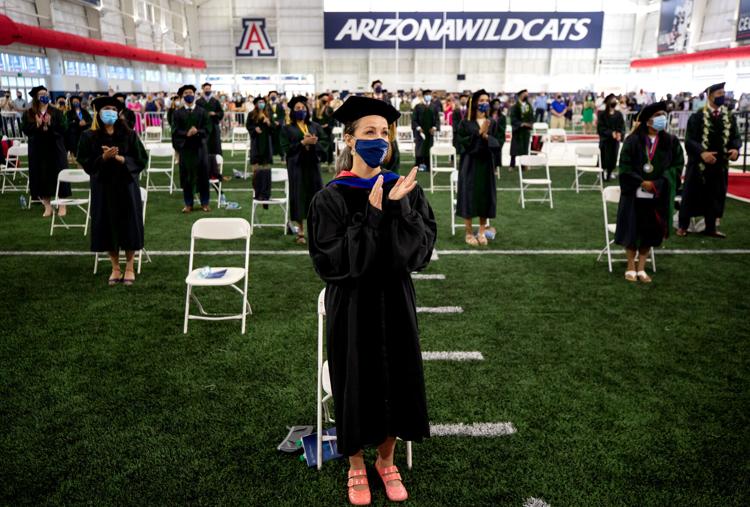 UA Commencement, College of Medicine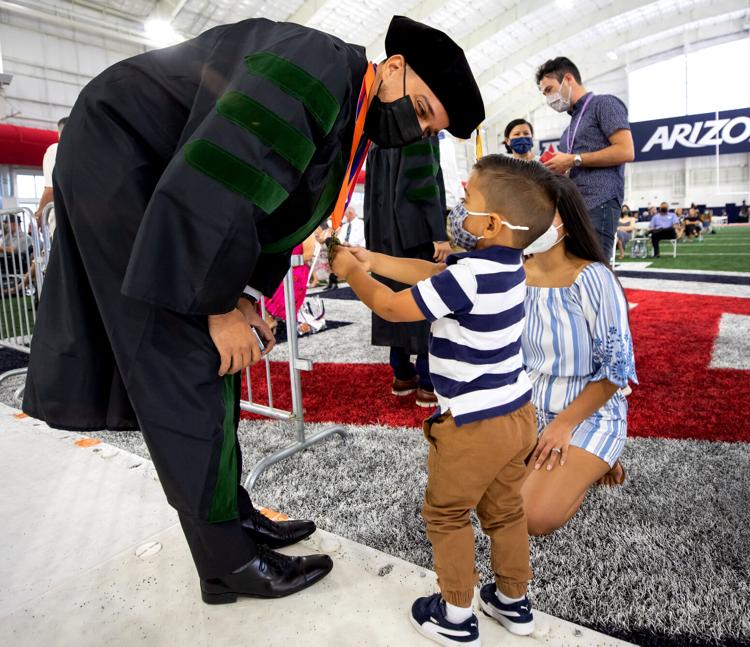 UA Commencement, College of Medicine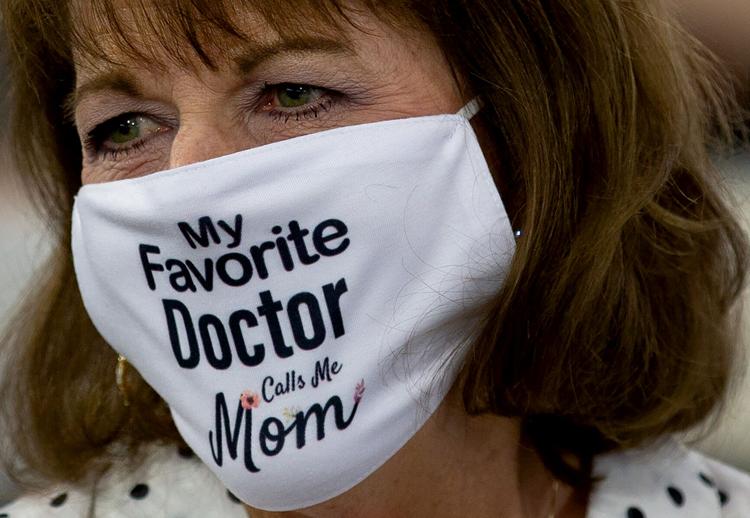 UA Commencement, College of Medicine

UA Commencement, College of Medicine
UA Commencement, College of Medicine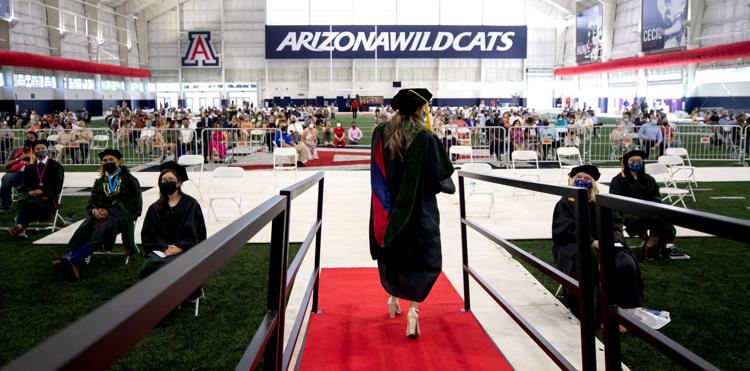 UA Commencement, College of Medicine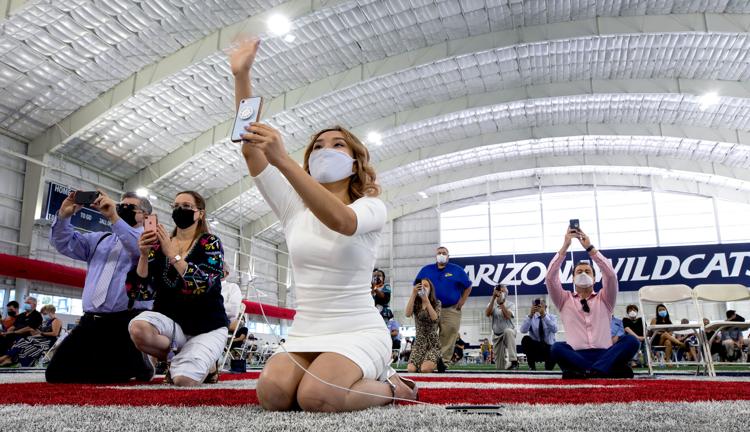 UA Commencement, College of Medicine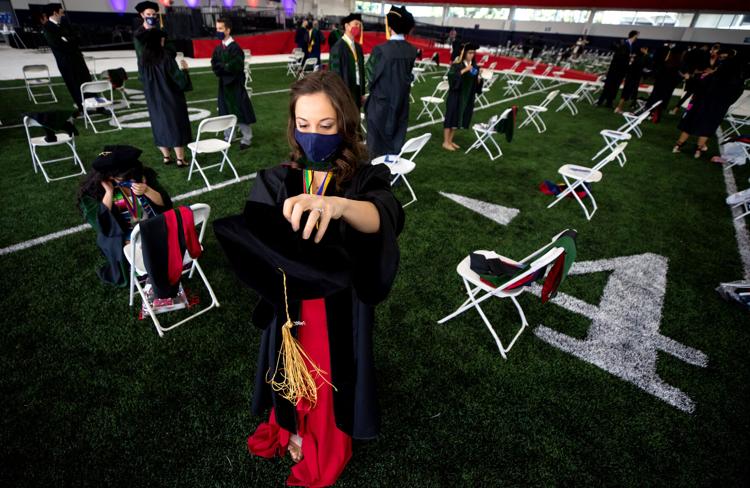 UA Commencement, College of Medicine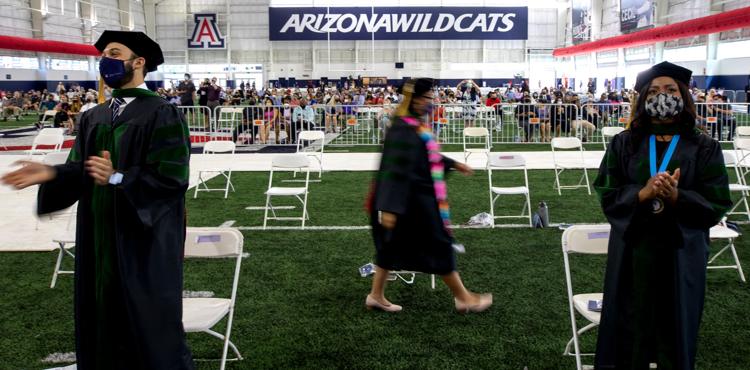 UA Commencement, College of Medicine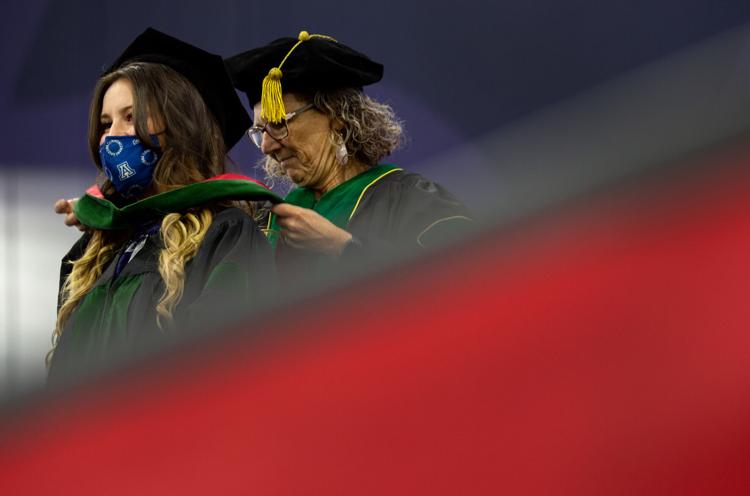 UA Commencement, College of Medicine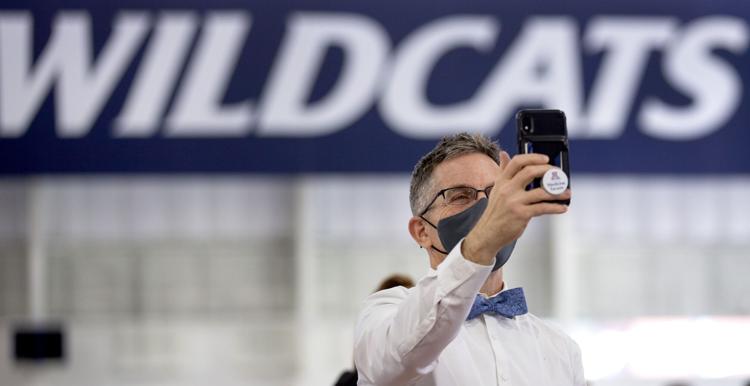 UA Commencement, College of Medicine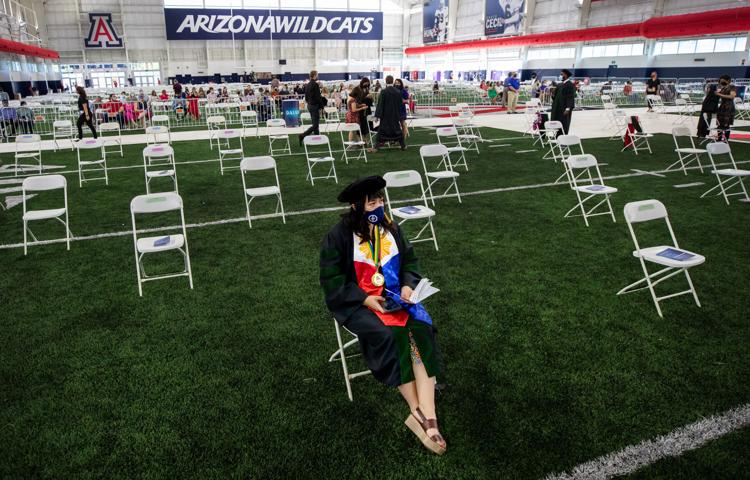 UA Commencement, College of Medicine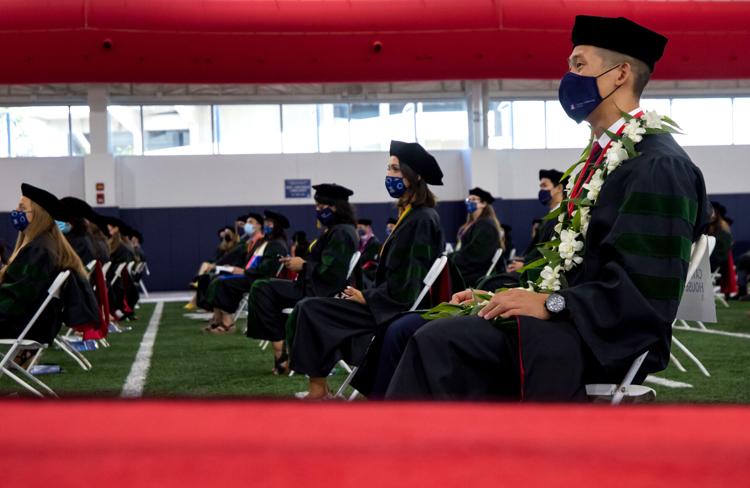 UA Commencement, College of Medicine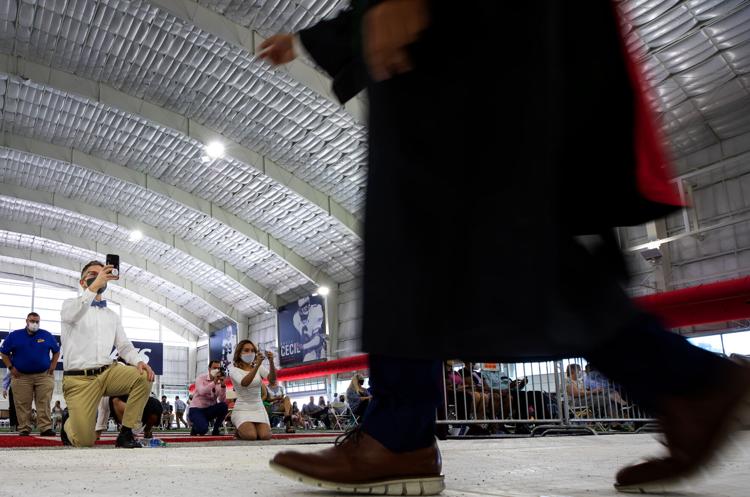 UA Commencement, College of Medicine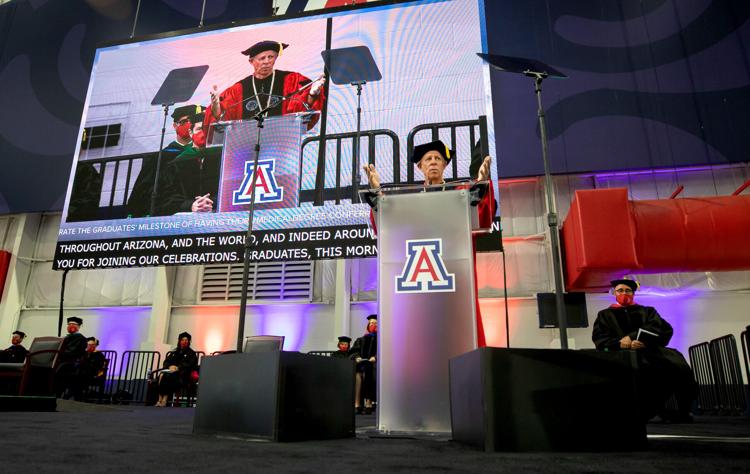 UA Commencement, College of Medicine